Social Media and Social Networking Technologies Essay Sample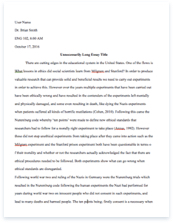 The whole doc is available only for registered users
OPEN DOC
Download Essay
Get Full Essay
Get access to this section to get all the help you need with your essay and educational goals.
Get Access
Social Media and Social Networking Technologies Essay Sample
Many social networking sites can assist our ecommerce business. They are under two categories: Personal and Professional. Here are a few:
1. Personal
a. Facebook
b. Twitter
c. MySpace
2. Professional
d. LinkedIn
e. Sprouter
f. Xing
There are five ways Social Media will increase our ecommerce business. 1. By using social media, to promote our ecommerce business, we increase our customer base by creating an online presence. This will include marketing campaigns that can reach our local advertising area. 2. Using social media, we can let our customer and followers know what your business is doing, promotions, or even helpful tips. If our followers like what we are promoting and or they like the tips we are providing, they will share our link on their wall expanding our customer base and online presence. We can also add YouTube videos to our sites to have commercials.
3. We can use social media for advertising specials that we are offering to our customer base. This will let our followers know when we are having a special and make that purchase even if they were not thinking about making a purchase yet. We can also use social media for displaying our volunteerism we do as a company that may attracted even more consumers as our followers share our good deeds. 4. By allowing customer comments on our posts, we can learn a lot about our consumers want, like, and dislike. This will allow us to be able to meet the needs of our client base.
5. Social media lets us target specific demographic to get our name in the front of the exact group of consumers we want to see use our products. To achieve the be benefits listed above we will use Facebook, Twitter and LinkedIn as our social networking sites to promote our business. The risks, threats, and vulnerabilities associated with social networking sites are as follows: 1. A friend or a friend of a friend can see various levels of your personal information such as jobs, birth date, photos, and group memberships just to name a few.
2. Updates can give people notice you will be on vacation for an on vacation for a week therefore stating your house is empty. 3. Applications users use includes personal information about you. They are also a way to deliver malicious content to your computer without your knowledge. While managing your social network site, our employee may click on an app that can contain a worm, Trojan, virus, or a cross-site scripting executable file. We must have a proper and functional firewall, as well as up to date anti-virus and anti-malware software. Run security scans often as well, as have an IDS/IPS on our server to protect against a DOS, attack.