Social Media Essay Sample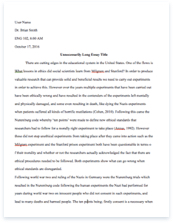 The whole doc is available only for registered users
OPEN DOC
Get Full Essay
Get access to this section to get all help you need with your essay and educational issues.
Get Access
Social Media Essay Sample
Every brand aspires to be on social media but most don't know where to start from. So let's start with looking at some social media basics.
Why are you expected to be around?
Firstly, be sure of the reason for your existence on social media. A number of brands want to set up their presence just because everyone else is on social media platforms. It could either be the brand custodians, bosses, peers from other teams, competing brands, etc., that can trigger the need for a brand's existence on social media. However, Facebook pages and Twitter accounts are not 'websites' that 'exist' exist solely for your brand. 'Humanize' your brand
No I am not promoting the Galaxy S3 here 🙂 , existence on social media platforms for any brand requires 'humanizing' the brand. The brand is going to start talking to people on these platforms, hence one needs to define the brand characteristics. How is old or young your brand gonna behave? Will it have a lighter or a heavier tone? What kind of conversations will the brand get involved in? Define the complete personality of an individual that the content writer can relate to, while writing content for the page. Plan your approach
So setting up a Facebook page, a Twitter account or a blog is the easier part, what needs special focus is your consistent long term content strategy. If the brand has decided to venture on social media platforms, they will have to talk about something. Find the right balance between being relevant to the audience and being relevant to the brand products or services. Brands cannot be talking only about their products or services neither they should be ignoring them completely.
Choose the right platforms
It is not necessary to be present on all social media platforms. Choosing the right platforms even amongst the popular ones like Facebook, Twitter, Linkedin, etc does help. The approach could also be defined as being more aggressive on certain platforms that the other. It all depends on what your brand's target group is. If the brand wants to focus on an evolved audience, Twitter is the place to be. Facebook definitely is where the masses are, and gives more opportunities to explore engagement opportunities via tabs, flexible
CHAPTER 1 : THE BASICS
4
THE SOCIAL MEDIA HANDBOOK
media spends options, etc. Generally, most brands start with Facebook and Twitter. Setting up a platform
A number of new platforms have come up in the last two years. Here is a list
of major platforms that are currently used by brands. Facebook – To start with, getting the creatives right is most important. Design properties of Facebook, the Cover photo (851px by 315 px), the thumbnail (160px by 160px), the app icons (111px by 75px) and tab designs, if any. Use the milestones (843px by 403px) effectively to showcase previous achievements and major events of the brand. Ideally, set up a welcome tab too if you are just starting the page.
Twitter – The Twitter background is the most prominent of the design property available. Ideal dimensions of the design should be 382px on both sides to avoid the design getting overlapped by the timeline. Set up a profile pic, ideally, the brand logo. The designs need to have a seamless look throughout all the platforms and should match the brand's identity. Blog setup – Blogs can be most effective form of informative communication, if they are effectively used by the brands. Blogs can be a medium of expressing things about the industry and the brand which cannot not be done on the company websites. YouTube – YouTube is an important supplement to the brand's Facebook page, especially if the brand has exclusive video content. TV commercials get a place to centrally reside online on the YouTube channel. Other media partnerships like program sponsor ships by the brand also are good fodder for a healthy YouTube channel.
CHAPTER 1 : THE BASICS
CHAPTER 2
LEVERAGING
CREATIVE
PROPERTIES
SHARE:
6
THE SOCIAL MEDIA HANDBOOK
Effective creatives and content are the most important drivers on social platforms. Both can help you create a distinct presence for your brand amongst the clutter. Cover photo The cover photo on Facebook in my opinion is the most effective display banner amongst all the various creative properties on these platforms. The most important thing about the cover photo is that it has to 'highly sharable' (although a page cannot encourage people to upload the cover photo to their personal timelines). One should be careful about not promoting an engagement or offers/promotions through the cover photo as it is against the Facebook guidelines. The expected dimension of a cover photo is 851px by 315px. Here are some references which can inspire your brand pages cover photo.
Thumbnail
The thumbnail which traditionally held an important creative spot in the form of the display picture now has a much smaller role to play, though still highly relevant. You can set up a 180 by 180 px picture as the thumbnail. The important part is that it goes out with your posts, hence most brands put up their logo as the thumbnail.
CHAPTER 2 : LEVERAGING CREATIVE PROPERTIES
7
THE SOCIAL MEDIA HANDBOOK
Tabs
While starting up on Facebook, it is important to pre-plan what Tabs will show up on Facebook. On the new Timeline, the users are able to see four Tabs on a brand page. One of these four Tabs is photos and cannot be moved. The other important Tab is the fan count Tab, which is moveable, yet is an important one to showcase on the Top four visible Tabs. The other two Tabs can be used for Facebook applications, engagements (using non applications), customer care, brochure display, etc. A number of preset Tabs like The Top Tab applications also serve the page's engagements purpose. Tab image also occupies an important creative space on the Timeline.
Pre like and Post like Tabs
One major disappointment for brands post the launch of the Facebook timeline has been the page cannot keep a Tab as the landing Tab, which could have had a pre like Tab and hence get more likes for the page . All Facebook ads should be directed to a Pre like page, on a Tab to optimize the likes from the ads. Pre like and post like ads should be mandatory for all applications. Red Bull's pre like page put up some time ago is my personal favourite.
CHAPTER 2 : LEVERAGING CREATIVE PROPERTIES
8
THE SOCIAL MEDIA HANDBOOK
Posts
Facebook Egderank algorithm, resized picture size on the News feed, better looking album updates and the Instagram takeover are indications that images will make a lot of impact on Facebook. A brand page should provision for at least one 'template-ized' image based post or an album update a day.
Creative properties on other platforms
Twitter display pic and Twitter background are two creative properties on Twitter. YouTube background is the only major creative opportunity on YouTube, unless the brand goes for premium YouTube channel, which comes in three different packages. The most interesting creative property amongst 'other' social platforms is the Google plus photo strip. Unlike the Facebook cover photo, you can use flash on Google plus photo strip for brand pages.
CHAPTER 2 : LEVERAGING CREATIVE PROPERTIES
CHAPTER 3
PLANNING
CAMPAIGNS
SHARE:
10
THE SOCIAL MEDIA HANDBOOK
Planning interesting campaigns on social media platforms is the need of the hour for brands. Brands spent $3.8 billion on ads in 2011 and a strong call to action can make these ads worth the money spent. Also, interesting campaigns generate more reach from the 'Friends of fans' pool and can drastically reduce the per fan cost on the overall media spent.
The most important aspect of planning campaigns is visualizing the entire user experience. It is like wearing both the director and the scriptwriter's hats at once. Here are some points that lead to a superhit "movie". I will focus on Facebook campaigns, as they, according to me, are the most exhaustive campaigns to work on and are most called for in the market.
Teasers
The initial phase of the workflow needs to be planned in detail. It needs to be thought through if the campaign needs to have a teaser, as it may feel a bit forced at times. The 'largeness' of your campaign can help you determine if a teaser will do justice before the launch.
Pre Rolls
Plan for an effective pre like and a post like tab, it will make the brands media spends more sensible. Also, make sure you get the Google analytics code set up for these tabs; it helps one check the drop outs post a click on a stamp ad. Storyboard
Work on a storyboard, which is also termed as the application wireframe. Every screen needs to be planned strategically to ensure that the activity does not lead to user fatigue and he does not seem to get lost mid way
through the application. The average time spent on the application should neither be too short nor too long. Instructions
The most difficult part of any game/application is to understand how to play it! There need to be detailed instructions about how the application needs to be played. Look for a provision for a demo mode if there is gameplay involved. The How to Play tab needs to be available to go back to at all times.
Plan hacks
There are a number of smart nerds out there who can hack into your application to scream through to the top of the leader-board, especially for gratification led contests. One needs to get a coder (preferable in-house) to play the role of the auditor for the applications. Blonde Tests
Now this is really interesting and has worked really well with me in the past – plan for a 'blonde test' for your applications. Basically get the applications tested by, ahem, smart girls or guys, who know nothing about the activity. Their reactions towards the application will give you enormous insights on how the application will fare once it is live.
CHAPTER 3 : PLANNING CAMPAIGNS
11
THE SOCIAL MEDIA HANDBOOK
SMS/Email Integrations
Plan for ideal plugs where SMS and Email integrations will help. For example, I plan for email reminders for idle users who do not turn up for a long time where the user can play a number of times. It works!
FB share-ability features
Plan for each and every opportunity that can help us get to the friends or followers of your users. Integrations need to be planned right at the time when you are planning the workflow. It also applies for opportunities where, say, celebs are involved in the campaigns. Reaching out to their fans in an optimum manner needs to be strategically planned right during the initial phase.
T & C and Privacy Policy
In India, a number of campaigns on Facebook are incurring no wrath from Facebook despite violating basic terms like announcing winners on wall, not conducting contests on the wall, etc. This does not mean that you can take chances with your brand. The communication needs to mention that link to the post, like to the app itself, is in full agreement with the 'Terms and Conditions' and the 'Privacy Policy', with both the terms hyperlinked to the respective pages/pop ups, like done here. Also, Facebook's non-involvement in the promotions needs to be mentioned explicitly.
CHAPTER 3 : PLANNING CAMPAIGNS
CHAPTER 4
OPTIMIZING
CONTENT
SHARE:
13
THE SOCIAL MEDIA HANDBOOK
With the frequency of the content shared on social media being much higher than say a radio or a TV show, or a magazine, it is all the more challenging for brands that pursue to 'socialize' with effective content.
The Challenge
A major differentiator for a brand amongst the clutter can be effective content. Majorly, because all brands do not have the appetite of spending consistently and heavily on engagements, media spends or gratifications on
Facebook.
On other popular platforms like Twitter and Linkedin, the stakes are even high since you have a smaller audience base and the budget requirements of these platforms are much more demanding than Facebook.
Here are some of my experiences that have works for brands.
Can you create additional value for the users?
This is probably the most difficult question to get an answer for, from your client! Yes, the brand custodians should be first ones to give a shot at this hurdle. However, there are situations where the client or say the product team cannot decide what's best for such a medium and the social media team or the agency, hence has to take a call on what the most appropriate fit amongst the offerings. Eventually, the objective should be to create additional value for your fans and followers. P.S. – This is not a mandatory criteria, there a number of brands that exist effectively on social platforms without taking care of this point. How? I have explained that further. Read on.
Pick up a genre
To take the above point forward, the value generated from the content created could cater from one or more of a variety of genres.
It could be based on sharing information, current events, humour, poems, educational, experiential, niche information sharing, etc
What's your style?
At times, the brand exists on social space amongst intense competition, and does not have a value proposition for its audience on social media. The internal social media team or the agency has to figure out a unique way of putting it across to people. And there are number of brands that are already doing a good job at it. If one could set a flavour of the page, it creates a strong recall value for your posts and the brand. Creative opportunities with content
It's obvious that Facebook is focusing on pushing images and videos more than plain text posts. Hence, on Facebook, working out a plan for creative
opportunities for releasing content on the page is a must.