Social Media Ethics Essay Sample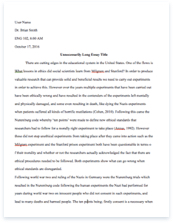 The whole doc is available only for registered users
OPEN DOC
Download Essay
Get Full Essay
Get access to this section to get all the help you need with your essay and educational goals.
Get Access
Social Media Ethics Essay Sample
Moral principles that govern a person's or group's behavior   Schools of Ethics: §  Aristotle – holds the virtues are dispositions to act in ways that benefit both the person possessing them and that person's society §  Kant – makes the concept of duty central to morality §  Utilitarianism- asserts that guiding principle of conduct should be greatest happiness or benefit of the greatest number.
ETHICS AND INFLUENCE FACTORS
C arrie James
Harvard research director on the GoodPlay Project § GoodPlay Project §  A study on the ethical sensibilities of the digitial youth §  Explores: §  Youth identity §  Privacy §  Ownership §  Authority §  Credibility §  Participation
GOODPLAY PROJECT RESULTS
Most young people are devoid of ethical thinking or consideration for others when using the web.   Solution Offered: §  Mentor young people to use social media for social good
THE TRANSFORMATION IN COMMUNICATION BECAUSE OF SOCIAL MEDIA   People have now become both the producer and consumer of information   News can be shared instantly online before it reaches the television   The judgment of communication is both positively and negatively affected   The value of face-to-face communication is lost   The ability to filter out and choose the type of messages one wants to receive or not
NUMBERS
Nearly 9 out of 10 teens participate with social networking every day, with 70% indicating that they spend an hour or more a day.   The downside: §  40% do not consider reactions of college admission officers §  38% do not consider reactions of potential employers §  30% do not consider reactions of their parents
The upside:
51% had used social networking to promote causes §  44% had used social networking to help others §  33% had used social networking to create awareness for a cause
FACTS ON FACEBOOK
11% of all facebook photos are profile pictures   Statistical study has resulted that females upload more profile photos than that of males   Studies (unpublished and/or unapproved) have been made regarding the facebook profile photo §  Although lighthearted and seen as 'silly' entertainment; these studies have touched what people would stereotypically deem towards a certain picture §  See next page/slide to view example
SAMPLE: PORTRAIT INTERPRETATION
SAMPLE: PHOTO ANGLE INTERPRETATION
QUESTIONS TO PONDER
How do you manage the following issues on:
§  Identity §  Privacy §  Ownership or Authorship §  Credibility §  Participation
  As part of the youth, what are you and other young peoples' dominant 'ways of thinking' about new media?   Where/When/In What kinds of online situations do youth think ethically?
REFERENCES: Social Media Today Social Media Ethics: Why you should have a policy Steve James Mashable Harvard Study Finds Teens Online Lack Ethics Carrie James (Harvard Research Director) Jennifer Van Grove Guide to Digital Learning Teens, Ethics, and Social Networking Deloitte LLP 2009 Ethics and Workplace Survey Results Pixable; The Mary Sue Men vs Women on Facebook photo uploads Susana Polo Fast Company Facebook Images Doogie Horner
NUMBERS
Total Facebook Users in Philippines
§  30,265,200
  Rank
§  8 th in the world
  Penetration of the population
§  30.30%
  Penetration of online population
§  129.81%
AGE DISTRIBUTION IN THE PHILIPPINES
A ge group 18-24 yrs – 11,762,500 users
GENDER USER RATIO IN THE PHIL.
4 8% Males  5 2% Females
IT4A (MONDAY MM CLASS) FB STAT
27 Students
§ Total: 20,972 friends § Average: 806-807 friends § Least: 167 § Most: 2431
 M ales have a higher rate of status messages
 F emales have a higher rate of profile pictures  F emales have a higher rate of edited profile pictures  M ost albums publicly seen