Social Realism in the Early Renaissance Essay Sample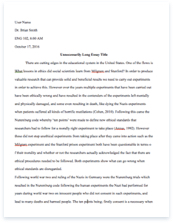 The whole doc is available only for registered users
OPEN DOC
Download Essay
A limited time offer!
Get a custom sample essay written according to your requirements urgent 3h delivery guaranteed
Order Now
Social Realism in the Early Renaissance Essay Sample
Early Renaissance art and literature brought real life depictions to print form. Artists and writers alike began to pay close attention to things such as social class, social interaction, human society, personal experiences, lifestyles, and individual personalities. The focus was on real people living very real lives. This wasn't a look at the general but a look deeper into the details of individual life and how people interacted while living in this time period. The time's social concerns and values were brought out through these various forms, giving insight to future generations what life was like during the Early Renaissance for the common man. Great writers and artist give people today in the 21st Century a glimpse into the life of Renaissance people; only a glimpse, allowing us to draw our own conclusions from the art and literature. This depiction of real life people in great detail is known as Social Realism and paves the way for future Renaissance minds down the road, even to today's modern society.
The work of Giovanni Boccaccio led the way for Social Realism in literature. Boccaccio wrote the Decameron in 1351and based it upon people living through the plague. Its characters in order to escape the plague hole up in a villa and tell one another stories. These stories are comical and represent the social conditions and issues of the time. There are ten characters and each tells a story; giving ten stories in all. In the preface of the Decameron Boccaccio gives a detailed account of the conditions and horrors of the Black Plague in Europe. He writes about the fear instilled in the people of Europe and how death was inevitable to all those in contact with the plague. Death came upon so many that it was hard to keep up with the burials, which seemed to lose their esteem.
Boccaccio writes, "So many bodies were brought to the churches every day that the consecrated ground did not suffice to hold them, particularly according to ancient custom of giving each corpse its individual place. Huge trenches were dug in the crowded churchyards and the new dead were piled in them, layer upon layer, like merchandise in the hold of a ship" (5). Boccaccio's depiction here is very detailed allowing the reader to create an image of the scene. He was just telling it the way it was. The preface focuses on the horrors and feelings brought on from the Black Plague in everyday people's lives but the rest of the Decameron is not so somber. The stories are comical and real such as the "Tale of Filippa" in which a woman gets out of a legal sentence through her skillful rhetoric. Filippa is charged with adultery and uses her trial to expose the social injustices against women during the time. She also takes a very comical approach when she argues, "…since he has always had all he wanted of me and to his heart's content, what was I to do with all that was left over?"
The stories that Boccaccio put together to form the Decameron come together to form a detailed portrayal of real life during the Renaissance from a lot of different standpoints. Following in Boccaccio's footsteps was Geoffrey Chaucer who wrote Canterbury Tales. Canterbury Tales is much like the Decameron in its format. Chaucer has twenty-seven characters traveling on a pilgrimage, telling stories to each other along the way. Chaucer was very skilled in his ability to represent a character's personality through writing.
He gave very unforgettable details through description and interaction that defined the character. Chaucer let readers get to know the characters. Along with his ability to portray characters Chaucer was very well known for his use of satire. Chaucer loved to play on human nature and hypocrisy. By using satire he exposed many natural human tendencies that people had during the early Renaissance, allowing future generations to see a little bit more of the lifestyle then. Boccaccio and Chaucer led the way for Social Realism in literature with their ability to depict real life, personality, social interactions, and society.
Social Realism was also very apparent in the art of the early Renaissance. The Limbourg Brothers' painting "February" is a wonderful example of Social Realism. It has a rural setting with the characters taking part in activities one would expect from real people such as warming by the fire and chopping wood. Looking at the painting it is apparent it is the winter months and cold with one character struggling to walk back to indoors with a blanket wrapped around her, while others warm themselves by a fire. The Limbourg Brothers capture the lifestyle in rural Europe during the time. There is no idealism put into this particular work, it all is how people really lived and what kind of things they did. Also the details are fantastic, which is a reoccurring theme in Social Realism. Things such as animals, holes, in the roof, exposure of body parts, and people working hard are all depicted here. The people and the setting are real and believable, that is why this painting is such a great example of Social Realism.
Ambrogio Lorenzetti's painting "Effects of Good Government in the City and Country" captures the lifestyle in the urban setting. Lorenzetti illustrates how people interact on a day to day basis in urban life. The painting is great replica of the economy and marketplace of early Renaissance. It shows people trading, working together, and just socializing. Along with this it really depicts the different social classes. Peasants, middle class traders, and upper class individuals are all represented in the painting, but they all are interacting within the same marketplace. This painting even gives us a look at the common architecture from the day. Like all other examples of Social Realism the painting is very detailed providing better insight to everyday life, lifestyle, and society.
These four works' details and use of Social Realism carried on throughout the Renaissance to later artist/scientists such as Michelangelo. Michelangelo's David has a lot of Social Realism to it. The details are outstanding and really depict a real human being. Obviously there is something idealism to it which is not necessarily realism but the basis really points to Social Realism. Social Realism remained in future Renaissance minds and its use continued.
Social Realism is still very apparent today in things such as reality T.V., novels, and movies. People love to see real people doing real things. People like to know that other people are just like them and we all live in this world together. Renaissance Social Realism began this in the art and literature of the day as it paid close attention to details, social class, social interaction, society, and individual personalities. By paying attention to these things Renaissance values and concerns were brought out through art and literature much like our 21st century values and concerns are brought out through our film, television, and literature. People today have followed in the footsteps of Renaissance minds and used real people and experiences as topics in the arts and literature.