Societal Marketing Concept Essay Sample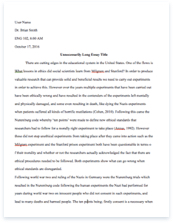 The whole doc is available only for registered users
OPEN DOC
Pages:
Word count: 749
Category: society
Download Essay
A limited time offer!
Get a custom sample essay written according to your requirements urgent 3h delivery guaranteed
Order Now
Societal Marketing Concept Essay Sample
Locate two examples (e.g , Advertisements, Articles etc.) Depicting practices that are consistent with the Societal Marketing concept and two examples of business practices that contradict this concept . Explain your choices?
Societal Marketing Concept:
The societal marketing concept is an enlightened marketing concept that holds that a company should make good marketing decisions by considering consumer's wants, company's requirements, and society's long-term interests. It is closely linked with the principles of corporate social responsibility and of sustainable development. Under the societal marketing concept organizations have to balance company profits, customer's wants and the society's Interests. Examples Depicting practices that are consistent with societal marketing concept 1. PSO Societal Marketing Initiatives:
As far as corporate social responsibility is concerned, PSO is the one which is taking leaps for the betterment of society. The Company takes excessive initiatives encompassing Educating, Healthcare, Community Building, Women Empowerment, Special Children Welfare, Sports Development and Relief Activities. The company has led the front in its CSR campaign by financially supporting several National Educational Institutes and with the help of the Heritage foundation, PSO has also helped in building schools in earthquake affected areas. PSO has partnered with various institutions in health sector and also provided financial assistance to institutes such as the Cardio Vascular Disease, Karachi.
PSO assists Rashid Memorial Welfare org, which carries out Education, Health and Vocational training for females and takes poverty alleviation measures. For special children, like Deaf and Disabled, PSO incorporation with different Educational as well as Skill development training institutions, to empower these children, For the Development of Sports, PSO has sponsored different championships, like CNS International Squash Championship 2007, and also sponsored Asian Football Confederation cup arranged by Pakistan Football Federation in respective year. They also sponsored the National Skiing Tournament after wards. 2. Tapal Societal Marketing Initiatives:
Tapal with its roots planted deep in the culture and society of Pakistan, under the banner of its social welfare platform Hamqadam, takes pride in being Socially responsible and active entity with initiatives in field of Education, Medicine and Sports. Some of our activities are as follow, In the field of medicine, in collaboration with Hamqadam, Tapal set-up free medical camps in different towns of interior Sindh, and provide a chance to patients to avail fee check-ups by Physicians including ENT, Heart and Skin Specialists. At District of Umerkot, three days free Eye Camp was initiated, for the prevention of Eye Disease called "Cataract", for which more than 250 patients operated absolutely free and also provided with follow up medicine.
In Education, Tapal took initiative with collaboration The Citizen's Foundation to build its own school campuses in rural Sindh, in order to promote quality Education at the grass-roots level, because up to 51% of Pakistan's population is illiterate and Government spends only 2.3% of GDP in Education sector. In 2006, the Ist unit of this project was completed in Hala, Sindh, and in 2008, they were able to complete 2nd unit, that was also in Hala respectively. For Sports, Tapal conducted a party, on the triumphant return of National Cricket team for Blind after their victory in Chennai at Blind Cricket World Cup 2002, and a cheque of Rs 4 lakhs were presented by Mrs. Faizullah in honour of the Champions. Examples of practices contradict with societal marketing concept 1. Alcohol:
Alcohol is very dangerous thing and it has many of the negative externalities out there in the Society, For the fact that, It is very harmful for health, and on the other side it is just a waste of money, but there is no doubt that the customers still wants it. It would be senseless for the business not to provide a good with such a large demand. Instead, Government restrictions should be respected as supplies are approved. 2. Flights:
There is no doubt in the fact that, the demand for flights in and flights out of the country is very high, However, as we all know the fact that, it is very terrible for the Environment. It causes both Environmental as well as Noise pollution. Though in this theory of Societal marketing, A company would stop providing the flight, as the harm done to the Environmental outstrips the satisfaction provided to customers. However, it is clear this would reduce profits made by travel companies and other Associated Organizations. Therefore these flight companies are just focusing on providing as many flights as they can legally to fulfill the demands of their customers.