Sociology of Everyday Living Essay Sample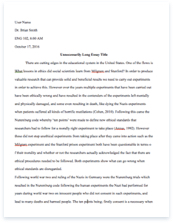 Pages: 3
Word count: 651
Rewriting Possibility: 99%

(excellent)

Category: sociology
Get Full Essay
Get access to this section to get all help you need with your essay and educational issues.
Get Access
Introduction of TOPIC
The town of McMinden is one ordinary town with citizens living ordinary community life. It consists of different ethnicity but predominantly white. Short description of some citizens lives were indicated which is helpful in analyzing the sociological aspect of the community.
In sociological theory, the moral order is governed by activities of everyday life. Members of society encounter moral order as perceived normal courses of action – familiar daily scenes which are most of the time being taken for granted. Religion plays an important role in maintaining the moral order as exemplified by the presence of the church in the community. Religion provides the community with a sense of solidarity depending on its influence on people's lives.  The daily routines which can be visualized through the descriptions given can help give us a glimpse of their daily routine.
Garfinkel, whose concern is that of everyday life and how things are perceived and defined, wanted to know the details of daily living which are often taken for granted. Each role that members of the community act out is a part of an unfolding drama and role playing in society. The interview done in the story is a way of documenting how they go about their daily routines. One will have an idea what the routine of each individual is depending on the role he/she is fulf
illing. For example, the role of Letisha Jones, a mother of three, a legal secretary and a wife to a
businessman fulfills multiple tasks as a career woman and a mother. She expressed the difficulty of accomplishing all these. Not expecting it would be difficult.
Letisha's story also exemplifies the Feminist methodology which upholds women's rights and self-fulfillment. She represents the modern woman who is already part of the economically productive aspect of society. She is also independent and takes on many different roles. She has expressed the burden of fulfilling multiple tasks. Although it was not specified if her husband required her to work in order to compensate for the family income and has not also specified whether her husband helps her with the chores, cases like hers if expressed as oppressive by women like Letisha is a Feminist issue.
Marx's theory of alienation becomes true when factory workers were said to be exploited in the town of McMinden. For Hegel and Marx, humanity is composed of progressive divisions of consciousness, where there is enlarging division of identity and complexity. Workers while fulfilling their part in the production becomes alienated from themselves and others.
Therefore, these workers exist to produce but not to live as human beings. In the situation at McMinden, Marx's concept of Capitalism is also exemplified by the depopulation of the town. Businesses could not be sustained because there were almost no more people. They were all moving to the city. This is Marx's Capitalism which is described as the separation or alienation of an individual from the material produced and the process how it was produced, from their essence and from other people. The young intended to live somewhere outside the town encouraged by their elders which leads to alienation of individuals in the process.
            These three concepts of Garfinkel, Marx, Hegel and Feminist Theory simply say that McMinden developed alienation among its citizens due to exploitation of workers including women in the workforce. The rights of workers were not upheld which resulted to low morale of the members of the town. Human beings need to work in order to survive but the body contains spirit which also needs to be nourished. An environment must be able to provide a more wholistic nourishment to the human beings that exist in it.