Some people think college or university is the best way to get successful career. Others claim that people should leave school to get a job and experience it. Discuss Essay Sample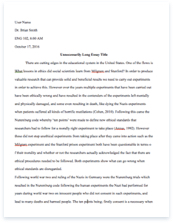 Get Full Essay
Get access to this section to get all help you need with your essay and educational issues.
Get Access
Introduction of TOPIC
Some people think college or university is the best way to get successful career. Others claim that people should leave school to get a job and experience it. Discuss
a. College or university
– Provide knowledge and skill
– Stimulating environment
– Develop relationship and social skills
– Research experience
b. Get a job
– Practical experience
– Figure what is needed in their training
– Gain quicker success
– Some examples of famous people without university degree
Whether students should study university or get a job to gain experience first remains controversial. Some people believe that tertiary education provides students with knowledge for future jobs while others think that working in real environment promises more gains. My essay will discuss both sides of the issue. On one hand, university education bestows students several benefits. By studying her
e, students can accumulate knowledge and skill necessary for their job in the future. With top-notch
professors guiding and training, students become more confident in work environment.
There are, in fact, some famous universities such as Stanford where the number of students being successful in their later career is rather high. In addition, surrounded by outstanding peers in university, people are motivated to learn better to meet the growing demand of society and expand relationship. Besides, for those who desire to go deeper in their field, like research, university proves an ideal environment. On the other hand, the choice to work without tertiary education proves equally advantageous. First, nowhere are experience and skill significantly sharpened than in the real work environment, as there goes a saying "learning by doing". Besides, such knowledge taught at school remains theoretical, which takes students a long time to adapt to work environment. Facts have shown that no sooner have students graduated even with high degrees than companies still have to pour a huge amount of money into re-training labor. Equally important, thanks to experiencing actual problems in work, people can come up with creative solutions which are, however, not taught at school and discover their other potentials. To some, this experience quickens their success journey like the case of Steve Jobs or Bill Gates. In brief, it is up to individuals to choose to work right away or pursue university education. I myself prefer to working to learning, since I strongly believe that experience is the best teacher