Sonney Blues Essay Sample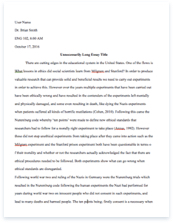 The whole doc is available only for registered users
OPEN DOC
Pages:
Word count: 975
Category: family
Download Essay
A limited time offer!
Get a custom sample essay written according to your requirements urgent 3h delivery guaranteed
Order Now
Sonney Blues Essay Sample
In "Sonny's Blues", the theme of poverty is characterized by the poverty of Harlem Youth's spirit. The story focuses on the relationship between two brothers at various stages of their lives. The events of the story focus on the building of understanding between Sonny and his older brother, the narrator. Even though the story focuses on Sonny's life, I understand his brother's reactions to and about Sonny's actions broaden the scope of the story to include the brother's life as well.
Baldwin uses this double focus to bring out one of his most important themes," the growing understanding between estranged brothers" In Sonny's Blues, the narrator is self-reflecting his experiences with various family members such as his mother and his younger brother, Sonny. Sonny and the narrator are brothers with a 7 year difference between them. The narrator was disappointed with Sonny at first due to his interest in becoming a musician. He thought it was a phase he was Sonny was going through and maybe it would pass. The narrator patronized Sonny with his insincere interest in music at first until it angered Sonny and he told his brother "don't do me any favors by telling me what to do with my life.
In an extended flashback, the narrator recalls how Sonny and their father used to fight with each other because they were so similar in spirit. He remembers the last day he saw his mother while on leave from the army, when she told him to watch out for his brother. She told him that when his father was a young man, he watched his own brother get run down by a car full of white men who never bothered to stop. The experience traumatized and damaged the narrator's father for the rest of his life.
After that conversation with his mother, the narrator went back into the army and didn't think about his brother again until their mother died. After the funeral, the two brothers sat and talked about Sonny's future. Sonny told his brother about his dream of becoming a jazz pianist, which the narrator dismissed. The narrator arranged for Sonny to live with his wife's family until Sonny graduated from college. Sonny reluctantly agreed to do so. He didn't want to live in the house and spent all his spare time playing the piano. Although Sonny loved the music, the rest of family had a hard time bearing his constant practicing.
While living with his sister-in-law, Sonny got into trouble for skipping school. He tried to hide the truancy letters, but one eventually made it to the house. When his sister-in-law's mother confronted him, Sonny admitted to spending all his time in Greenwich Village, hanging out with musicians. The two fought, and Sonny realized what a burden he'd been on the family. After two days, Sonny joined the navy. The narrator didn't know whether Sonny was dead or alive until he received a postcard from Greece. After the war, the two brothers returned to New York, but they didn't see each other for quite some time. When they eventually met, they fought about Sonny's decisions in life. After one especially difficult fight, Sonny told his brother that he could consider him dead from that point on. The narrator walked away, telling himself that one day Sonny would need his help.
The narrator had a judgmental, stereotype, predetermined way of thinking when it came to his past. The narrator's thoughts and feelings were cruel and hard for the drug addict childhood friend of Sonny's when he told him he did not want to hear his "sad story". Yet, he realized they both have something in common. The narrator has Sonny's drug addiction and the friend has his own addiction to deal with. Music allows the brothers to have a relationship based around understanding one another and being there for each other.
The narrator's new way of thinking begins when Sonny and he watched a street revival meeting. The narrator realizes that their music saves them, for it "seemed to soothe a poison out of them." The narrator's recognition of the meaning of music and the power it has provokes conversation. Sonny tells his brother that the woman's voice reminded him of what heroin feels like. The narrator explains that music can be a positive alternative to drugs and now the narrator understands Sonny's desperate commitment to the piano. A change began in the narrator and his willingness to understand, and listen to his brother.
He now shows sympathy and realizes the profundity of Sonny's suffering and thinks of ways he can help. Sonny then invites his brother to listen to his music. This event makes their understanding for each other stronger than it has ever been. The leader of Sonny's group steps to the microphone and says, "These are Sonny's Blues." This part of the story gave me a feeling that the characters have truly gone through a change and they have done it together. Sonny's music stirs special memories in each of the brother's lives.
Music proved to ultimately be the thing that brought them close and gave each of them the brother that they had always wanted, but was never there. When the narrator went on Sonny's territory which was the Club, it was the way of his accepting Sonny on his terms. The acceptance came into full circle when he was listening to the music and watching Sonny play and express himself on the piano. Where the older brother was disappointed in Sonny's choice of being a musician, he now embraces it. The narrator loves his brother and his love is unconditional. By listening to Sonny play the jazz music, the narrator was able to change his attitude about life, himself, and most of all, Sonny's choice.