Spiritual Gifts Inventory Essay Sample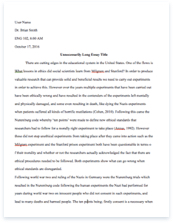 The whole doc is available only for registered users
OPEN DOC
Download Essay
Get Full Essay
Get access to this section to get all the help you need with your essay and educational goals.
Get Access
Spiritual Gifts Inventory Essay Sample
The outcome of spiritual gifts survey; surprising in some of the grades. Like Mercy was heights grade for me is the ability to identify the pain of other person. Been able to comfort others and pray let them thrust by the word of God be able to moved beyond those in pain . I pray to god and thrust on him to make a change in their life. The second that follow is 10-missionary for me is something I have been thinking of doing. It will be a privilege to take the word to those places in need of God.
Been able to learned other race, culture, tradition and to bring spiritual need for those people who are neglected. The third one is 9-Hospitality this category fit me because I like to share my possession with others new to the community or church. Treat people like family listen to their need and see if is under my reach to help or directed to some one else be able to assist them. I enjoy served as away to glorified God. People need to feel they are part of family; In God eyes we are all his kids. I enjoy providing aid for people that are overwhelmed.
By learning I have this gifts make me happy and want to exercise more at work be able to communicated with different cultures and believes to bring the word of god. Makes me wake up in the morning with joy in my heart. Knowing I be able to save another soul for my Lord. The work setting for me is praying for faith, read the bible understand his message for my daily life. Been able to gain knowledge through the bible is the best ever happened to have a the peace in my heart.
Faith is an encouragement for me that I learning to keep my going in life because god is changing my way of life little by little. In Roman 12:3-8 " so we, thought many are one body in Christ, and individually member one of another. 6.Having gifts that differ according to the grace given to us, let us used them; if prophecy, in proportion to our faith;7.If service, in our serving; the one exhorts, in his exhortation; the one who contributes, in generosity; the one who leads, with zeal; the one who does acts of mercy, with cheerfulness.
We are God instruments who he influence our life to exercise he/she own gift in freedom can allow the "Holy Spirit to do in others what he wants to do." By reading this passage below will gives more understating in the assignment. I will implement his word in my everyday life to be better instrument to be use by God and help others the way he has help me with words of love .