Sport in Britain Essay Sample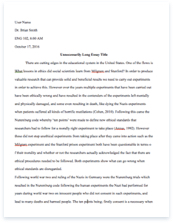 The whole doc is available only for registered users
OPEN DOC
Pages:
Word count: 1944
Category: sport
Download Essay
A limited time offer!
Get a custom sample essay written according to your requirements urgent 3h delivery guaranteed
Order Now
Sport in Britain Essay Sample
'Sport in Britain has been used by all three Celtic nations, as a means of sustaining their individual identities. Choose one nation and critically evaluate the manner in which this has been achieved'.
'Scotland is a territory, a place on a map with a long historical pedigree, even with a border which distinguishes it from its southern neighbour' (McCrone 1992). For many years Scotland has used Football as a means of sustaining its 'identity'. Football is Scotland's national game so this explains the strong football culture, which dates back to the first international matches against England.
Although other sports are undoubtedly popular in Scotland and can enjoy both high participation rates and significant audiences, no sport has captured the imagination of the country's population as Football has. For over a century Football has dominated in terms of money, media and crowds. Clubs in Scotland such as Aberdeen, Glasgow Rangers and Celtic, as well as the Scottish international side, have all recorded crowds, which are records for European Football. (Bradley, 1998)
'Scotland has one of the world's oldest footballing traditions. This sporting history owes much to Scotland's complex relationship to England, whether in Unionist fraternity, cultural rivalry or nationalist animosity. Imitation of England was behind the early organisation of Scottish Football & the administration of its affairs, in a process that was then thought to strengthen the British nation & the union (Brown, 1989).
Football was first played in England centuries ago but was quickly taken up by Scots. The matches against England played and integeral part in maintaining Scotland's national identity. The importance of football in the lives of Scotsmen is indicated by the number who turn to the sports pages of newspapers before they have even read the headlines on the front pages.
Different accounts of the 16th century refer to some of the first games of football between Scotland and England. One source refers to "games between wardens from both sides of the border"… where "an English observer commented favourably on the superior skills of the Scots"!
In 1599 an England v Scotland football match took place in Cumbria. The final score is unknown and there was no governing body in charge of football so the rules would have been virtually non-existent. The violent nature of the match resulted in a number of Englishmen being taken prisoner and one man was disembowelled.
In 1872 Scotland drew 0-0 against England in a match at the West of Scotland Cricket Ground in Glasgow. This is the first recorded Official international football fixture.
Football took off in Scotland when the Scottish Football Association (SFA) was formed in 1873. There may have been political Union with England since 1707 but the SFA maintained a separate identity from the Football Association in England. Football was the working class game – played and watched by thousands from a working class background.
Supporters of Scotland's National team are fiercely patriotic and the annual matches against England in particular attracted large crowds. When Hampden Park was opened in 1903 it was the biggest stadium in the world and when it hosted its first clash between Scotland and the "auld enemy" the National football stadium was packed with 102,000 spectators. (Smout, 1994)
According to traditions of Scotland's football culture, the match against England furnishes players & supporters alike with the greatest anticipation & highest levels of adrenaline. The curious ambivalence, sometimes downright hostility, of Scotland towards England is so culturally & historically embedded as to lend credence to the argument that this truly represents world football's most intense 'derby match' at any level – civic, national or international. (Brown, 1989)
Hampden Park began to create more records as it grew with the addition of more terracing and a North Stand. The attendance of the Scotland game versus England in April 1937 was officially recorded as 149,415. It is believed that as many as ten thousand more may have seen the game. It has to be remembered that Scotland's population was under 5 million people so the attendances at these matches show the popularity of football within the country. (Smout, 1994)
International Football identities very much represent the identity of the particular country; for example, England are portrayed as thugs due to their 'so called' fans extreme behaviour. Fans' behaviour is described in contrasting styles either they represent Carnival style of support, or they are Hooligans. Carnival behaviour is still associated with alcoholism, but it remains non-violent (Finn, 1998). In past years Scottish fans showed moderate violence whilst at Football matches, but still nothing compared to the antics of their southern neighbours, England. Often the social identity of Scottish fans is complicated by the existence of other, earlier variants of Scotland fan behaviour, which was Hooligan based. Like in 1977 when Scotland defeated England at Wembley and full of joy the Scottish fans entered the pitch after the final whistle and ripped up the turf and broke the goalposts. This was to symbolise an epic victory and to get souvenirs of the game. So the carnival and hooligan categories have heuristic and self-identifying value. They are important analytical categories for examining the cultural structures of the Scottish fans' activities. The Carnival-Hooligan differentiation also provides a consciously nurtured resource through which supporters develop and publicly sustain their distinctive cultural identities. (Finn, 1998)
As a nation, Scottish football behaviour is today a very 'carnivalesque', and this also includes when Scottish Club teams travel abroad to play other teams; for example, when Celtic travelled to Seville for the UEFA Cup Final against FC Porto in 2003. The Celtic fans' behaviour was well mannered and passionate to say the least, and strictly non-violent but very loud! The interpretation and evaluation of Scottish fan behaviour is given greater complexity by the continuing uncertainty over how they should respond, and how they will respond, when they are confronted by 'Hooliganism', particularly relating to fans front England, of whom Scotland share the greatest rivalry (Finn, 1998).
Scotland fans' effort to be non-violent is very much a symbol of their cultural identity, as well as it being a direct attempt to distinguish them from the English. The English are portrayed as 'Hooligans', and it is to Scottish people's annoyance that many foreigners cannot distinguish between the two countries and their social and cultural norms.
Underpinning the Tartan army's repertoire is a collective anti-Englishness, strongly associated with the popular typification of English fans as 'hooligans' (Giulianotti, 1991).
This anti-Englishness possesses both a practical and cultural dimension. Scottish supporters deliberately project an image of themselves as being Scottish not English, and the stereotype of English fan hooliganism has proved highly 'efficacious' in generating a rapport with the local hosts when they are abroad. The hosts do make the assumption that Scottish fans are English, or mix this with the assumption that 'British' are Hooligans. Meaning that foreign people see British as Hooligans because of the English's behaviour. This is probably due to fact the English have the same passport as the Scottish, so the expectation is that Scottish fans are violent. Scottish fans tend to defend themselves by explaining their cultural and historical differences, then expressing their contempt for such violent behaviour, and proceeding to blame it all on the English (Finn, 1998).
There are people in Scotland who share the sense of 'Britishness' with the English. In Football, Glasgow Rangers show unionism towards England. This maybe derived by Rangers' intolerance towards Catholics and Celtic in general. But Englishmen who have played for Rangers in the past have shown their assimilation into Rangers' club culture – for example Paul Gascoigne played the 'Flute' after he scored in a match against Glasgow Celtic. This action was seen as an insult as it was seen as Irish ranting. (Finn, 1998).
Domestically in Scotland there always have been, and still are today, issues with Catholic and Protestant religion. This stems into Football especially, where many clubs formed by the Catholic Irish population are involved in the rivalries and battles with the Protestant majority. For example the extreme rivalry between Glasgow Rangers and Glasgow Celtic. The historic racialisation of the Catholic Irish by significant sections of the dominant Scottish Protestant population is usually disguised when sections of the Scottish society and Football, discursively masked by the use of 'sectarianism' and the implicit failure to recognise inequalities of power between majority and minority groups.
It is a fact though that anti-Catholicism is part of Scotland's history and culture, so 'anti-Catholicism' is essentially seen as Scottish and part of what it means to be Scottish. The current efforts are to reach a social reality within Scotland, that racism is banished, and the avoidance of anti-Irish racism. (Dimeo, 1998).
Using the example of some of the symbols, opinions, chants and songs, which characterise football in Scotland, it is evident that football there reflects a number of features of the wider society. But Celtic fans don not support Scotland compared to other clubs, notably Rangers. There seems to be an 'ambivalence' towards the national team, as 54% of fans said they had never attended a Scotland game (Finn, 1998). This can be explained by the amount of Celtic fans who live in Ireland, who would obviously not want to watch Scotland, as their allegiances lie with Northern Ireland or the Republic. Even the Celtic fans within Scotland would not watch the national team due to their cultural identity, which they feel they are Irish. 52% of Celtic fans said that they prefer to support the Republic of Ireland rather than Scotland. So concluding from this there is still a strong Celtic influence in Scotland, due to the existing cultic culture (Bradley, 1998). This could also still suggest a strong politico-cultural connection between Celtic fans and Ireland.
In Scotland, Football is very much used to represent cultural and social identity. Particularly distinguishing themselves from England, and the 'Hooliganism' style of fandom. The Scottish have adopted the 'carnivalesque' attitude, which is non-violent. This emphasises its difference from England, and any other nation. Even the Irish influence follows the same pattern, in that the majority of the Catholic population passionately supports their roots in Ireland. Scotland's Football tradition and culture represents their attitude. Clear Protestant and Catholic religions remain within Scotland, but it is part of the thriving football culture that exists.
References:
* Bradley, J.M (2002) The Patriot Game: Football's Famous 'Tartan Army', International Review for the Sociology of Sport, 37(2), 177-197.
* Bradley, J.M (1998) 'We Shall not be moved'! Mere sport, mere songs?: a tale of Scottish Football, in Fanatics! Power, identity & fandom in Football, London, Routledge.
* Brown, A. (1998) Fanatics! Power, identity & fandom in Football, London, Routledge.
* Dimeo, P & Finn G.P.T.(1998) Scottish Racism, Scottish Identities. Fanatics! Power, identity & fandom in Football, London, Routledge.
* Dunning, E. (1999) Sport Matters: Sociological studies of sport, violence and Civilization, USA, Routledge.
* Finn G.P.T & Giulianotti R. (1998) Scottish Fans, not English Hooligans! Scots, Scottishness and Scottish Football, in Fanatics! Power, identity & fandom in Football, London, Routledge.
* Horne, J et al. (1999) Understanding Sport, USA, Routledge.
* Jarvie, G et al. (1994) Scottish Sport in the making of the nation, London, Leicester University Press.
* McCrone, D. (1992) Understanding Scotland – The Sociology of a Stateless Nation, USA, Routledge.
* Murray, B. (2000) The Old Firm Edinburgh, Birlinn Ltd.
* Smout (1994) Scottish Culture and Sport: http://www2.umist.ac.uk/sport/JarvReid%20May%2099.htm – 14/4/2004
* (2002) Scottish Football and Society: http://scottishfreedom.net/cultfootball.html – 10/4/2004