Spreadsheets Paper Essay Sample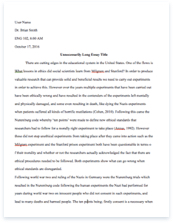 The whole doc is available only for registered users
OPEN DOC
Get Full Essay
Get access to this section to get all help you need with your essay and educational issues.
Get Access
Spreadsheets Paper Essay Sample
iWork Numbers
Apple Inc.s' latest spreadsheet is called iWork Numbers, which is part of the the iWork '08 program. Its main selling point is the capacity of the spreadsheet to insert and edit pictures right in the program. This feature is not available in other spreadsheet programs. Aside from this feature, iWork Numbers allows resizing of tables, moving of graphics and photos, customizing of templates and even 3D displays. The resulting display can be customized to look as presentable as how the user would want it to be. It can be made simple or it can be made to look sophisticated. The document can be scaled and arranged so that when it will be printed, the result will not be changed. It is also compatible with Microsoft's Office 2007.
The spreadsheet comes with the iWork '08 software that is selling in the range of $79 for one user, and $99 as a family pack that allows five computers to share in one pack. When it comes to display and graphics, this is better than excel.
IBM Lotus 1-2-3 Release 9.8
IBM was the first to offer this program. To keep up with other competitive products, IBM has released the 9.8 version that offers its own unique features. This spreadsheet has a voice-activated feature that allows users to quickly complete common tasks like reporting for expenses and amortization. Other than this, Release 9.8 is integrated with Web functions. Meaning, it can extract figures from the Internet and keep the data automatically updated. This is very useful for stock quotes. Its HTML feature allows for the spreadsheet or any part of it to be displayed in HTML format. In computing, the user can customize its formulas and the predefined terms in the program. This is compatible with Excel versions up to 2000.
Lotus 1-2-3 Release 9.8 is included in the SmartSuite Release 9.8 package, which costs about $269 for one user license. This software runs on Microsoft OS.  This spreadsheet's capability to display live data is a feature that is superior to that of Excel's.
Gnumeric
This spreadsheet is part of the Gnome Office that aims to provide for free the same level of sophistication that other proprietary softwares offer. In particular, this spreadsheet has all of Microsoft Excel's functionalities and 154 more others. Most of the functions that are not found in Excel includes 3D features, multiple viewing, support for Black Scholes' financial derivates, and advanced functions for statistical data analysis. While its graphical presentations are similar to that of Excel, its editing functions vary. When editing graphs, all of the graph's elements are displayed in a window to allow users a more efficient way of manipulating the figures. Like any other free software, Gnumeric was created to let the free software community experience the same level of ease when dealing with numbers.
Since this program has all of Excel's functionalities plus a lot more, this is better and it comes for free.
Of the three types of software and Excel, which would you recommend and why?
Different users require different sets of functions. While one spreadsheet will work well for a person, the same could not be said for the others. For those who prefer and need to present figures with a lot of graphics in 3D displays, iWork Numbers would be best for them. For those who require live feeds, they obviously need Lotus 1-2-3 Release 9.8. And for those who don't need special functions, they can choose between Excel and Gnumeric. However, Gnumeric is free and offers features that are not found on Excel. If the user has not installed a spreadsheet yet and is on a tight budget, Gnumeric is the answer.
References
Apple Inc. iWork Numbers. Retrieved August 10, 2008, from
http://www.apple.com/iwork/numbers/
Gnumeric – The Gnome Office Spreadsheet. Retrieved August 10, 2008, from http://www.gnome.org/projects/gnumeric/index.shtml
IBM. Lotus 1-2-3. Retrieved August 10, 2008, from
http://www-306.ibm.com/software/lotus/products/123/features.html