Staffing an Australian Business in China Essay Sample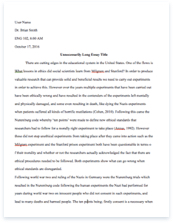 The whole doc is available only for registered users
OPEN DOC
Get Full Essay
Get access to this section to get all help you need with your essay and educational issues.
Get Access
Staffing an Australian Business in China Essay Sample
Staffing an Australian business in China is not that easy considering the cultural, political, social, and legal differences and barriers that stand in between the two countries. More specifically, an Australian manager planning to put up a business in China has to carefully analyze any possible outcome once hiring Chinese managers to manage the business. This is a challenge a human resource manager has to resolve in order to gain more positive impact than negative.
Considering the success of McDonalds and KFC businesses in China, it is easy to assume that putting up a business in China and hiring Chinese managers and staff give more advantage than disadvantage. However in most cases, it is a managerial skill that counts most, which starts from hiring personnel up to the point of managing them for the desired result. Successful staffing means successful matching of talents/skills with the company needs for the achievement of short and long term goals more specifically for the growth of the company.
Applicant selection involves scrutinizing one's talent and skills as well as moral standard and belief. This aspect is crucial for the lasting success of the business because any contribution they could share will greatly affect the operation of the company. In line with this, the paper will look into certain aspects and issues in connection with staffing an Australian business in China and how to make it successful in the first place. More so, given the success stories of businesses in China in recent years, an Australian company has to gather professional advices to ensure successful staffing.
Such information will guide them through. Distinctive skills and attributes required of staff working for Australian companies operating in China Anyone who is interested to work in an Australian company must have clear-cut understanding of its culture. Communicaid issue described Australian culture as egalitarian, openness and individualism (p. 1). These attributes only exhibit that Australian people can work freely with anyone regardless of educational achievements or personal qualification; however, these people are open to voice out their opinion and open to respect other's opinion as well.
The respect given to individual often leads to individualism, which honors personal privacy. This mutual respect as practiced made the Australian people even in the business sector to call associates with their first name and not through their last name or their titles, except during initial introduction (p. 3). In the same manner, staff working for Australian company must also understand working practices in Australia. Communicaid enumerated what Australian company expects from their staff, which stated as follows: punctuality, doing advance business appointments, observing business hours in that country (p. ).
Hierarchy of organization is usually flat having decision-making responsibility is not always left in the hands of the executives (p. 2). Meetings are done in accordance with the law and rules; often frank or open, everyone reacts to major issues and not allowing feelings to take over the conversation. These attributes and characteristics are opposite of the culture of Asian people. The challenges for Australian employers attempting to staff their business operations in China Generally, the main problem that an Australian company may encounter is differences in culture and approaches in business.
Seemingly, Western culture is distinct from Asia. As what can be noted, Australian people value respect and individualism while for Chinese mistrust is prevalent. Hans Jonsson explained that mistrust is due to Chinese long engagement in "individual deal orientation" (p. 89) in which no third party is involved. If Australians are highly individualistic, Chinese people are highly relational. They value kinship relationship as well as friendship, which they integrate in the business. Professionalism is not the name of the game; rather social interaction by "giving gifts or by visiting. "
In contrary to Australians' reliance on laws and rules in decision making, Chinese usually associated decision making with their superstitious beliefs. Jansson argued that as per cultural traits are concerned; Chinese people relate everything to causality of things. They think and explain by finding the connection between the events or phenomena (p. 92). There are still numerous differences that can be noted, however, understanding of differences may provide for better strategy to adopt. The strategies an organization can adopt to identify, relocate, recruit, and retain appropriate employees
Tad Lincoln in his paper presents some important factors to consider for effective staffing; some of which are compensation and training of employees (p. 1). Lincoln knew exactly that staffing particularly in China starts in hiring the best people and retaining them. Staffing as Lincoln noted may seem difficult in the aspect of choosing "the most appropriate, the hard-working, and high quality individual" (Lincoln, p. 375) who can make up the team. Advertising the job vacancy may only increase the quantity of applicant but cannot provide the quality one.
Thus, he noted that offering good salary compensation can invite good candidates; it is called reputation for high salaries. Aside from it, scrutinizing the applicant during the interview can help confirm information about the person and the possibility of retaining the person once he gets hired. As much as possible, one has to get to know the motivation of the employees as well as their attitude towards hard work during the interview process. This will give a glimpse idea if the person is worthy to be hired.
For hired employees, giving probationary period of three months is a good start to evaluate them if they really possess the qualities of good employees. Once in, the employer may consider giving compensation above the going wage rate is effective means to motivate them. Lincoln believes that compensation and increases in salary in a regular basis "is a good way to help retain employees and provide them continuity in the organization" (p. 378). Human resource management problems for Australian companies in staffing their business operations in China
Given the information about staffing, there will definitely be problem in staffing. More and more articles present common mistakes being committed on the process. The website China Briefing explained most common mistakes foreign companies commit; to avoid them, one must get familiar and carefully plan any action to make in staffing in China. On the other hand, Mingsheng Li mentioned that the major issue that a foreign company on issue of staffing may encounter is the cultural differences that will greatly affect the operation.
In accordance with this, the company must take extra care in hiring personnel out of plenty of people who are willing to move in order to get a job. But then, out of the great number of people willing to work, only few can be considered qualified for the position, especially the higher position. In relation to this, many job-seekers in China are into job-hopping trying to get a job that gives better compensation than the previous job; this attitude is a sign of lack of loyalty on his employer.
Another challenge for Australian firm is "exaggerations or outright falsehood" (Lincoln, p. 376) in resume being submitted by Chinese applicant. Lincoln explained that may be due to mistakes in translation or simply showing "everything in the best light" (ibid). The best given suggestion according to many professionals to avoid mistakes in staffing in China is adopting 'staffing localization approach. ' Xiaowen Tian explained staffing localization as "the selection and recruitment of talented host-country nationals for management positions" (p. 06).
According to Tian, the best persons to hire in the managerial positions are the overseas Chinese who were brought up with influence of Chinese culture and at the same time educated in the West. He stated, "They played an important role in bridging the two cultures" (p. 207). Conclusion Staffing involves selection, hiring and retaining employees for the achievement of goals and objectives of the company. Work force is necessary to realize the goals so as to keep the company gaining more income.
However, staffing in China requires extra skills on the part of the human resource manager because of cultural differences that may hinder the growth of the business. In that way, it is important to enumerate those cultural factors and begin setting strategic action during the selection, hiring, and retaining the employees. Localizing staffing is now a trend in business because they serve a dual purpose that is to maintain the equilibrium between the interests of the two parties.