Staffing and Employment Essay Sample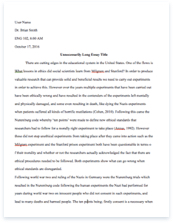 The whole doc is available only for registered users
OPEN DOC
Get Full Essay
Get access to this section to get all help you need with your essay and educational issues.
Get Access
Staffing and Employment Essay Sample
The strategy of providing job analysis to the operations of the Mother Earth Foods would be a good way to improve the performance of company's workforce. It would be easy for Mother Earth Foods to implement this job analysis since this will be supported by the main employment qualification – ability to learn and master continuous training opportunities. Fulfilling the above qualification, plus, the potential to become an effective manufacturing associate would give Mother Earth Foods enough room to have a flexible workforce that can withstand fast changes in the market.
Trainings would serve as the tool in molding the potentials of those newly hired manufacturing associates of Mother Earth Foods. Therefore, this analysis would be beneficial to Mother Earth Foods attainment of better workforce performance amidst the shortage of skilled laborers in the market an in the midst of their expansion. The introduction of a two stage screening in order to thoroughly select job applicants with key attributes would be a good way to ensure the that Mother Earth Foods will only hire potential effective manufacturing associates.
The so-called six-at-the-time of hiring attributes namely: physical stamina and agility, reading comprehension, mathematical reasoning, oral communication skills, learning ability, and team oriented interest, must be fulfilled by the job applicants in order to pass the said two-stage screening test. Since this strategy will not incur much cost on the part of Mother Earth Foods, plus the fact that this would allow the company to thoroughly screen its job applicants, then, it would be best for the welfare of Mother Earth Foods to implement this strategy alongside with other strategies already mentioned above.
Regarding the fitness of job applicants to the company, the need for the presence of value-interest profile would be of great help in maintaining high degree of organizational fit among the newly hired workers of the company. Considering how work is organized in Mother Earth Foods midrange plant, it is a must for newly hired manufacturing associated to be able to cope up with the environment of Mother Earth Foods' workforce in order to maintain the harmonious flow of coordination among the workforce of the company.
Giving mandate for team to terminate manufacturing associates with below-standard performance would give Mother Earth Foods workforce enough pressure to be keener about their actions and performances in the company. Threatening the job security of workers would somehow force them to value their roles and responsibilities in the company, thus, resulting on the improvement of their performance. But this strategy will only work if workers truly value their jobs in Mother Earth Foods.
The company must make their workers feel that there will be no other manufacturing firms that can offer them great employment benefits, e. g. relatively high salaries, flexible choose of benefits etc. , other than Mother Earth Foods. Training and Development Putting more emphasis providing training programs that concentrates on broad and general skills enhancement for newly hired retail associates during their first few months in the company would give Mother Earth Foods enough chance to expose and teach their associates on how to become effective members of their TQM-oriented teams.
Through narrow and general training programs, newly hired retail associates of Mother Earth Foods will be able to learn team facilitation and problem solving skills together with other required skills, e. g. statistical process control knowledge, presentation skills to name a few. The provision of training programs that enhances retail associates' narrow skills and technical issues associated with selling their organic products will only be presented to newly hired associates after the narrow and general skills training program.
This systematic flow of training the new retail associates of Mother Earth Foods would be helpful in aligning the needed skills of new associates at a given point in time. The provision of training manuals and/or videos to new team members of every team in Mother Earth Foods through the "just-in-time" training method only when it is needed would save the company significant amount of money since these training manuals and videos will be provided if requested.
On the other hand, the use of classroom for general skill acquisition and on-the-job experience for narrow skill acquisition would give Mother Earth Foods's associates "fitness" to the company depending on the function of the training phase. Furthermore, job posting would be a good way to boost the morale of every retail and marketing associates of Mother Earth Foods since it allows the company to consider its current associates as one of the job candidates for a vacant position.
In addition to this, the provision of skill inventory would help the management of Mother Earth Foods to determine the career interests, training and development experiences etc. of its associates which could be useful in assessing associates' potential in other positions in the company. Formal succession planning would be irrelevant for the training and development of Mother Earth Food's associates considering the flat organizational structure of the said company for its retail and marketing associates. Performance Measurement System
The implementation of 360 degree performance review would be beneficial for Mother Earth Foods to monitor the improvement process of its associates. Through gathering information from various perspectives, e. g. peers, managers, customers, Mother Earth Foods would easily determine how far has been the appraisal of its employees. Implementing process oriented measurement system to address individual level needs, while results oriented performance measurement system to address team and store level needs, would a good way to monitor variety of results in Mother Earth Foods.