Staffing, Performance Management & Compensation Report Essay Sample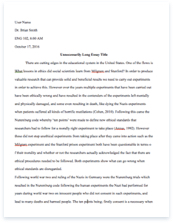 The whole doc is available only for registered users
OPEN DOC
Download Essay
A limited time offer!
Get a custom sample essay written according to your requirements urgent 3h delivery guaranteed
Order Now
Staffing, Performance Management & Compensation Report Essay Sample
American Express was established in 1850 as a freight forwarding company providing transportation of valuables and freight across the country. Developing into a company that creates and sells global payment and financial products around the world, the company has progressed into a global provider of travel, financial and network services and is one of the world's most widely recognized brands (Amex). American Express employs over 84,000 people worldwide and offers products and services in more than 200 countries. American Express is the world's largest single credit card issuer with nearly 55 million cards held by customers covering 43 different currencies worldwide (Amex). Continuing American Express's commitment to work closely with local business partners, development of valuable products, the highest quality customer service and deepest levels of customer support, this report will assist with generating the most superior and dedicated staff.
After reviewing the current organizational strategy, practices, and policies it was deemed that only extensive research could identify any gaps that could benefit from revision of current practices and policies. Please find enclosed the results of the research, a plan for new policies in staffing, performance management, and compensation structure that will assist with American Express's continuous goal of retention and attraction of only the most superior and dedicated personnel that is critical for the continued success of the organization.
Purpose
The purpose of this report is to identify information as to how, through an improved performance management system, American Express can increase the internal progression in the Customer Service Representative Level I (CSR I) to a Customer Service Representative Level II (CSR II). With the adoption of a new hiring policy, progression policy, and performance management training, the organization will be able to easily accommodate internal progression beyond the CSR II on through CSR manager and possibly beyond if the organization sees fit. The objective of the research is to provide American Express with a new plan for career-pathing lower level customer service employees into higher positions within the organization to reduce the level of turnover in these positions. This plan will eliminate future need for external recruitment to fill these positions, thus eliminating the current need for excessive training and time for new employees to fit comfortably into the organizational culture.
Methodology
The plan specifics as presented and recommendations for implementation were determined by utilizing the information gathered by conducting exhaustive research using the vast amount of text books, databases, magazine articles, journal articles and external websites available through Baker College libraries. In addition, review of the current hiring policies, job descriptions and compensation structures was conducted to identify areas where improvements would benefit the organization by streamlining the staffing process in filling these higher level positions.
Findings
The extensive research used in creation of this report indicates an increase in employee dedication when internal promotions versus external recruiting are utilized to fill higher-level positions. According to Margaret Richardson, an increase of employee engagement in the success of the organization, the "insiders" know the organization, its strengths and weaknesses, its culture and, most of all, its people." In addition, Richardson claims "skilled and ambitious employees are more likely to become involved in developmental activities if they believe that these activities will lead to a promotion." Therefore we assert, when the performance management system creates an intrinsic reward for the employee in the form of self-actualization as well as extrinsic rewards in the form of increased job responsibilities and compensation, the organizational goal of recruiting and retaining the most superior and dedicated employees will be attained. Hence, a plan for an improved performance management system that will include an employee development plan that provides detailed procedures for coaching and training has been developed and included in this report.
Career Pathing
"Career pathing is a way to plot out various career moves along an employee's career. This is set up systematically to develop skills along the employee's career. It can also be the path set up to get an employee to their desired position" (Toolbox.com). Normally, assistance from a department manager or the Human Resource personnel to determine eligibility and direction is desired. In this case, with the job descriptions clearly defined that identifies the required KSAO's of a CSR II, the CSR I can plot out the career moves needed for advancement. The remainder of this report along with the new policies, facilitation to career path beyond a CSR II would be easy to implement by plotting out the skills necessary to reach each promotion step along the way and insure all the skills align with the highest level position available.
Career Pathing through Performance Evaluation/Advantages
Using the performance appraisal system to assist employees with career pathing has many advantages. The first being that employees become accountable for their own career path, this provides the opportunity for intrinsic rewards. When an employee knows what options are available for advancement within the organization, and what goals they must reach to get there, they become more dedicated and motivated to attaining those goals. Another advantage is the streamlined hiring process for the company, having the performance appraisals done correctly allows for the organization to identify candidates that have the skills needed to fill any upcoming vacancies as well as reduces the amount of steps and financial investment in the recruiting process of hiring from outside the organization. "Performance appraisal is also closely linked to other HR processes, like helps to identify the training and development needs, promotions, demotions, changes in the compensation etc." (naukrihub.com), therefore, it is easy to see that the advantages to comprehensive performance evaluations geared towards career-pathing can assist with maintaining the organizations internal alignment and provide a good return on investment.
Job Analysis
For this report, the main objective was the progression from a CSR I to a CSR II. A job analysis was conducted by comparing the tasks required by customer service representatives in both the American Express organization as well as other comparable companies by analyzing current job descriptions utilized for external recruitment. The results of the job analysis for both CSR I and CSR II can be located in the appendix section of this report. The differences between a CSR I and CSR II will revolve around the supervisory tasks that would fall under a professional job family. With the addition of the supervision of subordinates, the tasks of completing performance appraisals with recommendations for coaching or training and then following up with the coaching necessary to assist with job progression of subordinates would occur. With this in mind, it is clear to see the importance of proper performance appraisals and appraisal training that leads to the increased level of responsibility in the CSR II category. This also helped to determine the need for restructuring of the pay grades to accommodate an appropriate extrinsic reward for the acceptance of the increased responsibilities that accompany the progression through levels.
Job Descriptions
Although there is no standard format or other requirements for a job description(Henemann III, 2012), research indicates that a clearly defined job description is essential to maintaining internal alignment. It is pertinent that an organization have the right people doing the right jobs. A very well written job description makes this possible, as each employee knows exactly what is expected of them and the prospective employees know exactly what they need to bring to the table to be considered for employment(Henemann III, 2012). The job analysis identified that the job description currently in place for a CSR I is accurate. Taking into consideration that our analysis indicated that an duties of supervision, completing performance appraisals effectively, and providing or monitoring coaching of subordinates need to be included for a CSR II position, a new job description has been written and can be located in the appendix section of this report.
Hiring Policies
After careful review of the current hiring policy provided by American Express, it is clear that the majority of positions are filled by external recruitment via the internet (AMEX.com). All positions are posted in the available position database that requires online submission of an application followed by an online assessment. The majority of online application processes utilize meta-tag software to identify prospective applicants; those applications are forwarded to the human resource department for forward movement through the hiring process which concludes with an expensive background check and a one-day orientation that shares the ins and outs of American Express's history and culture (Henemann III, 2012).
As research has indicated, a switch to an internal recruitment for higher-level positions would result in a reduction in time and funds currently expended on training and determining a cultural fit (Richardson, 2012). Although there is no remedy that would allow elimination of external recruitment completely, with the increased level of responsibilities of the higher-level positions, eliminating the need for background checks and basic training in company policies would allow for a smoother transition into the position with time spent on any needed specialized training, the writings of Margaret Richardson supports this. In addition, with the mentoring and coaching aspects of internal recruitment, a majority of training is built in to the day to day duties of performing ones job; this could also result in a cost savings in the area of on-site training programs.
In addition to the cost and time savings in preparing an employee for the higher-level position, research shows that use of hands-on information to identify prospective applicants utilizing the performance management system results in a more in-depth view of the applicant's qualifications and level of performance in all areas. According to Richardson, the information provided in the external recruitment process only provides information on an applicant's qualifications in areas of academics and past experience in similar jobs and it is highly unlikely that management can get a true indication of a prospective employee's behavioral performance levels or best fit into the culture of the organization through interviews and reference checks. Therefore, having complete personnel files on prospective applicants which include performance appraisals and individual development plans over the entire length of the employee's career with the organization that can become in significant addition to the assessment process for qualifying candidates for higher level positions.
Progression Policy
In order for the hiring process discussed to be successful, a clearly defined progression policy needs to be created and implemented as a permanent part of the organizational structure. This report will discuss this policy in direct relation the progression from a CSR I to a CSR II, yet if the organization chooses to implement the policy, it can easily be amended to facilitate further progression within the organization. Having a well defined progression policy provides for staff to always be aware of the responsibilities of each position, the goals that each is working to attain, and how to properly document all necessary coaching and training needs as well as accomplishments (Richardson). A copy of the recommended progression policy for this report can be found in the appendix section and the plans for implementation will be discussed in the recommendations section of the report.
Performance Appraisal System
The current performance appraisal system utilized by American Express is primarily to define that a level of expectation has been met per job skill for the employee's current position of employment and to determine the amount of any wage increase will be given as a reward for performance (AMEX.com). The research used for this report shows that an improved performance appraisal system, including a new performance evaluation form that will include an individual development plan is needed to begin career pathing for employees and allow the utilization of an internal recruitment process to fill higher level positions.
The research conducted for this report has indicated that attracting, employing and retaining superior and dedicated staff is integral to the success of such a large global organization (Grote, 1996). The current performance appraisal gives no true motivation to existing employees beyond the most current expected wage increase. Studies used in creation of the textbook, The Complete Guide to Performance Appraisal have indicated that a comprehensive performance appraisal system as outlined in this report can achieve the following results: * Increases in employee motivation and dedication to attaining business objectives that drives the organizational culture. * Provide a level of protection when personnel actions are challenged. * Managers will find it easier to communicate with, identify key competencies achieved or needing improvement, and find a meaningful return on their investment of time, effort and energy that will be justified by results. * Employees will know where they stand, know what improvements will assist in forward movement, where they can concentrate self-development, and know what possible career paths are available within the organization.(appriasal)
Performance Appraisal
The performance appraisal that provides the best results for use in assisting with career-pathing employees utilizes a 360-degree feedback approach. In order to create the best possible form that will provide the needed results, information from the job analysis was used to create a competency matrix. This allows for the quantitative information contained in a properly completed form to assess the level of standard expectation that has been achieved in all the competencies and skills in their job family. It will also be a good predictor of where an employee may need some coaching, additional training, and their readiness for promotion.
Appraisals will begin with new hires at the 90-day mark; this appraisal will be conducted by both CSR II and CSR Managers and will include a self-appraisal by the employee, this step will indicate if the new hire has maintained a level of acceptable standards to become a permanent member of the American Express employment team. At this time, the employee will be provided with the company progression policy and leave the appraisal fully informed on the career path options that are available along with an individual development plan with goals that will lead towards forward movement in the organization clearly outlined. The next appraisal would come at the six month anniversary, once again conducted by CSR II's, CSR Managers, and the self-appraisal.
This appraisal will utilize the Individual Development Planning worksheet, providing a plan for each employee that can be easily documented, implemented and measured. It is at this step that the employees need for additional training, coaching or mentoring will be indicated, it is also be the beginning assessment in the level of readiness for promotion the employee has attained. Subsequent appraisals will occur at the one year mark and annually from that point on, with the exception of periodic IDP reviews. All completed performance appraisals and IDP reviews will be kept in the personnel file of the employee, at any time an employee desires to apply through the internal job posting process for promotion, the appraisals will be the first step in assessing their readiness as a candidate for the higher position.
Appraisal Training
In order for the new hiring and progression policies to succeed in keeping with the American Express mission for employing the most superior and dedicated staff, the customer care managers must all stay current with all training in the performance management systems (Grote, 1996). Therefore, a complete training program has been created to achieve this goal and a recommendation for intermittent workshops would achieve the best results. The Appraisal Training program will be provided to all personnel required by job description to complete appraisals of subordinates. The training will prepare these employees for delivering a fair performance appraisal, create the most beneficial individual development programs, and coach employees who have been recommended for progression.
All training classes and coaching session will be conducted by the training department on site, with the exception of any cases that may require the use of an outside training resource if required. The training will consist of modules that cover the technical skills of performance planning, designing feedback and reward systems. The people skills of negotiating, coaching and motivating others in exceeding expectations of all goals required to progress through the organization. In addition, a module that will identify the company philosophy of the new system and the administrative procedures that is critical to the systems success. Copies of the training document, self-appraisal and performance appraisal/individual development plan forms with all grading scales and explanations can be found in the appendix section included in this report.
Upon completion of training, all personnel required to perform appraisals will have mastered the skills necessary to be both performance managers and feedback deliverers. These skills will prepare appraisers with the capability to recognize various levels of performance, keep consistent performance records, coach subordinates, recognize and respond appropriately to different emotional reactions, and focus on observable behaviors while providing examples to support their assessments. In addition, considering the new progression and performance management policies will include the utilization of a 360-degree feedback process with recommendations, all personnel who will be appraised under the system will be provided training workshops to ensure understanding what to expect and how to best benefit from the new system. The appraisee training will consist of modules that will prepare for effectively communicating expectations to supervisors, conducting a self-appraisal, prepare for the appraisal interview and how to track their own performance.
Compensation Analysis
Compensation by definition is all forms of financial returns, tangible services and benefits employees receive as part of a contract for employment (Milkovich, 2011). The compensation analysis for American Express was conducted by surveying the wages and benefits of comparable companies through databases at Salary.com, Payscale.com, and Glassdoor.com. The two main competitors surveyed were Visa and Discover and their packages include but are not limited to hourly/salary pay, health benefits, 401K retirement plans and others that are attractive to a potential employee. American Express is a creative and innovative company offering domestic partner benefits, an on-site fitness center and medical services. Benefits vary depending on the department and employee and are used to entice the potential employee into choosing American Express as a career choice over other competitors. Charts detailing the information used in the salary and benefit assessment can be found in the appendix section of this report.
Compensation Structure
After a comparison of all three companies; American Express, Visa and Discover, it is found that there is not a great difference in their pay scale range for their Customer Service employees. With the average starting wages at approximately $24,000 for a CSR I and the maximum earnings potential averaging at approximately $44,000 per year salary for a CSR II, as represented by the compensation analysis and compensation structure chart located in the appendix section of this report. This indicates that a possible revision in the structure of the compensation package can provide American Express with the competitive advantage in not only attracting quality prospective employees, but also in retaining the superior and dedicated staff that are already an integral part of the organization. For instance, progression from a CSR I to a CSR II moves the employee from an hourly wage to a salaried pay structure, and although it appears that the starting salary of a CSR II is less, the addition of other forms of compensation exists to balance this out and the CSR I would not see a reduction in current financial compensation, yet they may not see a financial increase immediately upon progression.
Conclusion
Learning about the American Express organization has led Fabulous Consulting to believe that with the innovative culture, progressive compensation structure, streamlined strategic business strategies along with its global presence in the industry, American Express can handle changes in policy and systems as discussed within this report. After conducting exhaustive research from various reputable sources, a gap of increased turnover in higher-level positions requiring continuous external recruitment and training of new personnel was evident. The information contained in this report has indicated that a change in the existing hiring policy to include a progression policy and internal recruitment can bridge that gap.
In addition, it is evident by the research included that fair and appropriate performance appraisals are very important to the American Express organization and its employees, and an improved performance management system will be an integral aspect of the success of the internal recruitment process and further reinforce the organizations strategy and culture of employing only the most superior and dedicated staff. As an addendum to this you report, Fabulous Consulting has provided a comprehensive list of recommendations that will facilitate the changes and improvements to the existing policies and procedures. It is recommended that the organization follow the process as outlined and utilize the policies and forms as instructed to ensure a successful and profitable changeover.
References
100 best companies to work for. (2010). Retrieved from http://money.cnn.com/magazines/fortune/bestcompanies/2010/snapshots/73.html About American express. (2012). Retrieved from http://about.americanexpress.com American express salaries. (2012). Retrieved from http://www.glassdoor.com/GD/Salary/American-Express-Salaries A more rewarding way to work. (2012). Retrieved from http://www.mydiscovercareer.com Call center team lead. (2012). Retrieved from http://jobview.monster.com Career pathing. (2008). Retrieved from http://hrtoolbox.com Grote, D. (1996). The Complete Guide to Performance Appraisal. New York: Amacom American Management Association. Henemann III, H. G.-M. (2012). Staffing Organizations Seventh Edition. New York: McGraw-Hill Irwin. Hourly rate for customer service representative. (2012). Retrieved from http://www.payscale.com/research Milkovich, G. T. (2011). Compenstaion, Tenth Edition. New York: McGraw-Hill Irwin. Performance appraisals as career development. (2012). Retrieved from http://appraisals.naukrihub.com Richardson, M. A. (n.d.). Recruitment strategies managing/effecting the recruitment process. Retrieved from http://unpan1.un.org/intradoc/groups/public/documents/un/unpan021814.pdf Salary for discover financial services llc employees. (2012). Retrieved from http://www.payscale.com/research Salary for visa,inc. employees. (2012). Retrieved from http://www.payscale.com/research Salary wizard. (2012). Retrieved from http://salary.com