Stages Involved in Research, Development and Testing of New Pharmaceutical Products Essay Sample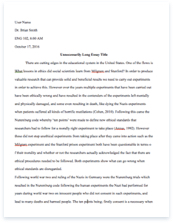 The whole doc is available only for registered users
OPEN DOC
Pages:
Word count: 673
Category: medicine
Download Essay
A limited time offer!
Get a custom sample essay written according to your requirements urgent 3h delivery guaranteed
Order Now
Stages Involved in Research, Development and Testing of New Pharmaceutical Products Essay Sample
1. Outline the stages involved in research, development and testing of new pharmaceutical products. Within the outline include potential costs and a general time frame for the process.
AstraZeneca
They have spent $12 billion for every drug they got approval for.
Discovery phase -4years
1. The pharmacy will try to discover potential medicine. They will first identify the unmet medical need and the market opportunity, find a potential medicine through laboratory research, that is potent, selective and absorbed into and safe in the body. Begin the process of seeking patent protection for the potential medicine. The pharmacy will also collaborate with academia and external clinicians to access the best external science and medial opinion. These third parties may be involved throughout the medicine's life-cycle.
2. Safety and initial efficacy studies. Studies in the lab and in animals to determine if the potential medicine is safe to be introduce into humans and in what quantities. In this phase they start to understand the likely efficacy, side effects and maximum dose estimate in humans.
Development phase – 7years
1. Phase 1 studies – Studies typically in small groups of healthy human volunteers to understand how the potential medicine works in a human body, distributed around it and excreted. Study to determine a safe dosage and identify side effects takes place. They also begin to develop manufacturing route to ensure the manufacturing process is robust and costs are minimized.
2. Phase 2 studies- Studies in small groups of patients to evaluate effectiveness of the medicine.
3. Phase 3 studies- Studies in a larger group, looking at larger samples. They gather information about effectiveness and safety of the medicine and evaluate the overall benefit and risk of the medicine. In this phase they create branding for the new medicine. They prepare the medicine so that they can be released to patients.
4. Phase 4 – The pharmacy will now have to submit a regulatory submission to get approval from regulatory authorities to market and sell the medicine.
Post- launch and delivering to the patients – 9years
1. Releasing it in the market, bringing awareness of the new medicine
2. Further study takes place
3. Finishes the study of the medicine
From about 20years since the study begun the patent will expire and the medicine will now be in the market by other pharmacies as well.
2. Brand name drugs provide a huge income for pharmaceutical companies.
State one patented drug and the company that developed it. Include an advertisement or product statement for this drug – if possible. Also state the
major effect of the drug and side effects of the drug. What is a generic drug? Does a generic equivalent of your chosen drug exist? If so, what is the name?
AstraZeneca
Medicine name: Crestor
CRESTOR is a member of the statin class; for the treatment of dyslipidaemia. CRESTOR reduces LDL-C ('bad' cholesterol) and raises HDL-C ('good' cholesterol).
Major side effects
1. unexplained muscle pain, tenderness, or weakness;
2. fever, unusual tiredness, and dark colored urine;
3. swelling, weight gain, urinating less than usual or not at all; or
4. nausea, upper stomach pain, itching, loss of appetite, dark urine, clay-colored stools, jaundice (yellowing of the skin or eyes).
Less major side effects
1. headache, depressed mood;
2. mild muscle pain;
3. joint pain;
4. sleep problems (insomnia), nightmares;
5. constipation;
6. mild nausea; or
7. stomach pain or indigestion.
3. How long is a patent valid on this drug or medicine (specify the country)?
4. Should economics be the deciding factor in access and distribution of drugs (are drugs like any other commodity or are they somehow different)?
5. For what purpose was the drug Thalidomide (Contergan) used? What problems arose with its use? What problems does this identify with the R & D of drugs?