Stages of Development Essay Sample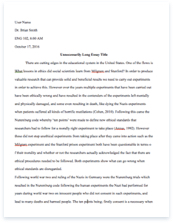 The whole doc is available only for registered users
OPEN DOC
Pages:
Word count: 4788
Category: child
Download Essay
A limited time offer!
Get a custom sample essay written according to your requirements urgent 3h delivery guaranteed
Order Now
Stages of Development Essay Sample
Kohlberg agreed with Piaget's theory of moral development in principle but wanted to develop his ideas further. He used Piaget's story-telling technique to tell people stories involving moral dilemmas. In each case he presented a choice to be considered for example between the rights of some authority and the needs of some deserving individual who is being unfairly treated.
One of the best known of Kohlberg's stories concerns a man called Heinz who lived somewhere in Europe.
Heinz's wife was dying from a particular type of cancer. Doctors said a new drug might save her. The drug had been discovered by a local chemist and the Heinz tried desperately to buy some, but the chemist was charging ten times the money it cost to make the drug and this was much more than the Heinz could afford. Heinz could only raise half the money, even after help from family and friends. He explained to the chemist that his wife was dying and asked if he could have the drug cheaper or pay the rest of the money later. The chemist refused saying that he had discovered the drug and was going to make money from it. The husband was desperate to save his wife, so later that night he broke into the chemist's and stole the drug.
Kohlberg asked a series of questions such as:
1. Should Heinz have stolen the drug?
2. Would it change anything if Heinz did not love his wife?
3. What if the person dying was a stranger, would it make any difference?
4. Should the police arrest the chemist for murder if the woman died?
By studying the answers from people of different ages to these questions Kohlberg hoped to discover the ways in which moral reasoning changed as people grew. Kohlberg told several dilemma stories and asked many such questions to discover how people reasoned about moral issues. He identified three distinct levels of moral reasoning each with two sub stages. People can only pass through these levels in the order listed. Each new stage replaces the reasoning typical of the earlier stage. Not everyone achieves all the stages.
Kohlberg Levels of Moral Development
Level 1 – Pre-conventional morality
• Authority is outside the individual and reasoning is based on the physical consequences of actions.
• Punishment and obedience stage. The child/individual is good in order to avoid being punished. If a person is punished they must have done wrong.
• Reward stage, The child/individual is good in order to be rewarded. The chemist should have let Heinz pay later, because one pay he might need something from Heinz.
Level 2 – Conventional morality
• Authority is internalized but not questioned and reasoning is based on the norms of the group to which the person belongs.
• Good boy/good girl stage. The child/individual is good in order to be seen as being a good person by others. Therefore, answers are related to the approval of others.
• Law and order stage. The child/individual becomes aware of the wider rules of society so judgments concern obeying rules in order to uphold the law and to avoid guilt.
Level 3 – Post-conventional morality
Individual judgment is based on self-chosen principles, and moral reasoning is based on individual rights and justice.
• Awareness of complications stage. The child/individual becomes aware that while rules/laws might exist for the good of the greatest number, there are times when they will work against the interest of particular individuals. The issues are not always clear cut. For example, in Heinz's dilemma the protection of life is more important than breaking the law against stealing.
• Universal ethical principles stage. People at this stage have developed their own set of moral guidelines which may or may not fit the law. The principles apply to everyone. E.g. human rights, justice and equality. The person will be prepared to act to defend these principles even if it means going against the rest of society in the process and having to pay the consequences of disapproval and or imprisonment. Kohlberg doubted few people reached this stage.
Critical Evaluation
Criticism of Kohlberg's theory comes from Gilligan, who argues that the theory is androcentric (male bias) after Kohlberg reporting that most men were at stage 4 while most women were at stage 3. Gilligan claims that the female participants of Kohlberg's study were being judged using a male standard due to the gender bias of Kohlberg's original research, which was based solely on studying men. Gilligan reached the conclusion that Kohlberg's theory did not account for the fact that women approach moral problems from an 'ethics of care', rather than an 'ethics of justice' perspective, which challenges some of the fundamental assumptions of Kohlberg's theory.
The fact that Kohlberg's theory is heavily dependent on an individual's response to an artificial dilemma brings question to the validity of the results obtained through this research. People may respond very differently to real life situations that they find themselves in than they do to an artificial dilemma presented to them in the comfort of a research environment. Further, the gender bias issue raised by Gilligan is a reminded of the significant gender debate still present in Psychology, which when ignored, can have a large impact on results obtained through psychological research. The way in which Kohlberg carried out his research when constructing this theory may not have been the best way to test whether all children follow the same sequence of stage progression. His research was cross-sectional, meaning that he interviewed children of different ages to see what level of moral development they were at. A better way to see if all children follow the same order through the stages would have been to carry out longitudinal research on the same children. However, longitudinal research on Kohlberg's theory has since been carried out by Colby et al. who tested 58 male participants of Kohlberg's original study. He tested them 6 times in the span of 27 years and found support for Kohlberg's original conclusion, that we all pass through the stages of moral development in the same order.
Erik Erikson – Psychosocial Stages
Erik Erikson does not talk about Psychosexual Stages, he discusses Psychosocial Stages.
His ideas, though, were greatly influenced by Freud, going along with Freud's ideas about the structure and topography of personality but whereas Freud was an id psychologist, Erikson was an ego psychologist. He emphasized the role of culture and society and the conflicts that can take place within the ego itself, whereas Freud emphasized the conflict between the id and the superego.
At all psychosexual stages Erikson claimed that the individual develops on three levels simultaneously: Biological, social and psychological (representing the organism, membership of Society and Individualism respectively).
His model was a lifespan model of development, taking in 5 stages up to the age of 18 years and three further stages beyond, well into adulthood. Erikson suggests that there is still plenty of room for continued growth and development throughout one's life.
Erikson put a great deal of emphasis on the adolescent period, feeling it was a crucial stage for developing a person's identity (see Hayes, pg. 784-787).
Like Freud and many others, Erik Erikson maintained that personality develops in a predetermined order. Instead of focusing on sexual development, however, he was interested in how children socialize and how this affects their sense of self.
Psychosocial Stages
He saw personality as developing throughout the lifetime and looked at identity crises at the focal point for each stage of human development.
Erikson's Theory of Psychosocial Development has eight distinct stages, each with two possible outcomes. According to the theory, successful completion of each stage results in a healthy personality and successful interactions with others.
Failure to successfully complete a stage can result in a reduced ability to complete further stages and therefore a more unhealthy personality and sense of self. These stages, however, can be resolved successfully at a later time.
1. Trust Versus Mistrust (birth – 1 year)
Is the world a safe place or is it full of unpredictable events and accidents waiting to happen?
Erikson claimed that in this stage the child will develop a sense of basic trust in the world and in his ability to affect events around him. The development of this depends on the consistency of the child's major caregiver. If the care the child receives is consistent, predictable and reliable then the child will develop a sense of trust which he will carry with him to other relationships, and is able to feel secure even when
threatened. Success in this stage will lead to the virtue of hope.
However, if the care has been harsh or inconsistent, unpredictable and unreliable then the child will develop a sense of mistrust and will not have confidence in the world around them or in their abilities to influence events. This child will carry the basic sense of mistrust with him to other relationships. It may result in anxiety, heightened insecurities, and an over feeling of mistrust in the world around them.
2. Autonomy vs. Shame and Doubt (2 – 3 years)
The child is developing physically and becoming more mobile. Between the ages of one and three, children begin to assert their independence, by walking away from their mother, picking which toy to play with, and making choices about what they like to wear, to eat, etc.
Erikson says that this is the point at which the child can develop a certain amount of independence/autonomy. It is at this stage that the child needs support from parents so that repeated failures and ridicule are not the only experiences encountered. So, the parents need to encourage the child to becoming more independent whilst at the same time protecting the child so that constant failure is avoided. A delicate balance is required from the parent …. they must try not to do everything for the child but if the child fails at a particular task they must not criticize the child for failures and accidents (particularly when toilet training). The aim has to be "self control without a loss of self-esteem" (Gross, 1993). Success in this stage will lead to the virtue of will.
If children in this stage are encouraged and supported in their increased independence, they become more confident and secure in their own ability to survive in the world. If children are criticized, overly controlled, or not given the opportunity to assert themselves, they begin to feel inadequate in their ability to survive, and may then become overly dependent upon others, lack self-esteem, and feel a sense of shame or doubt in their own abilities.
3. Initiative vs. Guilt (3 – 5 years)
These are particularly lively, rapid-developing years in a child's life. According to Bee (1992) it is a "time of vigor of action and of behaviors that the parents may see as aggressive". The child takes initiatives which the parents will often try to stop in order to protect the child. The child will often overstep the mark in his forcefulness and the danger is that the parents will tend to punish the child and restrict his initiatives too much.
Around age three and continuing to age six, children assert themselves more frequently. They begin to plan activities, make up games, and initiate activities with others. If given this opportunity, children develop a sense of initiative, and feel secure in their ability to lead others and make decisions. Conversely, if this tendency is squelched, either through criticism or control, children develop a sense of guilt. They may feel like a nuisance to others and will therefore remain followers, lacking in self-initiative.
It is at this stage that the child will begin to ask many questions as his thirst for knowledge grows. If the parents treat the child's questions as trivial, a nuisance or embarrassing or other aspects of their behavior as threatening then the child may have feelings of guilt for "being a nuisance". Too much guilt can make the child slow to interact with others and may inhibit their creativity. Some guilt is, of course, necessary otherwise the child would not know how to exercise self control or have a conscience. A healthy balance between initiative and guilt is important. Success in this stage will lead to the virtue of purpose.
4. Industry (competence) vs. Inferiority (6 – 12 years)
Children are at the stage where they will be learning to read and write, to do sums, to make things on their own. Teachers begin to take an important role in the child's life as they teach the child specific skills. It is at this stage that the child's peer group will gain greater significance and will become a major source of the child's self esteem. The child now feels the need to win approval by demonstrating specific competences that are valued by society, and begin to develop a sense of pride in their accomplishments.
If children are encouraged and reinforced for their initiative, they begin to feel industrious and feel confident in their ability to achieve goals. If this initiative is not encouraged, if it is restricted by parents or teacher, then the child begins to feel inferior, doubting his own abilities and therefore may not reach his potential.
If the child cannot develop the specific skill they feel society is demanding then they may develop a sense of inferiority. Some failure may be necessary so that the child can develop some modesty. Yet again, a balance between competence and modesty is necessary. Success in this stage will lead to the virtue of competence.
5. Identity vs. Role Confusion (13 – 18 years)
During adolescence, the transition from childhood to adulthood is most important. Children are becoming more independent, and begin to look at the future in terms of career, relationships, families, housing, etc.
This is a major stage in development where the child has to learn the roles he will occupy as an adult. It is during this stage that the adolescent will re-examine his identity and try to find out exactly who he is. Erikson suggests that two identities are involved: the sexual and the occupational. According to Bee (1992), what should happen at the end of this stage is "a reintegrated sense of self, of what one wants to do or be, and of one's appropriate sex role". During this stage the body image of the adolescent changes.
Erikson claims that the adolescent may feel uncomfortable about their body for a while until they can adapt and "grow into" the changes. Success in this stage will lead to the virtue of fidelity.
During this period, they explore possibilities and begin to form their own identity based upon the outcome of their explorations. This sense of who they are can be hindered, which results in a sense of confusion ("I don't know what I want to be when I grow up") about themselves and their role in the world.
6. Intimacy vs. Isolation (young adulthood)
Occurring in Young adulthood, we begin to share ourselves more intimately with others. We explore relationships leading toward longer term commitments with someone other than a family member. Successful completion can lead to comfortable relationships and a sense of commitment, safety, and care within a relationship. Avoiding intimacy, fearing commitment and relationships can lead to isolation, loneliness, and sometimes depression.
7. Generativity vs. Stagnation (middle adulthood)
During middle adulthood, we establish our careers, settle down within a relationship, begin our own families and develop a sense of being a part of the bigger picture. We give back to society through raising our children, being productive at work, and becoming involved in community activities and organizations. By failing to achieve these objectives, we become stagnant and feel unproductive.
8. Ego Integrity vs. Despair (old age)
As we grow older and become senior citizens, we tend to slow down our productivity, and explore life as a retired person. It is during this time that we contemplate our accomplishments and are able to develop integrity if we see ourselves as leading a successful life.
Erik Erikson believed if we see our lives as unproductive, feel guilt about our pasts, or feel that we did not accomplish our life goals, we become dissatisfied with life and develop despair, often leading to depression and hopelessness.
Jean Piaget – Cognitive Stages
Jean Piaget (1896 – 1980) was employed at the Binet Institute in the 1920s, where his job was to develop French versions of questions on English intelligence tests. He became intrigued with the reasons children gave for their wrong answers on the questions that required logical thinking. He believed that these incorrect answers revealed important differences between the thinking of adults and children.
Piaget was the first psychologist to make a systematic study of cognitive development. His contributions include a theory of cognitive child development, detailed observational studies of cognition in children, and a series of simple but ingenious tests to reveal different cognitive abilities.
Before Piaget's work, the common assumption in psychology was that children are merely less competent thinkers than adults. Piaget showed that young children think in strikingly different ways compared to adults. According to Piaget, children are born with a very basic mental structure (genetically inherited and evolved) on which all subsequent learning and knowledge is based.
Piaget's Theory Differs From Others In Several Ways:
o It is concerned with children, rather than all learners.
o It focuses on development, rather than learning per se, so it does not address learning of information or specific behaviors.
o It proposes discrete stages of development, marked by qualitative differences, rather than a gradual increase in number and complexity of behaviors, concepts, ideas, etc.
The goal of the theory is to explain the mechanisms and processes by which the infant, and then the child, develops into an individual who can reason and think using hypotheses.
To Piaget, cognitive development was a progressive reorganization of mental processes as a result of biological maturation and enviromental experience. Children construct an understanding of the world around them, then experience discrepancies between what they already know and what they discover in their environment.
There Are Three Basic Components To Piaget's Theory:
1.Schemas
(building blocks of knowledge)
2.Processes that enable the transition from one stage to another (equilibrium, assimilation and accommodation)
3.Stages of Development:
•sensorimotor,
•preoperational,
•concrete operational,
•formal operational
Schemas
Piaget called the schema the basic building block of intelligent behavior – a way of organizing knowledge. Indeed, it is useful to think of schemas as "units" of knowledge, each relating to one aspect of the world, including objects, actions and abstract (i.e. theoretical) concepts.
When a child's existing schemas are capable of explaining what it can perceive around it, it is said to be in a state of equilibrium, i.e. a state of cognitive (i.e. mental) balance.
Piaget emphasized the importance of schemas in cognitive development, and described how they were developed or acquired. A schema can be defined as a set of linked mental representations of the world, which we use both to understand and to respond to situations. The assumption is that we store these mental representations and apply them when needed.
For example, a person might have a schema about buying a meal in a restaurant. The schema is a stored form of the pattern of behavior which includes looking at a menu, ordering food, eating it and paying the bill. This is an example of a type of schema called a 'script'.
Whenever they are in a restaurant, they retrieve this schema from memory and apply it to the situation. The schemas Piaget described tend to be simpler than this – especially those used by infants. He described how – as a child gets older – his or her schemas become more numerous and elaborate.
The illustration (above) demonstrates a child developing a schema for a dog by assimilating information about the dog. The child then sees a cat, using accommodation compares existing knowledge of a dog to form a schema of a cat. Animation created by Daurice Grossniklaus and Bob Rodes (03/2002).
Piaget believed that newborn babies have some innate schemas – even before they have had much opportunity to experience the world. These neonatal schemas are the cognitive structures underlying innate reflexes. These reflexes are genetically programmed into us.
For example babies have a sucking reflex, which is triggered by something touching the baby's lips. A baby will suck a nipple, a comforter (dummy), or a person's finger. Piaget therefore assumed that the baby has a 'sucking schema'. Similarly the grasping reflex which is elicited when something touches the palm of a baby's hand, or the rooting reflex, in which a baby will turn its head towards something which touches its cheek, were assumed to result operations: for example shaking a rattle would be the combination of two schemas, grasping and shaking.
Assimilation and Accommodation
Jean Piaget viewed intellectual growth as a process of adaptation (adjustment) to the world. This happens through:
•Assimilation – which is using an existing schema to deal with a new object or situation.
•Accommodation – this happens when the existing schema (knowledge) does not work, and needs to be changed to deal with a new object or situation.
•Equilibration – this is the force, which moves development along. Piaget beloved that cognitive development did not progress at a steady rate, but rather in leaps and bounds. Equilibrium is occurs when a child's schemas can deal with most new information through assimilation. However, an unpleasant state of disequilibrium occurs when new information cannot be fitted into existing schemas (assimilation). Equilibration is the force which drives the learning process as we do not like to be frustrated and will seek to restore balance by mastering the new challenge (accommodation). Once the new information is acquired the process of assimilation with the new schema will continue until the next time we need to make an adjustment to it.
Example of Assimilation:
A 2 year old child sees a man who is bald on top of his head and has long frizzy hair on the sides. To his father's horror, the toddler shouts "Clown, clown" (Sigler et al., 2003).
Example of Accommodation
In the "clown" incident, the boy's father explained to his son that the man was not a clown and that even though his hair was like a clown's, he wasn't wearing a funny costume and wasn't doing silly things to make people laugh
With this new knowledge, the boy was able to change his schema of "clown" and make this idea fit better to a standard concept of "clown".
According to Piaget, teaching can support these developmental processes by
Stages of Development
A child's cognitive development is about a child developing or constructing a mental model of the world.
Imagine what it would be like if you did not have a mental model of your world. It would mean that you would not be able to make so much use of information from your past experience, or to plan future actions.
Jean Piaget was interested both in how children learnt and in how they thought.
Piaget studied children from infancy to adolescence, and carried out many of his own investigations using his three children. He used the following research methods:
Naturalistic observation: Piaget made careful, detailed observations of children. These were mainly his own children and the children of friends. From these he wrote diary descriptions charting their development.
Clinical interviews and observations of older children who were able to understand questions and hold conversations.
Piaget believed that children think differently than adults and stated they go through 4 universal stages of cognitive development. Development is therefore biologically based and changes as the child matures. Cognition therefore develops in all children in the same sequence of stages. Each child goes through the stages in the same order, and no stage can be missed out – although some individuals may never attain the later stages. There are individual differences in the rate at which children progress through stages. Piaget did not claim that a particular stage was reached at a certain age – although descriptions of the stages often include an indication of the age at which the average child would reach each stage. Piaget believed that these stages are universal – i.e. that the same sequence of development occurs in children all over the world, whatever their culture.
Cognitive Stage of Development
Sensorimotor 0 – 2 yrs.
Preoperational 2 – 7 yrs.
Concrete Operationa 7 – 11 yrs.
Formal Operational 11yrs +
Manipulate ideas in head, e.g. Abstract Reasoning
Pendulum Task
Educational Implications
Piaget did not explicitly relate his theory to education, although later researchers have explained how features of Piaget's theory can be applied to teaching and learning.
Piaget has been extremely influential in developing educational policy and teaching. For example, a review of primary education by the UK government in 1966 was based strongly on Piaget's theory. The result of this review led to the publication of the Plowden report (1967).
Discovery learning – the idea that children learn best through doing and actively exploring – was seen as central to the transformation of primary school curriculum. 'The report's recurring themes are individual learning, flexibility in the curriculum, the centrality of play in children's learning, the use of the environment, learning by discovery and the importance of the evaluation of children's progress – teachers should 'not assume that only what is measurable is valuable.'
Because Piaget's theory is based upon biological maturation and stages the notion of 'readiness' important. Readiness concerns when certain information or concepts should be taught. According to Piaget's theory children should not be taught certain concepts until they have reached the appropriate stage cognitive development.
Within the classroom learning should be student centred a accomplished through active discovery learning. The role of the teacher is to facilitate learning, rather than direct tuition. Therefore teachers should encourage the following within the classroom:
o Focus on the process of learning, rather than the end product of it.
o Using active methods that require rediscovering or reconstructing "truths".
o Using collaborative, as well as individual activities (so children can learn from each other). o Devising situations that present useful problems, and create disequilibrium in the child.
o Evaluate the level of the child's development, so suitable tasks can be set.
Evaluation of Piaget's Theory
Strengths
•The influence of Piaget's ideas in developmental psychology has been enormous. He changed how people viewed the child's world and their methods of studying children. He was an inspiration to many who came after and took up his ideas. Piaget's ideas have generated a huge amount of research which has increased our understanding of cognitive development.
•His ideas have been of practical use in understanding and communicating with children, particularly in the field of education (Discovery Learning).
Weaknesses
•Are the stages real? Vygotsky and Bruner would rather not talk about stages at all, preferring to see development as continuous. Others have queried the age ranges of the stages. Some studies have shown that progress to the formal operational stage is not guaranteed. For example, Keating (1979) reported that 40-60% of college students fail at formal operation tasks, and Dasen (1994) states that only one-third of adults ever reach the formal operational stage.
•Because Piaget concentrated on the universal stages of cognitive development and biological maturation, he failed to consider the effect that the social setting and culture may have on cognitive development (re: Vygotsky).
•Piaget's methods (observation and clinical interviews) are more open to biased interpretation than other methods, i.e. subjective (Piaget observed alone).
•As several studies have shown Piaget underestimated the abilities of children because his tests were sometimes confusing or difficult to understand (e.g. Martin Hughes, 1975).
•The concept of schema is incompatible with the theories of Bruner and Vygotsky. Behaviorism would also refute Piaget's schema theory.
•Piaget carried out his studies with a handful of participants – in the early studies he generally used his own children (small / biased sample).