Stakeholder Influences on Programs Essay Sample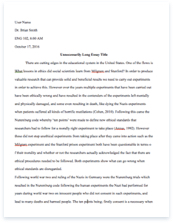 The whole doc is available only for registered users
OPEN DOC
Download Essay
A limited time offer!
Get a custom sample essay written according to your requirements urgent 3h delivery guaranteed
Order Now
Stakeholder Influences on Programs Essay Sample
Stakeholders can be defined as all entities that are impacted through a business running its operations and conducting other activities related to its existence. The impact can be direct in the case of the business's customers and suppliers or indirect in the case of the communities in which the business chooses to place its locations. Businesses must consider the needs and expectations of its stakeholders, though it need not consider them to be of equal importance. Certain stakeholders such as owners and investors are more important than others (Li, n.d.). Once the business has identified its stakeholders and their importance to the business, it can begin to plan based on their needs and expectations. Each stakeholder has concerns that it expects to be met by the business. For example, the business's owners expect it to be profitable and to distribute that profit to them while local and federal government agencies expect it to obey the law and pay its taxes on time. The importance of each stakeholder to the business determines the degree to which the business attempts to accommodate the stakeholder in the course of planning its actions.
The impact of stakeholder needs and expectations on businesses is inescapable and ubiquitous (Li, n.d.). Businesses exist to meet the expectations of one specific stakeholder in the sense that businesses are set up and operated to produce profit for their owners and investors. Businesses also must consider the needs and expectations of other stakeholders because of their ability to help and hinder their operations. For example, a business should be considerate of its host communities because that improves its reputation and strengthens its market presence. On the other hand, if the business chooses to ignore its host communities, that disregard becomes a black mark on its reputation and can result in other sanctions if relations become bad enough.
The only stakeholders that businesses can ignore are the ones with little interest and influence on their operations (Li, n.d.). Employees normally like to feel appreciated and that they are making a positive contribution and that they are successful at doing their job. Employees also want to know what is being expected of them and how they are doing at their job tasks. Managers should make sure that employees fully understand their individual goals and how they help and provide to the achievement of the programs goals. Employees of the PEACE program evaluate the program by the success of the clients. They use data information to ensure their clients are receiving the greatest amount of care that the PEACE program has to offer.
Community, in the human context, refers to a group of people that share things in common and have mutual vested interests. Wikipedia defines human communities as groups of people in which mutual intent, belief, resources, preferences, needs, risks and other conditions may be present and common, affecting the identity of the community and their degree of adhesion. This is important definition when considering development because the community members are the most significant stakeholders in any municipal investment or decision, and the impact of ant decision much represent their interests (Klassen, n.d.).
The community is very much affected by domestic violence; the PEACE program can offer information to learn how to put a stop to domestic violence, which in turn can make the community a better and safer place for everyone. The community evaluates the PEACE program by how it is adding to the greater good of the community. In many communities domestic violence is affecting most of the area and causing harm to not only the victims but also the entire community. By PEACE providing information to the community about violence and ways to help stop it or get it under control it shows the entire community that the PEACE program is interested in helping the community as a whole.
According to the Wells Fargo website 1999-2013, Wells Fargo is dedicated to helping non-profit organizations fulfill their mission by providing financial services that support the unique needs of charitable institutions. Wells Fargo works with the full spectrum of non-profit organizations including:
1. Educational, environmental and scientific organizations
2. Religious groups
3. Health and human service providers including children's organizations
4. Cultural and artistic institutions
5. Membership groups such as credit unions, fraternal organizations and homeowners associations
6. Family foundations
Wells Fargo 1999-2013 is proud to support organizations working to strengthen our communities. Through the efforts of our enthusiastic team member-volunteers and our contributions, we share our success within our communities by giving back to non-profits and educational institutions that address vital community needs and issues. We direct our giving to areas that we believe are important to the future of our nation's vitality and success: community development, education, and human services. We encourage non-profit organizations and educational programs to review Wells Fargo's grant guidelines for the areas we serve. We support organizations that: 1.Provide basic needs assistance
2.Ensure access to health education programs and quality health care 3.Offer child care services
Wells Fargo works with many different groups of individuals, families, business and institutions to help form, control, maintain and move assts. Wells Fargo uses a five-step process to evaluate non-profit programs: understand, analyze, implement, evaluate and adjust. Through the evaluation process they work through the plan, make any needed adjustments and look over all positive expectations.
Stakeholders present important vision in each stage of program planning and evaluation. Stakeholders are normally involved in the beginning stages of the program planning. They provide insight for the many different needs that a program should meet. Once goals and objectives have been set in the program development, stakeholders are not always consulted in later points of program evaluation, which is a shame. All stakeholders no matter how big or small play an important role in any program from beginning to end. Their ideas and contributions can positively influence the program for the better. Receiving feedback from stakeholders can open many new ideas in advancement of the program or even just ways to make the services that are already provided even better. From the process evaluation the outcome evaluation all stakeholders should be able to be aware of all the goals, objectives and services that are being offered. Without stakeholders any program would possibly not even exist or better the good of any community or client.