Statement of Purpose Essay Sample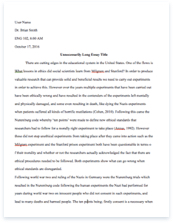 The whole doc is available only for registered users
OPEN DOC
Download Essay
A limited time offer!
Get a custom sample essay written according to your requirements urgent 3h delivery guaranteed
Order Now
Statement of Purpose Essay Sample
In this era of globalization, I decided not to just get enthralled by the technological marvels, but to play my part in it. In view of such global scenario, my decision to pursue Master's degree in Business Administration would open the gateway to enhanced career options leading to top position in corporate world.
The taught process and projects in a MBA program will  encourage me to develop a try and learn approach as it exposes us to situations where we need to make  decisions based on incomplete information. An MBA education will also help to build vital business networks that will aid in my career growth and prospects after my education.
About Skills
Hence, after higher secondary education, I opted for career in technical education in the field of Electronics and Telecommunication Engineering from Maharashtra Academy of Engineering My final year project was Somke and Tempe Detection System based on embedded Technology.
I was selected by Cognizant during campus selection and  took the opportunity with an intention to improve on my personality as a whole and be part of a multinational firm. After engineering I joined XYZ as a software engineer.  In 32 months of work experience as Software Enfineer/Developer I have gained a lot of technical knowlwdge. Being involved with multiple projects, understanding business requirements and meeting critical deadlines have taught me time management, leadership and multitasking. working in team, co-ordination and complying with the responsibilities. I feel it's the right time to take a step forward and combine my corporate experience & technical expertise with right management skills, for which an MBA is must.
It was at this stage that I became fascinated with the way a product, technical or otherwise, is conceived, built, marketed and ultimately sold to create a revenue-generating entity from a technical innovation. This fascination has grown over the past three-and-a-half years, and now I find myself enamored with the way business and technology coexist in a symbiotic relationship and the exciting opportunities this relationship provides to an individual with a technical background who aspires to have a bigger canvas to unleash his full potential by playing a bigger, more critical role of managerial nature.
About institute
I want to study in XYZ for Master of  Business Administration for several reasons.
The focused structure of the course will help me  concentrate and work towards the attainment of my career goals. The internship provided within the Business Administration course work would help me gain exposure, insight, knowledge and hands-on experience with real time work environment. I am impressed with the quality of education provided by the university in terms of the well-structured curriculum and the recognized faculty. I look forward to shaping my career in the halls of XYZ in UK.
The Nottingham MBA is fully taught by
Nottingham University faculty who are among the  leading researchers in their fields, so you can be sure that the Nottingham MBA teaching  is underpinned by world-class research, offering innovative and authoritative approaches to theory and practice.
I believe that an MBA degree from an  institution as reputed as XYZ will equip me with the precise skills, network and brand value that I need to move higher on the corporate ladder and, thus, to be able to contribute more and become a more valuable resource for my employers. I also believe that, given the amazing multidimensional diversity that has become synonymous with XYZ, the XYZ experience will teach me much more than just textbook knowledge and will make me better prepared to meet the challenges that a global marketplace offers to business leaders and make me a more complete person in the process. In the longer run, I am sure that an MBA from XYZ will provide me with the necessary training in leadership, management, innovation and cultural sensitivity that are imperative to the realization my dream of having my own entrepreneurial enterprise with significant philanthropic contributions to the society. I hope XYZ helps me realize this dream by giving me an opportunity to be a part of its luminous student community and benefit from its rich educational heritage.
Why UK
Internationally recognized degree
Master programme from UK is only one year in duration as compared to the standard 2 years in rest of the world Part time work allowance.