Stereotypes in "A Time To Kill" Essay Sample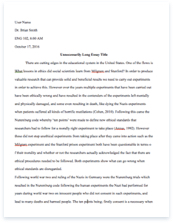 The whole doc is available only for registered users
OPEN DOC
Download Essay
A limited time offer!
Get a custom sample essay written according to your requirements urgent 3h delivery guaranteed
Order Now
Stereotypes in "A Time To Kill" Essay Sample
In the Film industry many directors like to produce movies that contain racial and stereotypical issues. The film "A Time To Kill," is one of these examples based on racial tension and capital punishment. The characters in this film play roles that resemble the racial problems faced in the south. Viewers can relate to the stereotypes that exist in society and to the different parts of the world. "A Time To kill" is a film, which portrays stereotypes among certain characters such as, Ellen Roark (Sandra Bullock), who was discriminated for being a female, Carl Lee Riley (Samuel L. Jackson) is judged by his race, and the stereotype that is conveyed to the people of southern Mississippi.
Ellen Roark, an energetic Boston law student is one of the key figures in the film, but because of her gender Ellen struggles in proving her abilities to Jake. As one may know females have always carried the stereotype of being good for certain things, and several women have as well strived in demonstrating their intelligence, as Ellen did. Ellen has a strong confidence that she will be a valuable asset to the trial, but Jake the attorney has a hard time believing that a girl will help him be successful in accomplishing his goal. As the trial proceed's Ellen is given the opportunity to present her knowledge and demonstrate her capacity. As it turns out Ellen Roark, the female law major turns up with useful leads in the trial and becomes more than an image. The film assuredly breaks the stereotype barrier among the female gender.
A character that as well withholds a strong stereotype is Carl Lee Hailey. Carl Lee Hailey is a wise, humble, strong man who acts upon his fatherly instincts. A strong problem is created when Carl Lee takes justice in his own hands, and because of his race few people comprehend his reasons for committing such a crime. Although Carl Lee is in prison he still has the ability to handle his own trial by manipulating Jake his attorney. "You see me as they see me" is what Carl Lee says to Jake, showing him that he has no intentions in becoming his friend, and demonstrating to him that because he is African American, people don't take in regard his crime. Carl Lee is proven to be an intelligent man when he manages his own trial. His ability to make people understand the reason for his crime diminishes his stereotype and instead demonstrates to the jury that all humans have the same emotions and all would act the same way upon them.
The setting of the film plays a major role in the stereotypes that are constructed among the characters. The movie takes place in a southern state, Clanton Mississippi. With groups like the KKK who plays a prominent role, and the NACCP, which as well appears on the film, the movie is highly based on the traditions and beliefs among southerners. Several characters that appear as racist such as, the rednecks continuously use the terms "nigger lover" to Jake. The movie highly focuses on the interracial relationships and it's impact in a southern society, but as the film ends in an unexpectedly manner, the stereotype constructed among southern people break the equality and color- blind barriers.
Towards the end of the film "A Time To Kill," viewers realize that although the theme of the movies deals with racial issues, the movie contains stereotypes among several characters. Ellen who was stereotyped because of her gender turned out in the end with successful leads, Carl Lee who was judged because of his race resulted with his accomplishments of breaking color barriers, and the southern state of Mississippi who was stereotyped because of its society and traditions resulted with its people having a better sense of judgment. Yet discrimination still remains an issue among certain groups in the southern state of Mississippi. This movie deals with several issues that are seen all over society, but to me the stereotypes that were portrayed characters had a much greater impact.