Stereotypes of the Puerto Rican Culture Essay Sample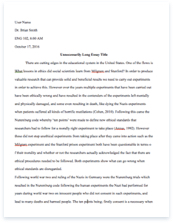 The whole doc is available only for registered users
OPEN DOC
Pages:
Word count: 659
Category: culture
Download Essay
A limited time offer!
Get a custom sample essay written according to your requirements urgent 3h delivery guaranteed
Order Now
Stereotypes of the Puerto Rican Culture Essay Sample
"A stereotype is a term that is used to define all different people of certain beliefs, into the negative category that reflect on all racial demographics. " "As of 2003, there were more Puerto Ricans living in the United States than on the island of Puerto Rico- 3. 8 million on the mainland and 3. 6 million in Puerto Rico" (Rohan, 2006). There was an abundance of Puerto Ricans that migrated from their mainland to the United States. This was due to, poverty stricken and the lacked formal education. This lead them to be unemployed or on public assistance, causing other cultures to stereotype Puerto Rican's.
For me one of the biggest stereotype I have received through the years are, "you look too black to be puertoriccan! " "are you sure you are not mix? " "you don't look puertoriccan at all! " Growing up, these statements made me question where I stand as a Puerto Rican. Made me questioned, what kind of Puerto Rican was I, if I didn't even look like one? At the age of twelve, I decided to get more in touch with my roots, and find out once it for all; why was it that I looked different from the others. The history of Puerto Rico goes way back before Christopher Columbus took over the island.
"The Indians Tainos were a subgroup of the Arawakan Indians that inhabited the Greater Antilles in which Puerto Rico was a part of. " On November 19, of 1493, Puerto Rico got discovered by Christopher Columbus. This day made history for the native Indians at the island. When Christopher Columbus colonize Puerto Rico and brought the African with him, the interracial mix began. In which later, consisted of the Spaniards mixing with the Natives as well as the African; while having the African and Tainos serve as their sex slaves. The exact percentage of the Puerto Rican race is composed of 80. 5% white, 8% black, and 0. 4% Native Indian.
First thing that comes to someone's mind when they think of a Puerto Rican person; is tan people with brown eyes and curly hair. This is the "stereotype look" that society have given to the Puerto Rican culture. Society sees Puerto Ricans, as loud, festive, family orientated, street smart, live in New York, and not college educated. In which to all, is not necessarily true. As a Puerto Rican, myself, I can assure that not all puertoriccan fit into this stereotype; simply because I am college educated and so was my mom, and I continued to pursed my education. As well as I am not loud; in fact, I am a very conservative person.
Just like I don't "fit" into the stereotype people have given me, there are many others in which don't "fit" as well. Statements and "stereotypes" as such, makes our community think "what's puertorican enough, that people will find acceptable? " In an article made by Daniela Gonzalez, she states, "All throughout my life, I've clashed with many stereotypes that describe "what a Puerto Rican is or should be" because "I don't look Puerto Rican". It's almost as if my fair skin, my green eyes, and shy demeanor are shocking, and almost offensive, to those who see me for the first time.
This scenario is usually followed by "I don't think you're Puerto Rican. " To me knowing that I'm part white, part native and black is something that I'm very proud of to share with the world. The color of my skin shouldn't define who I am; because I am certain of who I am. No one should be "fit" or be "put in" into a certain circle just for the ease of people. The close minds society tends to have on what a person should look like, whether they come from a certain ethnicity, background or religion; needs to change. Puerto Ricans come in every shape and color possible, and as a community we will embrace that!