Stop Panicking About Bullie Essay Sample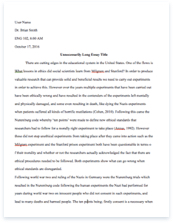 The whole doc is available only for registered users
OPEN DOC
Pages:
Word count: 450
Category: bullying
Download Essay
A limited time offer!
Get a custom sample essay written according to your requirements urgent 3h delivery guaranteed
Order Now
Stop Panicking About Bullie Essay Sample
In response to your article, 'Stop Panicking About Bullies' written Saturday April 2, 2012 I feel there are areas in the article that are lacking in evidence, proof of statistics, and fails to give examples to back up the issues addressed. This is an issue not taken lightly by some, and to question society's morals with the rhetorical question, 'Is America really in the midst of a 'bullying crisis'' has caused up roar in America. I believe you are wrong in debating this matter. You have used little evidence from adolescent to back up your contention expressing what they feel as an adolescent in the present. Your statistics are inaccurate, sourced poorly and unfairly persuade the reader to your argument. I quote, 'percentage of students who are bullied in a given year range from 20% to 70%' gives us no evidence of any time frame or view of a compelling percentage. You state in one of your arguments, 'Since most kids now have access to cable TV, the internet, unlimited talk and texting, college and a world of opportunities that was unimaginable even 20 years ago, it seems that adults have responded by becoming ever more protective and thin-skinned.'
This paragraph directly attacks American parents, attempting forceful assertion and insistent claims that are not supported with any evidence. The claims you make needs statistics from reputable research to be acceptable. In another of your paragraphs you quote the president, Barack Obama, who's opinion would be highly valued by the American nation, 'I care about this issue deeply, not just as the president, but as a dad…. We've all got more to do. Everyone has to take action against bullying.' His comment here completely contradicts your statement of contention, that America is not in a bullying crisis. You would think that if we are not in a bullying crisis, the American nation would have this matter under control. Yet, we have the president telling us 'We've all got more to do.'
This issue of bullying amongst our American schools is one not to be taken lightly. This is an issue that is certainly still taking a toll on millions of school kids every year and action needs to be taken. There cannot be articles being written persuading the uninformed American that this is not a matter of concern. Your evidence and statistics used in your arguments need to be researched and sourced clearer, with your arguments compellingly persuading the reader to your contention and always linking back to it. Bullying is a serious school issue and comes in many forms, emotionally scarring and taking the lives of our adolescents, a matter that needs to be wiped out.