Story about Mrs Birling Essay Sample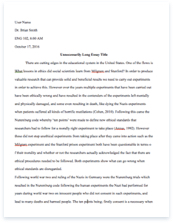 The whole doc is available only for registered users
OPEN DOC
Download Essay
A limited time offer!
Get a custom sample essay written according to your requirements urgent 3h delivery guaranteed
Order Now
Story about Mrs Birling Essay Sample
Mrs Birling is a confident and prideful women with some public influence. She sits in charity organisations and is described as a "a rather cold woman," and her husband's "social superior." Mrs Birling is the only one in the play who does not seem to realise her responsibilities. She thinks that different classes behave a certain way and lacks of empathy-how people live. This is shown in the quote "a girl of that class."
The word 'that class' conveys how she looks down upon lower classes treating them less than human. It also shows she is judgmental and thinks that she is more socially and morally superior. She makes the audience see how the class division was in the 1912 and how awful life was for the lower classes. Mrs Birling does not feel any sympathy towards Eva as she does not accept any responsibility. This is shown in the quote. 'As if a girl of that sort would refuse money,' and 'but I think she had only herself to blame.' The word 'sort' shows that she is being prejudice, and being biased without knowing what Eva said was true or not.
This shows how stubborn and cold she is. Her personality is also very naive and protective. Mr Birling 'naive' as she thinks that there is not an issue with her family and ignores what she doesn't want to see .She also is prepared to blame the father of the child as she does not know that the father is her own son, Eric. 'Go and look for the father of the child. It's his responsibility.'
This illustrates that not only she is not admitting her role of responsibility but she is also trying to get rid of the blame on her. She also cares only about her reputation and pride "Oh, Eric, how could you?' Instead of comforting her son, she is humiliated and angered by Eric's actions. This conveys that she all she cares about is reputation as this is something that could damage it. Mrs Birling starts become more protective of Eric when she knew the truth. 'No – Eric – please – I didn't know – I didn't understand-' She starts to show sign of repentance when she realised Eric was the father and her actions resulted Eva's death. In the end ,she is still proud that she did not feel any guilt and accepted no responsibility.
Priestly used the character as his voice- he represents Priestly's moral views and thought on class distinctions and responsibility.
He played on the word Goole and Ghoul to suggest that Goole is ominous or even paranormal. Inspector Gooles is described as a 'need not be a big man but creates at once a n impression of massiveness, solidity and purposefulness. The three words 'massiveness, solidity and purposefulness' suggests that he is
The Inspector arrived at a critical moment when Mr Birling said, '… a man has to make his own way—has to look after himself—.' Mr Birling summarizes the moral and economic worldview to Gerald and Eric as if he was forshadowing. Mr Birling represents an individualist, capitalist point of view Which includes individualism where one tries to maximise their own social happiness without caring the benefits of others.