Strategic Management Essay Sample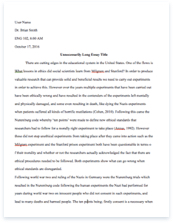 The whole doc is available only for registered users
OPEN DOC
Download Essay
Get Full Essay
Get access to this section to get all the help you need with your essay and educational goals.
Get Access
Strategic Management Essay Sample
Introduction
Strategic management in organization is the study and identification of methods and ways of management to provide employee effectiveness through provision of high and complex nature of individual, group and organization process. Strategic management is drawn from a variety of disciplines including psychology and sociology to explain the methods of leadership to be used in a company.
Strategic drift is where the planned strategies of management do not rhyme or move as planned. This occurs where the organization strategies fail to fit the operating systems as was planned.
Strategies for avoiding strategic drift
Growth
Any company needs to come up with a well defined growth strategy that will address the needs for the future growth. A well planned strategic growth will help the company to come up with a well defined guideline that will act as a road map for the company to take to achieve it's goals. When a company has a well planned formulas, it can achieve it's through easier management of the employees therefore avoiding an emergent need for altering formally planned strategies. A growing company may not be in a point of a drift due to cautiousness among the employees and the leaders for no one would will to be pointed at or be blamed for the drift.  (Leonard 2003, p.47)
Human resource
Human resource is of one of the most important aspects in running a business. Having competent and motivated work force can help the company create a competitive advantage which other companies may find hard to replicate in the market. This will cost a well planned need to have highly skilled and oriented personnel to enhance retaining of market leadership to avoid drifting and falling of the company. This may start by planning the leadership structure that will enhance the employees freedom to make decision raising an overall relationship between the employees and leaders. This will help in bringing various ideas together and into practice. In return, this will reduce the need for emergent planning that may be hard to cope with and may course the company to drift. Example, a leader in human resource management, IBM Corporation, human resource personnel are highly trained to avoid altering the set rules and goals of the company therefore avoiding any sort of strategic drift.
Bureaucracy
Bureaucracy structures planning could help eliminate variability in results when the leaders in the same company have different skills, experiences and goals. Max Weber (1995) in his book "Organization management strategies" advocates that the rules themselves should be standardized so that the personnel changes do not disrupt the whole company strategies. When each individual employs personal skills, ideas, skills and goals they may not rhyme and this may cause difference in management and definitely will cause a drift in the company.
Bureaucracy position faster specialized skills eliminating many subjective judgments by managers where rules and regulations are established properly and have a set method to follow to avoid different individuals employing their rules hence causing a drift in the company. This will go hand in hand with training leaders and employees on the set rules to standardize their performance and reinforcing human resource department.
Culture
Culture is another factor that may cause a drift in an organization. A company should have a well planned strategy of management that will address a way to be followed by all employees and leaders to avoid difference in interpretation of issues and ideas that may not favor the growth of an organization. The rules of an organization should be neutral to fit employees, managers and the customers. A well planned rule addressing the issue of the culture is of great benefit to the company because it will help in reducing time and money used in training and in orientation. Example, The New York times news paper, having employees and managers  from different cultures and races, they train their workers and leader to follow a set rule to avoid addressing issues on culture therefore causing difference in understanding and may lead to a drift. (Leonard 2003, p.6)
Leadership
A well planned leadership strategy is an important factor that determines the viability of any organization operation. Good leadership is responsible for growth of the organization while unplanned leadership is responsible for drift in an organization. Planning mode of leadership, there should be a procedure to follow and that will help in determining the weaker points in the leadership therefore avoiding drift. When a company has well defined rules, a drift is easily noticed and easy to avoid. (Leonard 2003, p.29)
Interest
Rise in the interest in developing people through out the organization could be attributed to a number of factors. In organization where people are taking broader ranges of responsibility, managers, in particular are faced with a completely new environment. They are responsible for more people often working in strategy-oriented company and therefore, the skills and competencies that previously served them well no longer work. They have to make fundamental changes and come up with more planned productive strategies to avoid drift.
Advertisement
Advertisement is one of the most important components that characterize the operation of the market since it raises the awareness of the consumers about the availability of the products in the market. Therefore a well planned advertisement is an important component that helps a company to penetrate the market especially when introducing a new product.
Lack of a planned advertisement may have limited growth of the company which in return may cause a drift in the company. Keeping in mind that the company is operating in a very competitive market, there is a need to plan strategies to follow to avoid any sort of miscontention to the customers which may lead to a drift. Example, after an extensive and a well planed advertisement, Cessna Company is believed to have the best light airplanes though there are companies making the same type and quality air planes. This sets a map to be followed by both managers and employees to avoid drift. (Mike 2005, p 101)
New technology
When a new technology is introduced in the organization, there is a need to have a proper planning to enable the employees adapt. Lack of proper planning can cause a drift that may be hard to recover. There need to be set strategies to be followed and adequate training to lessen the risk of drift. The introduction of new technology in a company has caused a drift in many companies for most managers command employees on making use of technology that they are not used to therefore causing alternation of formally followed rules. Example, if the company has been using paper work may in accounting department, introduction of computers may alter the set road map because of training and mental ideas that one is supposed to do more than before therefore causing a drift. To avoid this, the company should set a long term planning and inform the employees so as they may be prepared physically, mentally and psychologically to avoid more excitement on introduction of the new technology.
Conclusion
If the company fails to have a proper planning, is likely to be faced by many challenges that cause a strategic drift. One of the biggest challenges the company is likely to face in the structure of the business in the sense that that will be difficult to change or recover. The managers may work hard but the competitors may continue enjoying great profits due to lack of proper management strategy. Management should be well planed and strictly followed to know the weaker parts of management. A well addressed strategy in all areas of leadership will enhance a greater interest in the company, worker participation and productivity. This may bring a need to argue between the planned strategies and if a drift occurs whether there is a need to fix the problem or follow the route brought about by the drift. Proper planning always reduces the risk of drifting to the minimum or to none.
Reference:
Arthur T. 2004, Strategic Management: Concepts and Cases, Irwin
Fred, D 2005, Concepts of Strategic Management, Prentice-Hall
Leonard, G 2003, Applied Strategic Planning: How to Develop A Plan that Really Works, William Pfeiffer, McGraw-Hill.
Mike, D 2005, The Grand Strategist, Henry Holt & Company.