Strategic Management Essay Sample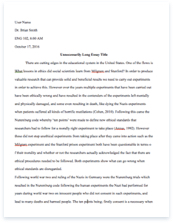 The whole doc is available only for registered users
OPEN DOC
Download Essay
Get Full Essay
Get access to this section to get all the help you need with your essay and educational goals.
Get Access
Strategic Management Essay Sample
This work is a case study, based on the two examples of public sector companies – Glaxo and Reuters. The main guideline of the study is comparing and contrasting the strategic management of both companies, the internal and external factors of both companies' strategies and finding out if differences in strategic management influence the whole company's policy in public sector.
Case study methodology
The present case study will use the methods of description and comparison. The main purpose of the study is to compare the management strategies of both companies, finding common traits and deciding, which of them are the most important, and what management features should be changed to make company's strategy more successful. We shall try to apply theoretical knowledge to the case study research. This theoretical knowledge will become the basis for fulfilling the main purpose of the present case study.
Description of the companies
Glaxo is a health company with strong foundation into science. It is occupied with production of medicine for World health Organization's three priority diseases – HIV/AIDS, tuberculosis and malaria. The strategic management of the company consists of four steps – draw, see, think and plan.
Reuters is known to be news service organization. It is necessary to mention that the company was established in 1851 by Paul Julius Reuter. Nowadays Reuters provides reports to newspapers from the whole world. But news provides only less than 10% of Reuter's income. It concentrates on providing financial markets with necessary and essential information about new products and their trading. Their activities involve currency rates, share price and other market data. (Kay 1995)
The strategic management of this company consists of three steps, which will be described later.
Theoretical basis for the strategic management research
Strategic management is "the process of specifying an organization's objectives, developing policies and plans to achieve these objectives, and allocating resources so as to implement the plans". (Strategic management techniques) It is known that strategic management is the highest level of managerial process. This process is performed by executive team headed by CEO (Chief Executive Officer). (Kay 1996)
Strategic management is also concerned as combination of formulation and implementation of company's strategy. But there must be strong correlation between purpose and the chosen strategy. There are several steps of strategy formulation: analysis of the current situation: external and internal analysis, setting of objectives and determining of missions: long-term view, the role of the organization in the society, financial strategy, working out a strategic plan: ways of objectives' achievement.
All these three steps give the answer to the following questions: where is now the organization? What does organization want? These questions are the part of strategic planning. (Kay 1996)
There are also several steps of strategy implementation. This process involves resources allocation, determining chain of commands and their efficiency, appointing responsible people for tasks performance, managing the process: comparing best practices, observing results, evaluating effectiveness and efficiency, process of controlling. (Canals 2000)
These two processes are on-going and ever-lasting. It is a common knowledge that strategic management is really dynamic and it requires permanent reformation and improvement. It also includes patterns of complex actions and reactions, which are planned or unplanned. The strategy may be of several types: interactive, dynamic, planned, emergent. For example, Andy Grove admits that there are "critical points at which a strategy must take a new direction in order to be in step with a changing business environment". (Damours, 1992) And these critical points are inflection points. (Canals 2000)
External and internal factors of Glaxo and Reuters' strategic management
There are two main approaches to strategic management. These approaches are completely opposite, but they complement each other in a certain way: 1. the Industrial Organizational Approach, which is mainly based on the economic theory. This approach deals with such issues as allocation of resources, competitiveness and economies of scale. Industrial approach postulates self-discipline, maximization of profit and rationality. As the example it is possible to admit Glaxo. (Canals 2000) 2. The Sociological Approach is busy with human interactions. Its main characteristics are the following: sub-optimality of company's profit, limited rationality and actually satisfying staff behavior. As the example it is possible to mention Reuters (United Kingdom) and Google (United States)
Strategic management process involves evaluating of the external and internal factors which greatly influence the work of strategic management and have strong impact on strategic leadership. It is necessary to say that each firm faces such influential factors. So it is necessary to follow the influence of these factors on the examples of Glaxo and Reuters companies. (Mcmenamin 1999)
External factors include: natural and climatic conditions, ecology, political and economic conditions in the country, social and psychological conditions (Damours, 1992)
External factors are also subdivided into factors of direct influence and indirect influence. Direct external factors include laws and public regulations, partners and suppliers, labor resources, customers and competitors. Indirect external factors involve economic conditions, the level of scientific and technical advance, political changes, social and cultural changes, the influence of group interests, important event, etc. (Damours, 1992)
During analyzing the external factors strategic leaders and managers should evaluate not only interrelations, but also the "powers" of the mutual influences. All these factors are constantly developing and changing, therefore it is necessary to evaluate the flexibility of elements and factors. For example, Reuters while working out strategic plan takes into account influence and affect of all these numerous elements and factors of environment in order to set out an efficient and effective production.
It is known that the significance of external factors in Glaxo and Reuters is completely different. For example, Reuters always consider factors business development: lower costs abroad, investment opportunities in other countries. Glaxo should consider all these changes and new development in order to hold out.
It is also necessary to shed light on the internal factors which are of great importance for strategic management process.
Strategic manager of Glaxo called internal factors "pain moments and pitfalls" of each organization. These factors are also taken into account by Reuters and Glaxo. It is said mentioned that internal variables (internal environment) are situation factors within organization.  Not all external factors are controlled by managers.
Main internal factors include: objectives, staff, structure, technique, tasks.
It is known that structure of organization is a complex logical interconnection of structural constituents or subsystems. These constituents are functional, organizational, and informational and staff. Some subsystems have "vertical" direction and others have "horizontal" direction. Such directions are called vectors of influencing efforts. (Mcmenamin 1999)
Objectives may be defined as determined final conditions and desirable results, which organization wants to achieve.  Objectives of departments and subsystems should correspond to company's objectives. Task is a work or part of work which must be performed by definite method and in definite time. (Mcmenamin 1999)
Technique is any means which transform the ingoing resources into outgoing. Technique may involve machines, mechanisms and instruments, skills and knowledge of staff. Techniques are classified according to different characteristics and criteria. The well-known classifications are according to: volume of production, technique's specification (intervention, strength). (Mcmenamin 1999)
Staff of organization involves leaders and executives. Special role is played by leaders, especially strategic leaders, who should create such staff system in such a way that it would be able to ensure the achievement of company's objectives.
All internal factors are also mutually dependant as external factors. The change in one element is followed by the change of the other elements. Therefore Glaxo and Reuters consider these factors as dependent system. But it is admitted that improvement of one factor doesn't mean improvement or change of other factors and doesn't lead to effectiveness in the whole organization. The influence of finance is significant and great, because this factor is too specific and requires special training. Marketing analyses and using the experience of different management schools is frequently used by Glaxo. (Mcmenamin 1999)
It is a common knowledge that strategic management of each company including also Glaxo and Reuters consists of several steps: determining objectives and missions and then strategic planning which is the most important step in company's development.
            Both companies take into account both internal and external factors, and seems there is no considerable difference between them. But as Glaxo accepts internal factors as those which might be prevailing in defining the company's corporate strategy, it will be more successful in public sector, as these are the factors which may be influenced and changed, and thus may be re-directed in the necessary way to reach the main company's goals.
            Glaxo is also more concentrated on external factors, than the Reuters is, thus it is possible for it to take better position than that of Reuters.
            It is interesting to look at the companies and compare them, as they use different strategic management approaches to reach similar goals. The strategy of Glaxo is based more on economic factors and theory, while management strategy of Reuters is directed at supporting human interactions and staff behaviour. But it should be noted that combination of these two approaches might become winning for both companies. Another approach based on the combination of human and economic factors may become a solution for achieving the strategic goals of both Glaxo and Reuters.
Strategic planning and strategic management of Glaxo and Reuters – the impact of strategic management and strategic leadership on the effectiveness of both organizations
It is a common knowledge that strategic management of each company including also Glaxo and Reuters consists of several steps: determining objectives and missions and then strategic planning which is the most important step in company's development.
Strategic planning of each company is the developing of strategies in order to achieve defined objectives. Strategic planning operates on the grand scale. It is known that the aim of strategic planning and management is to ground desirable results for future development. It involves two methods: (Mcmenamin 1999) effecting the environment, adapting plans and programs in order to get more profits.
Strategic planning is rather used in government and public activities. It provides overall "direction to a company or give specific direction". (Mcmenamin 1999)
These directions include the following areas: informational technology, financial strategies, development of human resources and marketing strategies. It is interesting to note that in public sector such planning "provides guidance for organizational management similar to that for business, but also provides guidance for the evolution or modification of public policy and laws". (Damours, 1992) The strategic areas of public sector are: growth management, functional plans and funding of infrastructure.
It can be stated that effective strategy of each organization must be able to achieve desirable objectives; consider external environment and resources of the company; be able to provide competitiveness; be flexible and dynamic.
The following examples will show two main methodologies of strategic planning. The examples are based on the approaches of Glaxo and Reuters.
Strategic planning of Reuters consists of three-steps and is called sometimes STP process. Reuters evaluates the current position of the company and current situation and tries to predict possible results. It is the first step. The second step is the target. They define desirable goals and objectives. And finally the third step is called path. It means that Reuters "map the possible rout" to the achievement of their goals and objectives. Such strategic planning is widely used by many companies in the whole world. (Mcmenamin 1999)
Strategic planning of Glaxo uses alternative approach which consists of four steps: draw, see, think, plan. Firstly the company tries to draw the ideal image and the desirable end state of the company. The next step is evaluating of the present situation. It involves the identifying of the distance from their ideal image. Their third step is taking specific actions in order to shorten the distance from the ideal image with accordance to current situation. Finally their last step is defining the resources needed to achieve their goals and objectives. (Kay 1995)
Both strategies may be considered beneficial. They help both organizations to develop strategic thinking, to make clear their future directions, to solve their major organizational problems and improve their performance. But as far as Glaxo's strategy is more concentrated on the internal factors, as it has been previously said, it is easier for them to build stable relations between those who develop company's strategies, and those who implement them.
These strategies are different in the following way. Reuters is concentrated on defining the current market position in order to develop further actions or strategy, while Glaxo first looks at the perfect image, which it would like to achieve in the nearest future. This drastic difference makes the policy of Glaxo more successful, for defining current position on the market is not enough for working out the company's strategy. There is no argument that it is very important to know the company's position on the market, but this knowledge might become assistance for correction and adjusting the future goals to the real time issues.
Glaxo and Reuters are well-known British companies and it is rather useful to analyze their activity from economic point of view and to define their strategies and techniques. Due to the further information it will be easier to compare strategic techniques and plans of many other companies and organizations. (Kay 1995)
Reuters were developing rapidly in the beginning of the 1980th, because they had changed their strategies and therefore had widened the range of products, had expanded reporting network for financial services and media. Reuters is also considered to be the founder of "Greenhouse Fund".
Reuters mentioned that they valued their customers most and therefore they offered new trading services for them. As to the company's structure it is necessary to admit that it is a single customer-centered organization. It operates through "customer segments, geographic sales and service channels and shared resources to build, deploy and support the products and services our customers need". (Kay 1995) They admitted that they had refined all customer segments and therefore they fit to the customers' community closer than earlier.
It was mentioned that "there aren't many candidates for the title of Britain's greatest post-war corporate success. But Glaxo would certainly figure on everybody's short-list – almost entirely because of the explosive change in its performance from the start of the Eighties". (Kay 1995)
Glaxo had strong positions in the world's profitable industry, but Glaxo used strategy similar to that of other UK producers. It means that there was nothing special in it. It lacked vision and confidence to become the first pharmaceutical company in United Kingdom. It is possible to say that they lacked global strategy. Firstly Glaxo oriented only to the narrow British market like other competitors. But their profits have risen four times during the four years. (Kay 1995)
As to future strategies Reuters realized the great opportunity to become a "total enterprise solution provider". Their strategy also accounts extending of the existing products. As to technique they are going to use wireless elements which will give the opportunity to provide "total end-to-end solution" (Kay 1995)
Company's goal is to be transformed into completely Information Company, to use core skills, to deliver new range of high-quality products and to set right prices in order to attract new customers. It is necessary to mention that significant changes in market provide Reuters with new opportunities. (Kay 1995)
The causes of these changes: growth of data volumes, over capacity, government pressure.
The key to Glaxo's success was their new single product. It was the drug called Zantac, which was effective treatment for intestinal disorders and ulcer. This product gained popularity because of its extraordinary research and strategic marketing. (Kay 1995)
Glaxo's strategic plan was to introduce three additional elements which will turn the basic element into force. The first element was a decision to embrace all markets in spite of their risks, difficulties and differences.
 The second element was self-confidence. They had to decide what they were trying to do and to achieve. Glaxo needed specific objectives. They addressed all their resources to high-quality production. Glaxo was able to compete in the most competitive markets with well-known companies. (Kay 1995)
The third element was to organize the group "around a single purpose". According to strategic plan Glaxo had to cover geographically the whole world. Glaxo developed a flexible organization which combined local control and initiative, "local management with central leadership and direction". (De Wit, B., Meyer, 2005)
Reuters worked out new strategy to build competitive profitable company. Their strategic plan is called Fast Forward. It is based on the main six initiatives: to make information more important and indispensable, to use new model of single product distribution, to simplify their product line, to concentrate business solutions around the existing products, to reduce costs, to refresh behaviour and culture. (Kay 1995)
According to their strategic plan indispensable information will provide trustful, deep and accurate news which can be easily found and traded on. They are going to build analytics, trading capabilities and then to open new platform of technologies. It is easy to predict that moving to coherent and more rational network may assists in solving many problems. According to the plan the rationalizing of Reuters' systems may reduce operating costs and to improve customer service. It will also allow developing new products faster and better. (Kay 1995)
It is very important to recognize the importance of strategic management and strategic leadership for the companies in public sector. It means that both companies described use the proactive approach, that is, they are able to predict possible changes and adjust their general policy to the current issues and problems. (De Wit, B., Meyer, 2005)
It should be understood, that thus both companies have created strategies of future development, they have already realized success, and this very fact makes them more effective in comparison to those enterprises in public sector, which don't still realize the necessity of applying strategic management and leadership.
The use of strategic management, first of all, allows both Glaxo and Reuters to assess the current situation inside and outside the companies from different perspectives. Through developing long-term strategies it is possible to see internal opportunities and outer customers. (De Wit, B., Meyer, 2005)
Developing the strategic management and using the strategic leadership allows carrying out market analysis. A huge part of company's effectiveness is constituted by understanding, which markets they serve and/ or will serve. The clear vision by Reuters of their customers, and the seeing by Glaxo its potential markets made both companies successful in their market share.
The orientation of Reuters at satisfying consumer's needs, allowed it to answer the major questions of strategic management in its customer part, as: What are the priorities of the customers? Are the customers satisfied with the services and products of the company? What are the expectations of customers in relation to the company? Do they have any issues or concerns? As a result, the development of the six main initiatives (mentioned earlier) was carried out; two of them are simplifying the product line and concentrating around the improvement of the existing products. The cause of this development was making information more available and truthful, thus attracting greater number of customers, and thus increasing the whole effectiveness of company's operation. (De Wit, B., Meyer, 2005)
The impact of strategic leadership in both companies is absolutely positive. As far as leadership is social activity, it allows creating better relationships along vertical and horizontal lines inside both companies, as well as receiving responses from the environment.
Strategic leadership also creates company's vision of its future, thus enabling them to develop long-term strategies and adjust them to current changes. Strategic leadership for Reuters enabled it to define and focus on its central ideas, as making information more dispensable, which ultimately led to the increase of customers' number.
The main components of the strategic leadership for any company may be defined as the following: determination of strategic direction, maintenance of core competencies, the development of the human capital, sustaining the necessary corporate culture, using ethical practices, using strategic control (De Wit, B., Meyer, 2005)
Implementation of all six components will make the strategic leadership of both
companies more effective. The most important of them, to my mind, are defining the strategic direction and using strategic control. The control should be implemented at every stage of realizing the global strategy of the company.
It is clearly seen, that these two companies use different approaches towards their strategic planning. While Reuters is concentrated on satisfying 'every single consumer', Glaxo has re-oriented at 'one single purpose' – geographically cover the whole world. Both strategies may become successful through the use of correct and appropriate techniques. And though Reuters has got six initiatives (or tactics) to achieve, all of them are aimed at one purpose – taking the better position in the public sector. (De Wit, B., Meyer, 2005)
            Defining management strategy is essential for both Glaxo and Reuters. The companies use similar strategies with different approaches. Both have their advantages and drawbacks. At the same time, each of them is beneficial in its sense.
            It is known that the two main purposes of strategic management are to affect the environment and to get maximum profits.
            Reuters is affecting and changing the environment by making the data and information more available for its consumers. On the contrary, Glaxo is influencing and changing its environment through effective use of its internal factors. By supporting the correct behaviour of its staff, it turns it into the necessary direction.
            Glaxo's management policy seems to be more global, as it is not concentrated on one consumer, as that of Reuters. Glaxo aims at grasping the world market as a whole while Reuters is going to the same goal by paying attention to each customer, trying to reduce the operational costs at the same time. And as Reuters is concentrated on simplifying their product line and improving the already existing products, Glaxo invests £300,000 per hour for the development of new medicines.
            As far as strategic leadership in any company implies adapting the firm to the business environment, required non-repetitive responses to the new circumstances, and is always partially unplanned, both companies should be concentrated on both corporate and individual strategies. Being concentrated on consumers, Reuters lacks eliminating organizational barriers between its departments and global focus, while Glaxo, having this global focus as its main goal, needs paying more attention to closer relations with customers and suppliers. (Kenichi 1990)
            Management strategy of each business firm possesses unique features, designed to response each specific situation or circumstance, and as most of strategic management theories are too narrow or too abstract, there should be developed basic notions and points of corporate strategy by Glaxo and Reuters separately, taking into account their production scales, possible means and future goals.
WORKS CITED
Eisenhardt, K. and Bourgeois, L, 1988. Politics of strategic decision making in high velocity
environments: Toward a midrange theory. Academy of Management Journal, 31, pp. 737-770.
Forster, J.H. and Browne, M, 1996. Principles of Strategic Management. Melbourne:
MacMillan Education Australia LTD.
Goodstein, J., Gautam, K. and Boeker, W, 1994. The effects of board size and diversity on
strategic change. Strategic Management Journal, 15, pp. 241-250.
Hart, S, 1992. An integrative framework for strategy-making processes. Academy of
Management Review, 2, 327-351
Huber, G, 1990. A theory of the effects of advanced information technologies on
organizational design, intelligence, and decision making. Academy of Management Review 15, pp. 47-71.
Huber, G. and Power, D, 1985. Retrospective reports of strategic-level managers: Guidelines
for increasing accuracy. Strategic Management Journal, 6, pp. 171-180.
Huff, A. & Schwenk, C, 1990. Bias and sensemaking in good times and bad. Pp. 89-108 in

Huff (Ed.), Mapping strategic thought. Chichester, England: Wiley.

Keck, S. and Tushman, M, 1993. Environmental and organizational context and executive
team structure. Academy of Management Journal, 36, pp. 1314-1344.
Mintzberg, H., Raisinghani, D. and Theoret, A., 1976. The structure of "unstructured"
decision processes. Administrative Science Quarterly, 2, pp. 246-275.
Mintzberg, H., Lampel J. 1999. Reflecting on the strategy process. Sloan Management
Review, 40, pp.21
Porac, J. and Thomas, H, 1990. Taxonomic mental models in competitor analysis. Academy
of Management Review, 15, pp. 224-243.
Porter, M.E., 1996. What is strategy? Harvard Business Review, 74, pp. 61-78
Schoemaker, P, 1993. Strategic decisions in organizations: Rational and behavioral views.
Journal of Management Studies, 30, pp. 107-130.
Schwenk, C. & Dalton, D, 1991. The changing shape of strategic management research. Pp.
277-300 in P. Shrivastava, A. Huff & J. Dutton (Eds.), Advances in strategic management, Vol. 7. Greenwich, CT: JAI Press.
Shrivastava, P. and Grant, J, 1985. Empirically derived models of strategic decision making
processes. Strategic Management Journal, 6, pp. 97-113.
Wiersema, M. and Bantel, K, 1992. Top management team demographics and corporate
strategic change. Academy of Management Journal, 35, pp. 91-121.
Zajac, E. & Bazerman, M, 1991. Blind spots in industry and competitor analysis:
Implications of interfirm (mis)perceptions for strategic decisions. Academy of Management Review, 16, pp. 37-56.
Cohen, J.1989 Whatever Happened to Betamax? Consumers' Research.
Cohen, L. 1995 Quality Function Deployment. Prentice Hall PTR.
Gerstner, L. 2002 Who Says Elephants Can't Dance? New York: HarperCollins.
Hamel , G.Skarzynski, P. 2001 Innovation: The New Route to Wealth Schwab, Sony and Turner Did It. Can You? Journal of Accountancy. Volume: 192
Kiley, D.2004 GM Tries to Cut the Cord on Costly Rebates. USA Today.
Mizuno, Sh., Akao, Y.. (1994) QFD: The Customer-Driven Approach to Quality Planning & Deployment. Productivity Press.
Schlender, B. 2005 Inside the Shakeup at Sony." Fortune. pp. 120-127
Stopper, W. 2005 Achieving Post-Outsourcing Success. Human Resource Planning. Volume: 28
Utterback, J. 1994 Mastering the Dynamics of Innovation: How Companies Can Seize Opportunities in the Face of Technological Change. Harvard Business School Press
Canals, Jordi. 2000. Managing Corporate Growth. Oxford, England: Oxford University Press
Damours, Stephen. 1992. Management Analysis in Public Organizations: History, Concepts and Techniques. Westport: Quorum                                                       Kay, John. 1995. Why Firms Succeed. New York: Oxford University Press                                 Kay, John. 1996. The Business of Economics. Oxford: Oxford University Press           Mcmenamin, Jim. 1999. Financial Management: An Introduction. London: Routledge Philips, Robert L. 1992. Strategic Leadership: A Multilevel Organizational Perspective. Westport: Quorum.
Kenichi Ohmae1990 The Borderless World.. New York: HarperCollins, 224 pp.
De Wit, B., Meyer, 2005 R. Strategy Synthesis: Resolving Strategy Paradoxes to Create Competitive Advantage. 2nd edition. London: Thomson Learning,