Strategic Management Process Paper Argumentative Essay Sample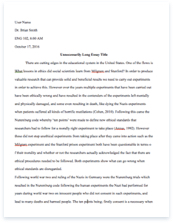 The whole doc is available only for registered users
OPEN DOC
Download Essay
A limited time offer!
Get a custom sample essay written according to your requirements urgent 3h delivery guaranteed
Order Now
Strategic Management Process Paper Argumentative Essay Sample
For any company to be successful they have to a goal, purpose and especially a plan. There are "a set of managerial decisions and actions that determines the long-run performance of a corporation, it is called strategic management." (Wheelen & Hunger, 2010. Pg. 5) Strategic management is the foundation of a successful company and also gives the company a course to follow. Each company normally chooses their strategic plan or model. A strategic model establishes a strategic plan, or model, intended to increase the procedure. Company use strategy models to refine operations and meet their goals. The process of creating such a model requires identifying the important goals of the company. It also recognizes the important components or stages of the process from the starting point to the success of those goals and producing ways of increasing the process for best production and the success of the specified goals.
Six Sigma is a model that is used; it not only integrates the strategic model but also builds an ethical plan for the company on how to diminish waste and at the same time improves current practices. Six Sigma causes management to consider different ways to improve the business while setting particular goals and stringent accountability from upper management all the way down to the entry level employees. (Six Sigma) "Six Sigma has five processes they use; the first one is defining. This process "identifies the wants and needs that are important to the customers." (University Alliance) Past and feedbacks from customers is used to identify the wants and needs." (University Alliance) The second process is measuring; this process is used to "define the process to collect the data and record in a specific way to be able to help deliver that rest of the process." (University Alliance) The third process is analyzing; this process is to use data that can identify the area that need adjusting.
The fourth and final process is verifying; this is the last process and an ongoing process, once the product or service is released and the reviews from consumers are analyzed and adjustments are made to the product or service from those reviews. Bank of America is one company that uses Six Sigma, as one of the prominent financial institutions; Bank of America joined the many other Fortune 500 companies that use of Six Sigma in 2001. The reason Bank of America implemented this extremely successful strategic planning is because Bank of America has saved 2 billion dollars in cost savings or increased revenues. Since 2001, Bank of America has certified over 3,000 green belts and black belts, and the number continues to grow." (Marx, 2005) Bank of America's philosophy sums up what the fundamentals of their strategic model is "Our Philosophy "We believe, very simply, that it is the actions of individuals working together that build strong communities … and that business has an obligation to support those actions in the communities it serves." (Bank of America Corp)
References
Bank of America Corp. Company information and profile of Bank of America Corp. Retrieved from http://www.makingafortune.biz/list-of-companies-b/bank-of-america-corp.htm Marx, Michael. (2005). Six Sigma: Bank America- Hoshin Kanri and Six Sigma. Retrieved from http://www.isixsigma.com/community/blogs/bank-america-hoshin-kanri-and-six-sigma/ Six Sigma: What is Six Sigma? Retrieved from
http://www.isixsigma.com/new-to-six-sigma/getting-started/what-six-sigma/ University Alliance. (2014) Villanova University: Six Sigma: DMADV Methodology. Retrieved from http://www.villanovau.com/resources/six-sigma/six-sigma-methodology-dmadv/#.VCiQaPldWSo Wheelen, Thomas L., Hunger, J. David. (2010) Concepts in Strategic Management and Business Policy: Achieving Sustainability, 12th edition, Upper Saddle River, New Jersey: Prentice Hall