Strategic Plan, Part I: Conceptualizing a Business Essay Sample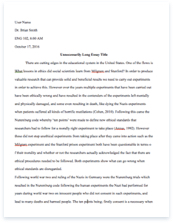 The whole doc is available only for registered users
OPEN DOC
Pages:
Word count: 1086
Category: value
Download Essay
Get Full Essay
Get access to this section to get all the help you need with your essay and educational goals.
Get Access
Strategic Plan, Part I: Conceptualizing a Business Essay Sample
Mission Statement: "Where Old Legacy Become New Treasures." There are important considerations when developing the strategic plan. The vision, mission and values that is highly important to any planning of a new business. These are the factors that will work together to provide a well-rounded strategic design (Pearce 2004).
The business that crossed my mind is to open a vintage and antique consignment store. This store will cater to men, women and young people who have an interest in items from the late 1800's to the 1900's. What this business will provide is the knowledge of information from this era. Whether it is an old cooking apron, jewelry, clothing and more. The focus of this business will be for those customers who are into collecting or selling vintage items in my store. This company will benefit from a good and strong strategic plan. The Strategic Plan will provide insight of what this company will be about with also creating an image of how the company will be in the future. There are long term goals along with some short term goals.
Description and Mission
The business that I am considering is a vintage and antique resale and consignment store. It will specialize in vintage clothing, collectables and vintage jewelry and more. The target customers will be people of all ages who may be looking for that one vintage item that may give them a memory of days gone by. There will be antique or vintage collectors and those who would be making purchases and also looking into consignments.
I would like to say also that the people that I will be serving will gain knowledge and information on the item they would like to purchase. Any information that is given to me will be passed onto the customer. There may be products that are high end merchandise and some that may not be worth anything. I will be starting this business venture in my own workshop located at my residence and in hopes to increase my inventory and space within a six month period of time. This will be a one person business with hopes to make a profit to add on more employees.
Our Mission Statement: "Where Old Legacy Become New Treasures." Our mission is to provide a professional attitude and enthusiasm. Knowing what the needs of our customers have and provide the best knowledgeable information that we can provide with our research and resources.
The Future
The future goal of this business is to be able to grow fast and have the best relationship with my customers and consigner in this blossoming business. Growth is the main goal to many businesses. But it can also be very challenging to achieve. The business is seeking information on how to achieve growth through by selling items on the web. Effective web business usually very little investment if one can fine some websites that offer free websites. Google is a good spot to search for this type of research and Bing is another good source to check. You can hire a good web developer or you can do your own with simple
directions with free web building sites. You can even check out Amazon.com to start an online storefront or even eBay. The way you present yourself is a key to success with any business someone would like to venture into. Our customers will expect the best quality in the design and most important the images of the products that you are selling. The step following would be web marketing. You can also gain this through Google or even Microsoft Office. The expensive way is to get in touch with Yellow Pages.com. The only problem is that not many people use the actual Yellow Pages because people look on the web for most of their information.
Vision Statement
The business will have become the most well respected provider of vintage and antiques in the industry. Once this business has been developed, revenue will flow from many different sources. The company will have locations in all areas in the United States. In addition, the company generates a
significant amount of income by selling products worldwide through its online store.
Company Values
Values, ethics, and social responsibility are important for strategic planning process. There are several values that dictate the culture of the company. The main value is naturally customer service and it is used in all aspects of the business. The needs of the customer first will help develop a strong positive business. Another important value will require smart minds working together. There are very few companies that have achieved growth and success without promoting teamwork as a corporate value.
Ethics are also important to consider when dealing with very precious and fragile products. There are many opportunities to sell damaged or refurbished equipment without disclosing it to the customer. Ethical violations such as this are strictly forbidden and could have a severe negative impact on the company's image and reputation. The company also plans on being socially responsible to promoting. Music is an important part of childhood development and many children do not have access to modern musical equipment. With this in mind, the company will strive to help the community by providing non-sellable products to charity. This will have a positive effect on the community and will promote a positive attitude with working for the long hall with customers.
Conclusion
The organization's strategic direction is highly influenced by the mission, vision, and values. Each of these factors defines different aspects of the company's overall goals. The mission defines the company's purpose and how it plans on treating its customers. A good mission statement can be used by investors and employees to make decisions within the company (Pearce 2004). On the other hand, the vision statement creates an image of how the company might appear in the future. The future image of the company is important because it helps employees make choices that can contribute to achieving these long term goals. Lastly, values show onlookers what is important to the company. Organizations have the obligation to contribute to the wellbeing of the community. Strong moral and ethical values will ensure that the organization is making choices that consider the best interests of the community at large.
References
How to Write a Fluff-Free Mission Statement by Corey Eridon http://blog.hubspot.com/fluff-free-mission-statements Pearce, J. Robinson, R. (2004). Strategic Management: Formulation, Implementation, and Control, 9 e.