Why does street crime have such a hold on the public imagination Essay Sample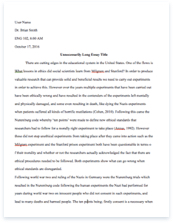 The whole doc is available only for registered users
OPEN DOC
Get Full Essay
Get access to this section to get all help you need with your essay and educational issues.
Get Access
Why does street crime have such a hold on the public imagination Essay Sample
It is not that 'hidden crimes' are less important than 'street crime' but rather a belief that crimes committed 'on the street' are usually against an innocent individual, primarily and even unknowingly becoming a victim of crime. This makes it personal ("it could have been me") and may even be seen to cause psychological damage to the victim ("why did it happen to me").
Street crime is generally stereotyped as an act taken on by drug abusers, ethnic minorities or the poor who would rather commit criminal offences as a provision of income than seek paid employment. However, whether this is because of historical attitudes that have long argued this, or the provision of various discourses of information society is provided with by both national and local authorities, it is an area open to debate and can be argued that certain media discourses prejudice and influence its audience, in particular by those who live in poorer parts of the country.
Street crime statistics tend to be contradicted by different media discourses, and readers, listeners or viewers from a socially and culturally diverse country such as the UK, interpret these discourses of information very personally indeed. However, when it comes to certain 'hidden crimes' especially environmental, industrial or taxing, they appear to be less personal than their more social counterparts.
Although this may appear to be a very na�ve way to interpret these crimes, many individuals are actually unaware just how much they affect them until something major happens which brings it to the medias attention. Domestic violence was one such area, which until the late 1960's was either believed to be a personal family issue or something that was 'ignored'. Domestic violence belonged to the private domain and therefore intervention was neither appreciated nor expected. However, Women's Liberation groups felt it was necessary to highlight the extent of the damage caused by perpetrators of domestic violence and protested endlessly voicing their concerns, making sure their demands for equality and protection were heard.
The 'poor' and 'crime' relationship. Going as far back as the early nineteenth century, this relationship has been seen to have a prime link, suggesting that the 'casual poor' represented 'a threat to safety and order'.
They were also perceived as infectious, unruly, beggars and criminals. (Book 1, chapter 4, p.153).
Domestic violence was one area that was constantly
neglected by the authorities, be it police, courts or politicians. It was seen as a 'domestic' matter, which authorities were not responsible for rather than a crime. It was only due to constant pressure from women's liberation groups in the 70's (?) that it shifted from a 'domestic' to a 'criminal' act.
Hidden crime also includes the following:-
* Verbal Abuse
* Sexual Abuse
* Retail Crime
* White Collar Crime
* Racial Abuse
* Institutionalized/corporate Crime – health and safety issues
The family mostly remains as belonging to the private sector and it is still considered to be a delicate area regarding any unwanted or uninvited intervention. When challenging behaviours that are different to the 'normal' expectations of family discourses, many will tend to be careful and cautious about how they will involve themselves within it.
Family violence in the home tends to be on a patriarchal level, and is usually the man. His behaviour can be very dominating and controlling enabling him to produce (what appears to be) 'the ideal family'. Along with the violence, bullying and intimidation are generally parallel with his behaviour, and with this in mind, self esteem of his victims may be too low, preventing them from developing any skills to challenge him.
There are many different types of violence that may occur in the home, punching, kicking, biting, pulling hair, slapping, stamping. As well as the obvious, all these things could be done with objects or even thrown at the victim, such as, sticks, shoes, metal poles, and so on. Finally violence is not just physical, it can be sexual, (rape, molestation and assault) and psychological (intimidating, insulting, and harassment) as well. It is no surprise that two women each week die as a result of domestic violence.
Challenging what is morally wrong! There are still many perpetrators who believe that their behaviour is actually part of family life, and although after an incident they may feel some remorse, generally it would happen again and without a question of doubt, the blame would be turned to the victim; adding to this, family discourses who accept that violence is necessary in order to maintain an 'orderly home', 'chastisement' is in some cases still seen as an appropriate way of making sure boundaries are not crossed and rules are followed. The difficulty in defining violence in the home is really challenged with another question, what discourses allow the perpetrator to believe that their behaviour is a respectful way to provide security for his family? In answer to this, one's culture or historical beliefs can be sure signs of justification for the perpetrator.
The biggest problem has to be how many families are willing to acknowledge there is a problem in the home, and speaking out about it. Victims of domestic violence are usually left with very little self esteem and in many cases believe that it was their fault; "maybe I was a bit out or order", or "It is my fault really, he has been at work all day and just wanted his dinner ready", are just some excuses that can be witnessed as self-blame.
Other victims are possibly too afraid of the 'consequences' of reporting their abuser to the authorities, some may have children and financially depend on their partner/spouse for the main income, some could fear deportation if the victim is from overseas and lastly they may simply 'love' their abuser and find it too difficult to accept what their partner/spouse is doing is wrong. With all this in mind, to assess the problem correctly would be very difficult indeed as although many do report their perpetrators, there are many more that do not or cannot.
Domestic Violence affects all cultures and classes and with discourses of information such as those provided by welfare agencies and feminist groups, explanations can be as diverse as the abuse itself. Women's Aid groups have for over the past three decades argued that men have used their masculinities to dominate and control their families, exploiting their power by intimidating and abusing their status in the household.
Domestic violence challenges the boundary between public and social order.
One possible problem with the law is that in tends to look at domestic violence as pathological, offering services to 'seek out' why they behave they do, or offering programmes allowing them to discuss with others why it is they believe they behave the way they do. P.223
Yet how much information is the perpetrator given about what they have personally done to their victims and what damage they have caused to their families because of their actions, how much fear have they installed in their children, and do their children also need to attend such programmes in order to prevent 'copied behaviour' . With the spouse/partner will she also receive as much help coping and adapting to the supposedly reformed character, can she be taught how to trust not only the person who broke the trust in the first place but anyone else again. Finally who is responsible for re-building her self-esteem that has surely been knocked down a peg or two. (OWN WORDS FOR TMA 02)
Today, News channels, political channels, documentaries, reality television shows, radio, newspapers, films, drama and many more discourses of information, provide an individual with the fear and fascination neatly packaged in a safe environment which we call 'home'. However, home is not always a safe environment, and yet until very recently 'hidden crimes', many of those which occur outside the home, may be happening between family members in what is usually regarded as a place of security and protection.