Strength Quest Essay Sample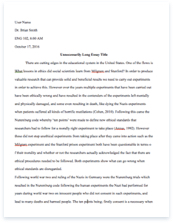 The whole doc is available only for registered users
OPEN DOC
Get Full Essay
Get access to this section to get all help you need with your essay and educational issues.
Get Access
Strength Quest Essay Sample
"By the end of the day you must achieve something tangible in order to feel good about yourself. No matter how much you may feel you deserve a day of rest, if the day passes without some form of achievement, no matter how small, you will feel dissatisfied." (PH.Ds, Clifton, O., Anderson, E., Schreiner, L., Pg 26) When I read this quote in our StrengthsQuest text I felt as if I was describing my own personality while starring at myself in the mirror. If there was a sentence to explain "Chrissy" this would be it, or at least a very good candidate when summarizing my number one strength. After completing my StrengthQuest survey online and analyzing my results with the three people who know me best, my mother, and my two best friends in the entire world Maryam and Alexis the results proved to be extremely accurate. (I must say I was a little skeptical going into this) After completing my survey my top five strengths in ranking order (drum roll please) are as follows; achiever, empathy, harmony, responsibility, and communication. In all honesty these results did and did not surprise me.
I have always been very aware from a young age I have always, I mean always strived towards achievement. I am that individual who actually suffers from guilt, promotes internal stress for themselves if during the day I am not actively achieving something in which I feel is important or needs to get done. And this rule applies to all situations, I could be sick with a high fever lying on the couch and I will still think in my head to myself, "Well I am home; I should be using my time wisely. Why don't you get up and go start some laundry, do homework and clean the house so tomorrow when you are no longer sick all of this is completed." This strength definitely has its ups and downs when it comes to life in general and also how it will help me excel as a teacher in the classroom. Having the strength of striving to be a high achiever will help me to set an example, and be a positive role model for my students in the classroom.
This is the strength which helps me to become "superwoman" when I need to, it will give me the ability to teach my students that anything is possible and when we prioritize and work hard to achieve our goals, not only will we enjoy our successes but we will also experience personal satisfaction from the growth we see in ourselves through
these successes. My second and third ranking strength were Empathy and Harmony. Out of all the strengths these are the two I feel really go hand-in-hand. "Empathy-You can see the sense of emotions of those around you. You can feel what they are feeling as though their feelings were your own. Intuitively, you are able to see the world through their eyes and share their perspective. You do not necessarily agree with each person's perspective. You do not necessarily feel pity for each person's predicament-this would be sympathy not empathy. You do not necessarily condone the choices each person makes, but you do understand.
The instinctive ability to understand is powerful." "Harmony-You look for areas of agreement. In your view there is little to be gained from conflict and friction, so you seek to hold them to a minimum. When you know people around you hold differing views, you try to find a common ground." (PH.Ds, Clifton, O., Anderson, E., Schreiner, L., Pg 26) When I was still digesting my strengths out of all the top five listed these two I am most grateful for, and in my opinion will be the most useful not only in life, but also in the classroom. The quotes I have picked to represent these strengths above I feel as if not only describe myself and how I utilize these strengths, but they are the quotes I feel which can cohesively describe and paint a visual representation of how the strengths of empathy and harmony work together in a package deal. I am very understanding and accepting of people, I always have been. The strength of empathy has allowed me to form extremely important relationships with other individuals throughout my lifetime in a largely mixed variety within extremely different groups of people. I "get" people, I may not always agree with them, but I understand and can relate to them.
Being an Educator I believe this should be at the top of the list when it comes to working with students, making them feel comfortable and helping them to see the potential within themselves. As an individual myself if I can't relate to my students, understand and pick up on their emotions, or have them want to relate to me well then everything, and I mean everything else is out the window. Without having the ability to build a strong student/teacher relationship the teacher will never help the student learn because the student will not respect the teacher, and without a common bond the teacher will never be able to "get through" to their students, or other important individuals they encounter throughout their lifetime.
I feel as if the strength of harmony is the final bow on top of the package. Harmony completes the understanding of other individuals in its entire entity, and helps the teacher find a common ground among students, classroom management style which works best for both students and teacher. My strength of responsibility has mainly done me good throughout my lifetime, but having the strength in my opinion can sometimes also become a weakness if not monitored correctly. I am responsible, and that is great; once again this strength will help me to set a positive example within the classroom for my students and help to teach them that in order to productively succeed in the "real world" it requires a great amount of responsibility. I hate to say it but without being responsible which isn't always the fun option, as humans we will never accomplish any of our goals, move forward, grow or relish in our own successes. Responsibility is almost like hard work, it isn't always fun but the end result is extremely satisfying. Knowing myself well enough (as well as my mother and two best friends) to understand without a doubt that I am responsible by nature reassures me that no matter what I will always get the job done-generally whatever it takes; the downfall to the strength is sometimes I need to learn to be more selective with whom I chose to be responsible with and what tasks.
Needing to keep equilibrium of balance, and reminding myself not to try to take on the world can sometimes be frustrating when you are a responsible person. Lastly my strength of communication will be a great contribution not only in the classroom when it comes to delivering and teaching content within the classroom but it solidifies my strengths of harmony and empathy. When you have the ability to understand and relate to others, as well as find a common ground, in order for all of these strengths to play out successfully you also need to have the ability to be able to communicate with these other individuals; in this case my students, co-works, colleagues. The way in which one delivers his/r communication style is a direct correlation with the final outcome of what one is trying to achieve. Whether it is a problem which has arisen, trying to deliver a lesson or enforcing the classroom rules on the first day of school for students to memorize, respect and follow for the rest of the year.
If communication is delivered in a poor manner, or an attacking mannerism nothing will get accomplished and both parties will retaliate. This can happen in many classroom where the teacher may not intentionally be trying to "put down" their students, but if their communication abilities are not up to par, instead of helping students they could be doing the opposite such as discouraging their students and increasing the risk of students dropping out of school and creating a low schema of self esteem. After reading over and analyzing my own results for a day or so in order to see if I felt I really agreed with my final outcome of my StrengthQuest survey I called my mom, my best friend Maryam in San Francisco, and showed them personally to my best friend Alexis here in Southern, Ca. I explained to my mom in detail what I had done and only listed off my strengths.
She pretty much summarized in simpler words back to me what my final results were without me reading her what the final results said. Well that solidified that. With Maryam and Alexis I went over the process of the survey, along with the results and what they each said about me. Both of them agreed and even gave me examples of different experiences throughout my lifetime where they could remember when I used certain strengths. Mainly these experiences/memories had to do with me using my achiever status (Or as they called me a dorky overachiever) and my empathy/harmony strengths. This really didn't surprise me considering these two individuals I consider to be my two best friends, and with friendship comes a lot of listening and helping one another out.
All in all I found the StrengthQuest experience to be quite rewarding; the survey may have not lead me down a path of discovering some new strength I was completely unaware of but it did help me recognize the strengths I do currently have. With a new realization of these strengths I have built confidence in myself knowing I have these abilities and provides a clearer, more precise direction as to where I can use these strengths both in life and in the classroom.