Strengths and Weaknesses of Apple Essay Sample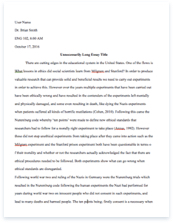 The whole doc is available only for registered users
OPEN DOC
Download Essay
Get Full Essay
Get access to this section to get all the help you need with your essay and educational goals.
Get Access
Strengths and Weaknesses of Apple Essay Sample
Abstract
This paper will attempt to identify the strengths, weaknesses, of the Apple Company; a multimillion dollar technological company. There are several aspects of the Apple Company that makes it strong in the industry however there are also areas of weakness that makes the company vulnerable to its competition. This paper will outline the company's strengths and how it dominates in this ever changing technological world. At the same time this paper will outline the company's weakness and how it can overcome these flaws. Apple
Introduction
Apple revolutionized the computer world since 1970. They have been the most innovative organization since the invention of computers. This California based company revolutionized the industry into amazing unforeseen technology with its evolving and seducing factors. Apple has developed many of the features that computers today use and have continuously issued more patent than majority of its competitors have over the past 10 years. Although Apple has wowed many of its customers, it has also swayed away those loyal fans. The purpose of this paper is to analyze Apple's strengths, weakness, opportunity, and threats and to identify the most significant factors internally as well as externally that affects them as a whole in their market. This analysis provides Apple with exclusive explanations by looking at internal factor such as their strengths alongside its weaknesses. As well as the external factors such as their opportunities and threats. The analysis is designed to point out possible strategy formulation that can help continue to make this company impress its users time and time again. The paper will look at what Apple should deploy to continue to maintain that gap in the market share as well as look into the organizations' flaws that may make the company vulnerable to its competitors. Strengths
Customer Loyalty
From shopping malls to individual mom-and-pop shops, one constant that remains the object of the retail industry's eye is customer loyalty (Boiden, 2013). The creation of Apple stores creates a brand loyalty where customers can play and explore Apple's new technology as well as ask questions about the product. Prior to Apple creating their stores, they didn't have that face to face interaction with its customer's so going into retail brought that customer interaction straight to Apple. Apple's customers are so loyal that they will take to sleeping outside the Apple store to be the first to get the next big Apple product. This type of brand allegiance has been unheard of with any of Apple's competitors. Apple produces products that compete with each other however they also interact with each other which is a technical advantage that others in the industry failed in cornering in this market and this continues to bring the devoted customers back to Apple time and time again thus making it a competitive advantage towards others in the industry. Brand Reputation
According to Lake (2014) she states that The American Marketing Association (AMA) defines a brand as a "name, term, sign, symbol or design, or a combination of them intended to identify the goods and services of one seller or group of sellers and to differentiate them from those of other sellers; Apple Corporation does just that. Who hasn't heard of Apple? Everyone has of course. Apple is one of the most established corporation there is globally. There are Apple products all over the world and in every household. The brand itself makes it a competitive advantage. Apple ensures that their brand image is strong in everything that it creates by providing innovative, simple, and stylish unique designs. Their stance in keeping their brand strong forms an aggressive advantage. This well-founded stance still enables Apple to differentiate their products from each other by standing firm with their brand creation. Leading innovator
What makes a company a leading innovator? It takes a mass coagulation of skills, expertise, and a group of tangible people, tools, and a system of evolution. Since Apple was created in 1976 by Steve Jobs and Steve Wozniak it has been a leader of innovation. The company has produced products such as the Apple brand, Macintosh and Power Mac Computer; but it doesn't stop here. Apple created its biggest product; the iPod. Since then they have continuously stayed a top of their gallant perseverance of creating the leading product in technology. They've created iPhones, iPad, and have improved their computers to stay abreast of the embryonic technology. In fact in 2013 according to Su (2013), Apple Inc., has once again bested other companies for the prestigious title of the World's Most Innovative Company in 2013. It is a well-known fact in the business world that, companies who remain on top are the ones that can think of the most creative approaches to an idea and act on it quickly. Time and time again Apple has shown the world that it is atop of innovations and thus creates a competitive advantage. Strong marketing and advertising
Marketing is one of Apple's strongest asset. When Apple was first incorporated their leader incorporated a 3 point marketing strategy and till this day this strategy has made them successful in the marketing world. Their 3 philosophy is to empathize, focus, and impute. Apple's focus on empathizing with their customers helps them understand what the customers really want. They focus on the customer's needs and dump out all the unimportant factors. Thirdly they impute by creating the best design and appealing products. If they produce slosh then the customer will not appeal to the product. Apple maximizes on the marketing mix; producing appealing product, they are always creating new products, their products differentiate from other products in the same industry and lastly place; they have stores all over the country to purchase their products. In addition to the retail stores Apple owns, they offer their product to sell to other retailers thus making them colossal in the marketing realm. Strong financial performance
According to Apple's 2014 3rd quarter standing, Apple (2014) The Company posted quarterly revenue of $37.4 billion and quarterly net profit of $7.7 billion, or $1.28 per diluted share. These results compare to revenue of $35.3 billion and net profit of $6.9 billion, or $1.07 per diluted share, in the year-ago quarter. Gross margin was 39.4 percent compared to 36.9 percent in the year-ago quarter. International sales accounted for 59 percent of the quarter's revenue. Apple's board of directors has declared a cash dividend of $.47 per share of the Company's common stock. The dividend is payable on August 14, 2014, to shareholders of record as of the close of business on August 11, 2014. Apple has one of the strongest financial standings in the industry however they have seen a drop in their stock market because of unforeseen product failure. However they are on top of this and are striving to get back to the top. Compared to any of their competitors they are not too far behind getting back to their leading status which is a competitive strength for them. Weakness
High price
In the beginning when Apple didn't have the competitive match to compete with their products, their pricing was justified. However competitors are now emerging in the same market as Apple and therefore Apple products tend to be pricier than other products of the same type which creates a weak advantage in competitive pricing. Although the products are appealing and may be more innovative than other products of the same type, consumers will opt for the same quality product from a competitor at a cheaper price which is a disadvantage for Apple. Decreasing share market
Apple's biggest competitor the Android is still leading in market share. According to Cinisomo (2013), Samsung continues to dominate 31.7 percent of the market share over Apple. The company's competitors are taking advantage of Apple's technology and are maximizing on this opportunity which is the reason why Apple's share have seen a drastic decline in share. In 2012 according to Frier and Satariano (2012), Apple saw its biggest drop since Dec. 17, 2008. A 6.4% decline which erased their $34.9 billion market value. The decrease in market share is a significant weakness for Apple that they need to quandary the dilemma and fix it to again capitalize on the market share. Changes in Management
Apple lost its best innovating manager; Steve Jobs in 2012 which was a devastating blow to the company. Since then they have several changes in management. According to Brown (2013); "To sum up the management changes: Jobs stepped down as CEO in August of 2011 and died in October; Cook moved up from COO to CEO; SVP of Mac Hardware Engineering Bob Mansfield retired in June 2012, returned a short while later, then stepped down earlier this summer to focus on special projects; Dan Riccio joined top management ranks overseeing hardware last year; Ron Johnson, head of retail, announced he was leaving Apple in June 2011 and officially left shortly after Jobs' death to head up J.C. Penney; John Browett replaced Johnson, but was ousted in April 2012, with Cook at least temporarly taking over the retail operations;
Scott Forstall, SVP for iOS, also was ousted in 2012; Eddy Cue gained new responsibilities in the wake of the Forstall departure and became part of the top management team, and has even been rumored to be a possible Cook successor if things go south for him; legendary designer Jonathan Ive was also given increased design responsibilities; and Craig Federighi joined the executive team overseeing software engineering after Forstall left, and played a starring role in Apple's iOS 7 announcement in June." With all the changes in management with Apple can potentially be a weakness for the company. Many ideas floating around and some may not be on the same accord. The change in management could be a downfall to the innovation giant. The best direction Apple should take is to stay with what they have and continue to increase the market share. Conclusion
All in all this paper described Apple's strength and weakness and showed the internal areas of vigor and areas where it is vulnerable to its competitors. The paper exploited Apple's strengths and its weakness and pointed out areas where it can maximize to become the sophisticated company that it is known to be.
Reference
Beuder, J. (2013). Sale for race. Retrieved from http://www.desk.com/blog/customer-loyalty-and-retention/ Lake, L. (2014). What is Branding and How Important is it to Your Marketing Strategy?. Retrieved from http://marketing.about.com/cs/brandmktg/a/whatisbranding.htm The history of apple. (2009). Retrieved from http://www.nostoptechnology.com/ Apple Inc. Named World's Most Innovative Company 2013, Samsung in Top 2 Spot; How to Promote Innovation (INFOGRAPHIC). (2013, September). International Business Times, (), . Retrieved from http://au.ibtimes.com/articles/509569/20130927/samsung-google-microsoft-apple-inc-steve-jobs.htm#.VBByBPldWFU Moorman, C. (2012). Apple Inc. Named World's Most Innovative Company 2013, Samsung in Top 2 Spot; How
to Promote Innovation (INFOGRAPHIC). (2013, September). International Business Times, (), . Retrieved from http://au.ibtimes.com/articles/509569/20130927/samsung-google-microsoft-apple-inc-steve-jobs.htm#.VBByBPldWFU. Retrieved from http://www.forbes.com/sites/christinemoorman/2012/07/10/why-apple-is-a-great-marketer/ Apple Press Info. (2014). Retrieved from http://www.apple.com/pr/library/2014/07/22Apple-Reports-Third-Quarter-Results.html Apple iPhone market share declines amid smartphone competition. (2013, August). Silicon Valley, (), . Retrieved from http://www.bizjournals.com/sanjose/news/2013/08/14/apple-sees-smartphone-market-share.html Frier, Santario, S. A. (2012). The biggest drop since Dec. 17, 2008. Retrieved from http://business.financialpost.com/2012/12/05/apples-shares-decline-in-heavy-trading-on-mix-of-reasons-including-tablet-market-share-loss/?__lsa=cdfe-a67fBrown, B. (2013). Apple's management team: Before & after Steve Jobs left. Retrieved from http://www.networkworld.com/article/2225319/data-centerpple-s-management-team–before—after-/data-center/apple-s-management-team–before—after-steve-jobs-left.html Nair, S. (2014). Apple's premium pricing strategy and product differentiation. Retrieved from http://finance.yahoo.com/news/apple-premium-pricing-strategy-product-191247308.html