Study of filipino cuisine Essay Sample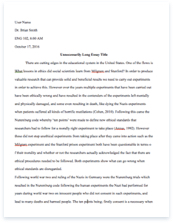 The whole doc is available only for registered users
OPEN DOC
Download Essay
A limited time offer!
Get a custom sample essay written according to your requirements urgent 3h delivery guaranteed
Order Now
Study of filipino cuisine Essay Sample
According to Pineda & Quimpo (2012) "Filipino food may not be as famous as that of its Thai and Vietnamese neighbors. But with more than 7,000 islands and a colorful history, this archipelago has some delicious dishes of its own."
According to Gerel, & Wayne, R. (n.d), "Filipino foods are rich in both cultural traditions and innovation. While its roots are mainly influenced by the diversity of ingredients found naturally in the Philippines, it is also influenced by Malay, Chinese, Spanish, Arab, and American cuisines. And it is marked by creativity."
According to Kulinarya (2008), "Food plays a major role in promoting a country's national identity and culture. But while millions of Filipinos live and work in countries around the world with a considerable number employed in the hospitality industry–Filipino cuisine has yet to make its mark overseas."
According to Albert Tt. (2013), "Practically every culture in the world has created its own interpretation of this crucial yet very basic need. Filipinos are no exception and in fact, are extremely passionate and vested in the foods that they create and consume."
Food tourism
Culinary tourism as part of a tourism strategy for a locale has received growing support. Though the literature seems to support a connection between tourism and gastronomy, little is known about its value in traditional gastronomic regions versus nontraditional locales. (Harrington & Ottenbacher, 2010).
According to Sims (2010) "to argue that local food can play an important role in the sustainable tourism experience because it appeals to the visitor's desire for authenticity within the holiday experience. Which local foods are conceptualised as "authentic" products that symbolise the place and culture of the destination."
According to Henderson (2009) "Food is the subject of various types of tourism product and is a common theme in marketing, by businesses and destination authorities. Tourism in which food plays a primary or supporting role is already popular and has good prospects, but there are also challenges for the food and tourism industries to overcome, which vary with location."
According to Slocum & Everett ( ) "Food tourism has gained academic and, more recently, political recognition as a potentially sustainable form of tourism development. Within an established top-down approach to agricultural development, local and regional food organizations have developed food tourism initiatives with the mindset that producers need information and persuasion in order to engage with emerging tourism supply chains."
Lee & Accordia (2011) stated that "It was found that regional food festivals can play a decisive role for destination branding. Activities using local food and activities promoting the regions' attractions.
Gastronomy is one of the elements incorporated in a new concept of cultural heritage and cultural tourism, driven by growing trends of a well-being lifestyle, authenticity, environmental protection and the need to have a high-quality experience. Tourists increasingly want foods which emphasise the heritage and culture of a place, which assist the preservation of traditional forms of agriculture and cultural heritage.
Trends driving Food tourism
1. Trading up
All across world, growing affluence of the populations has a profound impact on consumer spending. Consumers spend a higher proportion of their income on prepared food, gourmet products, eating out and food items with some form of health or ethical benefits. For discretionary purchases, consumers have traded up where the product is aspiration or traded down when the product is only function.
2. Demographics and Household Change
An ageing population and changing life styles have driven demand for increased eating out and food tourism opportunities. Groups that provide growing markets for food tourism are summarized below. Groups that provide growing markets for food tourism
-DINKS: Double Income No Kids.
-SINKS: Single Income No Kids.
-Both Dinks and Sinks: younger people, between 25 and 35 years of age, no children, affluent. -Empty Nesters: parents whose children have flown the family nest. Between 45 and 55 of age, well –educated, high disposable income. -Boomers: members of the baby boom generation in the 1950s. -Divorcees: searching for new partners and subsequently will take prospective partners out for dinner and away for romantic weekends.
3. Rejection of 'MacDonaldisation'
Tourists have increasingly rejected the industrial 'fordist' model of low cost mass production of food, searching out local, fresh and good quality cuisine that reflects the authenticity of the destination.
4. Growth of the Multi-Cultured Consumer
Multiculturalism has become an everyday concept in the daily life of the consumer, driven by immigration, globalisation, the internet, the expansion in specialist and minority TV channels and the relentless growth in international tourism. What were once exotic foods have become foods of first choice and today curry is the United Kingdom's favourite dish.
5. The Role of the Celebrity Chef and Media
The emergence of the niche food programmes, TV channels and magazines means the food celebrity and expert has been created. The celebrity chef shapes tourism products in a way that is often referred to as the 'Delia effect' after the media chef Delia Smith, whose 1998 television programme 'How to Cook' resulted in an extra 1.3 million eggs being sold in Britain each day of the series. The phenomena of Gordon Ramsey with 'Hells Kitchen' and the 'F word' or Jamie Oliver's campaign for good wholesome school dinners all drives our interest in good quality food.
Gretzel et al (2010) link this recent rise of popularity of food tourism to technological advancement in general, and the increasing role of internet in particular, by stating that once it became easier for people to get information of various types from internet including culinary and cuisine of other nations, more and more people started to travel to other countries for the sake of trying their food.
(Guererro, et. Al , 2009) Traditional food products (TFP) are an important part of European culture, identity, and heritage. In order to maintain and expand the market share of TFP, further improvement in safety, health, or convenience is needed by means of different innovations. Four main dimensions were identified for the concept of TFP: habit-natural, origin-locality, processing-elaboration and sensory properties. Five dimensions emerged around the concept of innovation: novelty-change, variety, processing-technology, origin-ethnicity and convenience.
According to Joseph P. (2012) host of 'Bizarre Foods' "I predict, two years from now, Filipino food will be what we will have been talking about for six months I think that's going to be the next big thing," Filipino food grow weak on us mainstream market compared to other Asian foods even top Filipino chefs in a Los Angeles Times article were quoted about the difficulties of Filipino food assimilating into the mainstream culture.
According to Chef De Castro (2012) "Filipino Food is ready to hit the main stream if they don't think Filipino food is ready for prime time how do you expect the rest of the world to think it is ready for prime time?" But having Zimmern's seal of approval may change the perception of Filipino food. With the success of recent Filipino chefs like Paul Qui, who won Bravo's Top Chef: Texas and Sally Camacho, Top Chef: Just Desserts runner up, they are introducing Filipino flavors to their mainstream audience. Filipino food trucks, like the former Manila Machine, White Rabbit, and others in Southern California have been a big hit. Zimmern believes that the mainstream is now ready to accept Filipino food.
The Philippines though, is a rare exception. While Filipinos love their food, few foreigners have tasted or even heard of the country's signature dishes like adobo, sinigang, lumpia and pancit. It is a situation that chef Rolando Laudico is desperate to change.he is one of a new generation of chefs determined to bring Philippine food to a wider audience. He believes the reason why Philippine food is not well-respected is because Filipinos themselves do not respect it. They might like to eat it, but they do not think others will.
According to Chef Laudico (2012) "You've got the ethnic tribal styles, you've got the Spanish colonial style, you've got the Chinese and Malay influences, and then you've got the city style that's evolved from all of that, Put it together, and multiply it by our 7,107 islands, each of which have their own specialties, and it'll take a lifetime to discover Philippine cuisine." Chef Gene Gonzalez is also a well known filipino chef who establish the school called "the Centre for Asian Culinary Studies"Most of the dishes he teaches are Western or international in origin, acknowledging the fact that his pupils will probably be employed in kitchens that specialise in foreign food, and many will work in foreign countries as part of the huge network of Philippine migrant workers.
According to Chef Gonzalez (2012) "Filipinos are known to be global chefs, and we create the Philippine global chef. But part of our curriculum is to teach Filipinos how to cook Philippine cuisine, and it's imperative we do this,"
Unlike Japan, China, Korea, Thailand and other Asian countries, the Philippines is still struggling to find its place on the world food stage.Japan capitalizes on sushi and ramen, China has its dumplings and stir-fries, while Korean and Thai dishes (such as bulgogi and Thai green curry, respectively) are slowly making their way into mainstream dining. According to Chef Banusing "We're not way behind. Many people are actually exposed [to Filipino food], It's us who are confused with our own identity. We just can't identify what defines us."But this seeming food identity crisis is not left unaddressed. According to Banusing, several people are exerting efforts to make Filipino food stand out in the world scene, from young chefs creating a fusion between Filipino ingredients and Western techniques, to those who stick to heirloom cuisine. According to Chef Villar (2012) "[Filipino cuisine] is worth over 300 years of Spanish influence and [from] other cultures. There's so much more to Filipino food than adobo, There are just so many things going on [with Filipino cuisine]. There's still a lot to learn,"
Takeaway Chinese. Curry at a Thai restaurant. Singapore noodles. Vietnamese street food. Malaysian satay. Maybe even some Indonesian. The cuisines of the south-east asia are reassuringly familiar fixture on western street corners, in food markets and the ready meal section of the supermarket, and even pubs, but when did you ever see the food of the Philippines in this scene? The answer is probably never. In London a city well over 10,000 restaurants, there are a grand total of seven which could be classed as Filipino, with another two or three that are having Thai or Chinese identity crisis.
According to Hill (2013) "I' ve been asked as many times as I've asked myself why Filipino food isn't up there with the great eastern cuisines. It's not as if Filipinos don't have a rich and wonderful food culture, they love to eat and put on a big feast, and have an incredibly variegated food lexicon, dominated by Chinese and Spanish influences, underpinned by ethnic Malay traditions, with touch of the Us and Mexico" the problem is a lot of competing influences that perhaps don't get together so well. There are many key flavours and ingredients that are always going to be an acquired taste, particularly in the west: vinegar, shrimp paste, chewy porky bits, liver and kalamansi.
According to La Cámara (2014), "We Filipinos have had a chip on our shoulder about how our cuisine has not been able to cross-over to the mainstream market as most Southeast Asian cuisines have. For years, we've seen how Thai, Vietnamese and even Singaporean cuisine has gained headway in the world culinary world while ours remains largely obscure and underappreciated. It's unfortunate because Filipino cuisine is one of the richest and most diverse cooking disciplines in the region."
Truth is, cuisine promotion is a mandate of both the Department of Tourism and the Department of Education (the DepEd's charter is an adaptation of the former Dept. of Education, Culture and Sports). Years of disregard from the Marcos era through the Arroyo administration has left our cuisine alien to the world.
The beauty about Filipino cuisine is that even if it is has been influenced by a many other cuisines, our dishes have remained strong and unchanged. Our Kilawin in the 9th century is still the same Kilawin we enjoy today. The same is true for Sinigang, Paksiw and many other dishes that remains consistency in our taste. In the end, no matter the origin of the dish, a dish becomes Filipino when we put our landscape, flavors and culture into it. That is why it is unique, delicious and simply extraordinary.
According to Concepcion J. (2013), "Proud to see our Philippine products and services conquer the international stage. Seeing one of the two Señor Sisig fusion food trucks coincidentally in the street of San Francisco gives him a special sense of delight recognizing this special fusion food truck."
Evan K. and Gil P. believe that adobo is not the only Filipino dish that should be well known abroad. Being creative, the two started their first business, Señor Sisig. This is a great manifestation that Filipinos are indeed ingenious in designing possible business opportunities. Exploring the road less travelled with their spirit to be successful, Evan and Gil introduce the recipe of Gil's family from Pampanga – sisig. They have been offering different appetizing versions of sisig in taco, burrito, fries, nachos, rice, bread, and salad.
Have a great opportunity to market our best tasting Filipino dishes in a way or in a place conducive to the local market in those cities of foreign countries with the same local and happy Filipino ambience. While Jollibee, Max's, Red Ribbon, and Chowking are seen in areas where there are huge Filipino communities, the challenge is how to make the Filipino cuisines capture the local mainstream the way the Japanese, Thais, Vietnamese and Chinese have done.
According to Gerel, & Wayne, R. (n.d), "Filipino foods are rich in both cultural traditions and innovation. While its roots are mainly influenced by the diversity of ingredients found naturally in the Philippines, it is also influenced by Malay, Chinese, Spanish, Arab, and American cuisines. And it is marked by creativity."
It's interesting to note that while most of the foreign demand for Filipino food comes from Filipino immigrants or overseas workers, there is also the emerging market comprising non-Filipinos. We were quite surprised to find a large demand for danggit (a type of dried fish) in Northern Europe and also a large demand for dried fruit from the US West Coast.
According to Kulinarya (2008), "Food plays a major role in promoting a country's national identity and culture. But while millions of Filipinos live and work in countries around the world–with a considerable number employed in the hospitality industry–Filipino cuisine has yet to make its mark overseas."
To promote and encourage greater appreciation of Filipino cooking traditions, the Asia Society partnered with the Department of Tourism and Anvil Publishing, and worked with special grants from San Miguel Purefoods and Del Monte Philippines Incorporated, to produce the Kulinarya Project, which includes Kulinarya: A Guidebook to Philippine Cuisine and a campaign to boost the Philippines' standing among the world's best cuisines.
According to Tan Tui A. (2013), "Practically every culture in the world has created its own interpretation of this crucial yet very basic need. Filipinos are no exception and in fact, are extremely passionate and vested in the foods that they create and consume."
Filipino foods are a delicious and savory cuisine with a rich history and dedicated people who are striving to keep the tradition alive. Despite not assimilating to American culture, Filipino dishes will continue to exist through the means of family tradition. However its advancement into the American mainstream will be a long and arduous road.
There are many obstacles that will deter the advancement of Filipino food into the mainstream, but seeing as how Filipinos have overcome hardships in the past, it is not impossible for them to overcome this. However, it is still unclear whether Filipinos have the desire to become a significant contributor to the American culinary diversity.
According to Martin R. (2010), "OFW (Overseas Filipino Worker) is an abbreviation that is known throughout the Philippines. What if the country sought out trained Filipino Chefs and sent them overseas to open restaurants that would showcase Filipino cuisine? Doing enough such restaurants could actually make money for the country by highlighting Filipino cuisine to the foodies of the world, and opening up the possibility for people to start touring the Philippines to experience the food culture here? You have to start somewhere, and this is one avenue that the country could explore to get tourists that aren't even thinking of the Philippines right now."
Can the Philippines make food part of the attraction in drawing tourists to the country? Well, unfortunately, in my opinion, right now it is not possible. People won't travel half way around the world to come and experience eating Balut! In fact, many would travel half way around the world in order to avoid Balut! Unfortunately, much of the food that the Philippines is famous for is not appealing to many foreigners.
Foreigners get a sampling of Filipino food near where they live, and don't expect them to come all the way to the Philippines to get it. How? By having Filipino Restaurants in many areas around the world. Let's face it, in the USA, in any town, no matter how small, you can usually find a nearby Thai Restaurant. Chinese Restaurants can be found on nearly every block in some cities. If you go to London and look around you might think that Indian food is the local food of London – Indian Restaurants are everywhere! It's the new Fish 'n Chips
According to Del Rio C. & Chef Gonzales G. (2012), "the problem lies with a weak marketing campaign and an even weaker political will. He believes that anybody interested in food will try a dish if explained well in a context that the person can relate with. He elaborates, "It can have a historical, anthropological, sociological, medical nutraceutical or a combination of several factors of how a recipe could have evolved."
Chef Gene offers the most interesting and profound answer: we should emphasize the bond of our culture with our cuisine. Both locals and tourists should be able to identify the strong connection between our cultures and traditions and the food we eat and serve. It must be recognized that when we speak of Filipino culture and heritage, we likewise speak of the Filipino recipes that have been handed down from one generation to another and vice versa.
It is clear. The Filipino cuisine hasn't penetrated the global culinary arena not because all our food is brown or that our recipes are not healthy enough or not varied enough. We have not reached that most coveted world-class level because we do not have an adequate marketing scheme that will push our recipes forward, neither do we have sufficient government support. "It's a marketing and government problem," Chef Gene emphasizes.
References:
http://globalnation.inquirer.net/41697/filipino-food-is-next-big-thing http://www.bbc.com/news/world-asia-19541960
http://www.abs-cbnnews.com/lifestyle/05/24/12/filipino-cuisine-suffering-identity-crisis http://clarehillfood.wordpress.com/2013/03/21/the-problem-with-filipino-food/ http://www.lacamaramanila.com/is-filipino-cuisine-the-next-big-thing/ http://www.philstar.com/business/2013/07/25/1008811/time-take-filipino-food-mainstream http://chinabusinessphilippines.com/index.php?option=com_content&view=article
&id=465%3Aunique-philippine-foods-and-the-world-market&catid=51%3Afoodbytes&Itemid=79 http://asiasociety.org/kulinarya-filipino-cuisine-global-brand http://asianjournalusa.com/how-filipino-food-can-go-mainstream-p12845-161.htm http://liveinthephilippines.com/content/can-food-draw-the-tourists/ http://planetphilippines.com/culture/the-bond-of-culture-and-cuisine/
Marvin Gapultos: Filipino cuisine is incredibly diverse; that's one of the great things about it. It has lots of influences from different places like China, Spain, Mexico and even the U.S. There are a lot of nuances that really make Filipino food so interesting and delicious. But maybe the most pervasive flavor of Filipino food would be sourness, just because we like to cook with vinegar and with different citrus juices. http://www.splendidtable.org/story/adobo-the-ultimate-filipino-comfort-food The number of Overseas Filipino Workers (OFWs) who worked abroad at anytime during the period April to September 2012 was estimated at 2.2 million. The Overseas Contract Workers (OCWs) or those with existing work contract abroad comprised 95.0 percent (2.1 million) of the total OFWs during the period April to September 2012 (Table 1). http://www.census.gov.ph/content/total-number-ofws-estimated-22-million-results-2012-survey-overseas-filipinos As well as the approximately 100 million Filipinos living in the Philippines itself, there are estimated to be around 10 million Filipino people living abroad. Many have moved abroad temporarily to find work, but others have settled abroad permanently.
Given its close ties with America, it is not surprising that the United States is home to the largest group of overseas Filipinos – around 3.4 million. There are also large Filipino populations in the Middle East (1.1 million in Saudi Arabia, 600,000 in the UAE and 260,000 in Qatar), Malaysia (900,000), Japan (350,000) and Australia (330,000). Interestingly, only 241,000 Filipinos live in Spain, the Philippines old imperial master. http://worldpopulationreview.com/countries/the-philippines-population/
INTRODUCTION
Filipino food, with its characteristically vibrant and contrasting combination of sweet, salty and tangy flavors, is the food of the people of the Philippines, a South East Asian country. Though less spicy, Filipino recipes, which are an outcome of an appealing blend of the different indigenous and colonial cuisines, though less spicy than comparable cuisines, are known for their bold expression of flavor. In essence, Indonesian food is not only appetizing, but is also appealing to human visual and olfactory faculties. Adobo( a stewed meat or seafood and vegetables dish), Lumpia( Filipino spring roll), Sinigang( a tangy soup made from sour fruits like an unripe guava and tomatoes), Bistek( a a Filipino-styled beef steak), Lechon( a dish made by roasting a suckling pig) are not only popular dishes of the Filipino cuisine, but are also identified and acclaimed as the national dishes of the country.
Philippine cuisine
Philippine cuisine consists of the foods, preparation methods and eating customs found in the Philippines. The style of cooking and the foods associated with it have evolved over several centuries from its Austronesian origins to a mixed cuisine with many Hispanic, Chinese, American, and other Asian influences adapted to indigenous ingredients and the local palate. Dishes range from the very simple, like a meal of fried salted fish and rice, to the elaborate paellas and cocidos created for fiestas. Popular dishes include lechón (whole roasted pig), longganisa (Philippine sausage), tapa (cured beef), torta (omelette), adobo (chicken and/or pork braised in garlic, vinegar, oil and soy sauce, or cooked until dry), kaldereta (meat in tomato sauce stew), mechado (larded beef in soy and tomato sauce), puchero (beef in bananas and tomato sauce), afritada (chicken and/or pork simmered in a tomato sauce with vegetables), kare-kare (oxtail and vegetables cooked in peanut sauce), crispy pata (deep-fried pig's leg).