Summary of Our Deepest Fear Essay Sample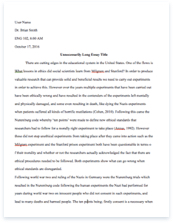 The whole doc is available only for registered users
OPEN DOC
Download Essay
A limited time offer!
Get a custom sample essay written according to your requirements urgent 3h delivery guaranteed
Order Now
Summary of Our Deepest Fear Essay Sample
Marianne Williamson's piece on "Our Deepest Fear" is motivational. It motivates you to speak out and be yourself. Don't be afraid to show the real you. The resounding theme that comes to mind is one of motivation. She delivers this theme through her explicit use of symbolism, imagery and tone. Williamson uses a few symbols throughout the passage. One that stands out to me is when she writes "We are all meant to shine, as children do." Children are pure, innocent, lovable, and never afraid to express the way they feel. To me, it basically means that we should be just like children, never afraid to speak their thoughts and emotions. This symbol is relevant to the theme because it supports the whole idea of motivation. In the passage Williamson uses images like light and dark. She writes "It is our light not our darkness that frightens us." This means that we are more afraid of showing our true potential than we are showing our flaws and imperfections. We are too afraid to show our true potential because we are used to being one with the crowd instead of being better than the crowd. We just want to fit in; we don't want to be less or better than other people, we want to be the same.
Williamson points this out because we shouldn't be like other people; she motivates us to be ourselves. "As we are liberated from our own fear, our presence automatically liberates others." She writes this meaning that if we aren't afraid to be who you are and to speak our minds, people would think "Oh, that guy isn't afraid to be himself, why should I?" or "Maybe being weird is okay." The tone of this passage is motivational. It feels as if the writer is speaking to you and encouraging you to stand out and be yourself. In conclusion, we could all learn a thing or two from this passage. The writer gets her message out to the reader by motivation. Motivating the reader to be their selves, to speak their minds and be different. Being weird is okay, you shouldn't give a crap about what people say. If you do stand out, you will motivate the people around you to do the same.