Summer Reading Analysis Essay Sample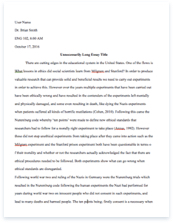 The whole doc is available only for registered users
OPEN DOC
Download Essay
A limited time offer!
Get a custom sample essay written according to your requirements urgent 3h delivery guaranteed
Order Now
Summer Reading Analysis Essay Sample
Brittany Hague Summer 2017 Honors English 2 Morales
Summer Reading Analysis
Hundreds of thousands of amazing works of literature are published each year. Whether it be a poem, a novel, a magazine article, or various other kinds of literature. Several pieces have so many similar ideas, themes, and concepts. For example, Nathaniel Hawthorne's The Scarlet Letter has a theme of isolation just like Kate Chopin's The Awakening. A similar theme even shows up in "The Journey" by Mary Oliver. These examples illustrate that all literature connects to each other in some way. These books are all connected by similar themes and ideas just like many books.
In Nathaniel Hawthorne's The Scarlet Letter, 2 big themes that stand out are isolation and revenge/betrayal. In the novel, a theme of revenge and betrayal is present through Hester Prynne's husband, Roger Chillingworth. To start, betrayal is first shown when Hester commits adultery. Roger comes back from a 2 year trip in disguise as a doctor, to find his wife in prison for adultery. He visits Hester in prison and forces her to keep quiet about his true identity so that he can get revenge on the father of Pearl, Hester's child from her affair. Roger is so upset about his wife's betrayal to him, his thirst for revenge goes to the extreme. In the novel it says, \"Yea, woman, thou sayest truly!\" cried old Roger Chillingworth, letting the lurid fire of his heart blaze out before her eyes. \"Better had he died at once! Never did mortal suffer what this man has suffered. And all, all, in the sight of his worst enemy! He has been conscious of me. He has felt an influence dwelling always upon him like a curse. He knew, by some spiritual sense,—for the Creator never made another being so sensitive as this,—he knew that no friendly hand was pulling at his heart-strings and that an eye was looking curiously into him, which sought only evil, and found it. But he knew not that the eye and hand were mines!
With the superstition common to his brotherhood, he fancied himself given over to a friend, to be tortured with frightful dreams, and desperate thoughts, the sting of remorse, and despair of pardon; as a foretaste of what awaits him beyond the grave. But it was the constant shadow of my presence!—the closest propinquity of the man whom he had most vilely wronged! —and who had grown to exist only by this perpetual poison of the direst revenge! Yeah, indeed!—he did not err!—there was a friend at his elbow! A mortal man, with once a human heart, has become a fiend for his especial torment!\" (Hawthorne 257). In this long paragraph, Roger is saying that the reason he is living is to get revenge on Dimmesdale for Hester's betrayal to him. Roger is still so hurt by Hester's affair, he made it his life\'s goal to torture Dimmesdale even though it\'s been 7 years since it happened. The other theme in The Scarlet Letter is isolation in society. Hester is completely isolated from everyone. When she is with people she's still alone. An example is when the whole town of watches Hester paraded down the streets like a criminal. She is surrounded by a number of people and yet she's detached from society. In the text it says, "Measured by the prisoner\'s experience, however, it might be reckoned a journey of some length; for, haughty as her demeanor was, she perchance underwent an agony from every footstep of those that thronged to see her, as if her heart had been flung in the street for them all to spurn and trample upon."(Hawthorne 84). This quote shows that every step was hard for Hester. It was not easy for her to be completely abandoned my everyone in her town. The Scarlet Letter is similar to the poem "The Journey" by Mary Oliver. The Journey is about leaving the past behind and starting over. Hester wants to start over in her town. This ties into the theme of isolation in society. Overall, revenge/betrayal and isolation in society are the two biggest themes in The Scarlet Letter.
In The Awakening by Kate Chopin, two major themes are love and isolation in society.