Supermarket Research Essay Sample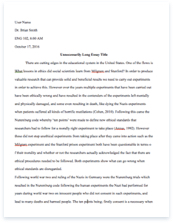 The whole doc is available only for registered users
OPEN DOC
Pages:
Word count: 1138
Category: Tesco
Download Essay
Get Full Essay
Get access to this section to get all the help you need with your essay and educational goals.
Get Access
Supermarket Research Essay Sample
1. Supermarkets UK:The Changing Values of UK Consumers
2. In a tough trading environment the 'Big 6'supermarkets are fighting over price andqualityMixed financial results• Britain's biggest retailer, Tesco, announced in early October one of its worst sales performances in its UK stores for twenty years• In contrast, Sainsbury's reported on the same day that its like for like sales were up 1.9% in the last quarter• Morrisons has recently reported a 2.4% increase in Q3 sales, after stripping out the impact of petrol salesValue, quality or both?• A week prior to the release of its sales performance, Tesco announced that it was launching its £500m 'Big Price Drop' campaign.• Sainsbury's has launched it's Live Well for Less campaign, focusing on price and quality• Even upmarket supermarket Waitrose with a reputation for quality has announced that it will seek to improve on price. This includes a price match Tesco on more than 1000 products, and the Essentials range. 2 3. UK shoppers are increasingly motivated bycommunity and pleasure• In an economic downturn, shoppers clearly want competitive prices and quality
• Yet Starcom MediaVest Group research using our proprietary research application 'SpaceID' shows that other factors are important to regular shoppers, namely Community and Pleasure• With all supermarkets focused on price, there is less to differentiate them. Community and Pleasure are the new battlegrounds for supermarkets.• Community means the importance to people of their local neighbourhood communities, but it also means the importance to people of their networks of friends and family• Of course, quality is an important element of Pleasure. But Pleasure is also about self-gratification, enjoyment of life, fun, even of the shopping experience. Amid an economic downturn with all its doom and gloom, people want to enjoy themselves. 3 4. SpaceID measures thevalue 'space' brandsoccupy in the minds ofconsumers 4 5. SpaceID shows how supermarkets canprotect their customer base and poachcustomers from competitors• Uncovering peoples real emotional values enables us to more carefully and precisely target them and understand media affinities• Most research tries to uncover underlying values by asking direct attitudinal questions of people.
However, it is very difficult for people to understand, let alone articulate their values• SpaceID moves beyond this direct approach. It is an award winning annual study of 2,500 people, that has been running since 2008 (Awarded at launch by the Market Research Society its prestigious 'Research Breakthrough Award'). 5 6. SpaceID does this by using Semiometrie• Semiometrie uncovers people's motives and values by measuring their subconscious reactions to 210 key words• These words have been identified through a 10 year long process of research and analytics, as the most powerful at explaining the full range of human emotional values.• Through SpaceID, respondents are also asked which media and brands they use• All the results, values and consumer preferences are then measured in proximity to each other by SpaceID's sophisticated software.
The resultant proximity rankings are then plotted on a series of maps that reveal consumers' value associations with brands and media.• In the latest wave of SpaceID we examined the values and emotions of UK supermarkets' customer base 6 7. SpaceID measures consumer valuesalong 4 key axes Community A sense of belonging, whats in it for all of us, prefer collaboration to competition Idealistic Spiritual Driven by the way things Seeking enlightenment, could be, value ideas and experiences and knowledge optimismResponsibilityDo what they feel Pleasurethey should do, not Do what they wantwant to do, value to do, not ought tosafety, familiarity and do, value adventurestability and taking risks Materialistic Practical Seeking well-being, Driven by the way things are, accumulating possessions value realism and pragmatism Autonomy Self-determination,, strong sense of individualism, whats in it for them, prefer competition to collaboration 7 8. SupermarketUK findings
9. Shoppers at different supermarkets havedifferent values – but most value communityand pleasure Base – people spending £40 or more on grocery shopping per week 9 10. Who's winning?The supermarket values league tables – Community Supermarket Contribution of community values to shopper value profiles Sainsbury's 41% ASDA 38% Tesco 27% Waitrose 23% Co-Op 23% Morrisons -10% #1 – Sainsbury's attracts the most community minded shoppers Base – people spending £40 or more on grocery shopping per week 10 11. Who's winning?The supermarket values league tables – Pleasure Supermarket Contribution of pleasure values to shopper value profiles Co-Op 41% Tesco 25% ASDA 14% Sainsbury's 11% Waitrose -3% Morrisons -45% #1 – The Co-Operative attracts the most pleasure driven shoppers Base – people spending £40 or more on grocery shopping per week 11 12. Pen portraitsPen Portraits
Summary and Implications• Whilst the economic climate remains gloomy, and consumers continue to seek value in-store, they are also increasingly drawn to values of community and pleasure (probably as an antidote to the austerity of the times). They want shopping experiences that are pleasurable and seek brands that exhibit community values.• In 2012 Supermarkets will need to continue to complete on price and value, but our research indicates that those brands that can differentiate themselves on community and pleasure values will gain an extra advantage – and a greater share of the changing consumer's wallet.• Sainsbury's and The Co-Operative are currently best suited to meet this shift. Morrisons has a very different profile of consumer values – suggesting there will be a strong degree of consumer loyalty. Waitrose looks to be most vulnerable in 2012.• Supermarkets can appeal to the new consumer values of community and pleasure through the way they act in-store and in their communications.
Associating with the right media products, with similar values and creating rich consumer experiences are two potentially successful strategies to win in 2012. 21 22. About Starcom MediaVestGroup and Supermarket UKSupermarket UK is an industry-wide series of studies into the changing values and behaviours ofshoppers to the big six supermarkets – Tesco, ASDA, Waitrose, Sainsbury's, Morrisons and Co-Op. It willinvestigate the effect of societal changes – including the economy, new technologies and social media -on supermarket consumer behaviour, and examine trends for the future. This report is the first in aseries – a second phase of research will be released later this year and will culminate in a full report to bepublished in 2012.
Starcom MediaVest Group (SMG) is a global leader in communications strategy, media buying andmanagement, response media, internet and digital communications. SMG operates two separateagencies under the group banner –MediaVest and Starcom– each built around a distinct focus andexpertise set, representing global brands such as Proctor & Gamble, Samsung and Honda.SMG is part of Publicis Groupe, the world's second largest media counsel and buying group, the world'sthird largest communications group and the world's leading supplier of media services to FMCG brands.To discover more insight into your retail brands, or to see how SMG's unique approaches to insight,planning and analytics can deliver results for your business.