Support children's development Essay Sample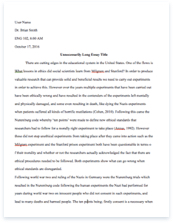 The whole doc is available only for registered users
OPEN DOC
Download Essay
A limited time offer!
Get a custom sample essay written according to your requirements urgent 3h delivery guaranteed
Order Now
Support children's development Essay Sample
Common causes  of noise pollution are home appliances like vacuum cleaner, dishwasher, loud music, traffic, noisy neighbours, heavy machinery used in construction, airoplanes, Jets,etc. Sudden and loud noises like a jet or heavy machinery could cause hearing loss because children are very sensitive to certain sounds.Children need quieter environments for learning.  In a noisy environment they cannot concentrate noise diverts their attention and effects their learning. Noise effects children's memory,  problem solving skills, behaviour and psychological  health. In noisy environment children cannot sleep properly, noise can awaken them so their sleeping routine gets disturbed.
Without proper sleep children become irritated and uncomfortable so they become aggressive. When children are exposed to very loud noises continuously this could also result in cardiovascular diseases like high blood pressure and increased heart beat rate. Loud noise also effects language and commmunication dvevelopment skills like reading, speaking and listening because they are unable to concentrate.
We should create a peaceful and quiet environment for children to learn better and sleep better. We need to make sure that when children take part in noisy activities like playing musical instruments they must use hearing protection things like earplugs and earmuffs. We should try to limit the time spent on noisy activities. We should try not to use our noisy appliances like vacuum cleaner and dishwashers when children are sleeping or taking part in different learning activities.
If we cannot avoid using them we should  close the doors to lessen the noise.if our house is in a noisy area like near a  factory or an airport or on a busy road we should try ways to soundproof our house. We can add rugs to the floor which will help to block some of the noise we could also use  an extra layer of curtains of thick material, we could replace our doors and windows.We should keep the volume of the TV and music players low so that children don't get disturbed. We can request our neighbors to be quiet when children are sleeping or learning.
housing:
Poor housing conditions are where there is damp and moisture, there is a lack of facilities and safety equipment like heating, cooking facilities and fire alarms ,  There is overcrowding too many people have to share a house, and it is unsafe and need repairs. Poor housing conditions and unsafe environment effect children\'s learning and development very badly.Children need a safe and secure environment to live in.
In damp and mouldy conditions children get cough, asthma and other respiratory problems. Children will have poor performance in schools as they will miss school because of illness. In overcrowded environment all the people have to share the facilities e.g washing facilities and toilets so children are at a risk of getting viral and bacterial infections. Children do not even have enough space to play freely. Children\'s sleep also gets disturbed in overcrowding conditions.
Parents should provide peaceful, quiet, safe and stimulating environments to support children's development. If the house needs repair it should be done immediately without any delay. If the child is ill he should be taken to the doctor. If the parents are on low income government should help them to meet their housing costs by introducing different benefits. The Government must introduce a modernised statutory definition of overcrowding, based on the bedroom standard, which reflects today's understanding of children's need for space and privacy. Then parents will understand and will try to provide housing facilities accurately according to child\'s needs.