Supreme Judicial Court of Massachusetts, Barnstable Essay Sample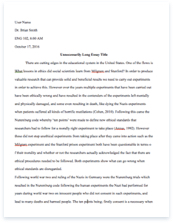 The whole doc is available only for registered users
OPEN DOC
Pages:
Word count: 420
Category: court
Download Essay
A limited time offer!
Get a custom sample essay written according to your requirements urgent 3h delivery guaranteed
Order Now
Supreme Judicial Court of Massachusetts, Barnstable Essay Sample
FACTS: On March 29, 1983, about 8:28 P.M., Patrolman Michael Aselton of the Barnstable police department was on radar duty at Old Stage Road in Centerville. He saw the defendant's motorcycle speed by him and commenced pursuit in a marked police cruiser with activated warning devices. The defendant "realized a cruiser was behind him but did not stop because he was `in fear of his license.'" The pursuit lasted roughly six miles through residential, commercial and rural areas. At one point, the defendant had gained a 100 yard lead and crossed an intersection, continuing north. The patrolman's cruiser approached the intersection at about "76 m.p.h. minimal" and passed over a crown in the roadway which caused the patrolman to brake. The wheels locked and the cruiser slid 170 yards, hitting a tree. Patrolman Aselton died as a result of the impact. The defendant had no idea of the accident which had occurred behind him. "No other vehicles were in any way involved in the causation of the accident." The stipulation further states that the decision to terminate a high-speed chase "is to be made by the officer's commanding officer."
No such decision to terminate the pursuit had been made at the time of the accident. The Barnstable police department determined that patrolman Aselton died in the line of duty. ISSUE: Whether or not the Defendant 'caused' the death, as a matter of law, under M.G.L. Chapter 90, Section 24G, where the [Defendant] was operating a motorcycle at high speeds through residential areas and the Officer, while pursuing the defendant, lost control of his cruiser and died as a result of colliding with a tree. REASONING: It is the Commonwealth's and the defendant's position that the above issue presents a novel issue relative to causation in a criminal case and that this issue should be resolved prior to trial so that proper jury instructions may be framed for the trial of the defendant." The court reversed the order of a trial court judge which had quashed information charging the defendant with homicide by motor vehicle for the death of a police officer during a high speed chase. The defendant had been speeding on his motorcycle and attempting to evade arrest. The court held that it was for the jury to decide whether the defendant's conduct directly resulted in the officer's death when the officer's car hit a tree during the chase and was not a fortuitous or coincidental event, unrelated to a direct result of the defendant's conduct.