Surviving Teacher Burnout Essay Sample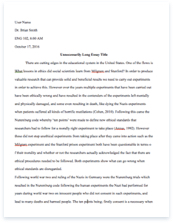 The whole doc is available only for registered users
OPEN DOC
Pages:
Word count: 805
Category: Teaching
Download Essay
A limited time offer!
Get a custom sample essay written according to your requirements urgent 3h delivery guaranteed
Order Now
Surviving Teacher Burnout Essay Sample
The continuous trial to cope up with the increasing demands of the teaching profession often results in burnouts. The stressful schedule has serious consequences on the personal and public life which not only affects the health but also effects the daily interaction with the students, companions and their family members (CYC-ONLINE, 2004)..
Lack of interest of my students in English as a second language, is the biggest challenge faced by me at school. Many of my students do not understand the language at all and are least motivated to learn the subject. This is because most of them are from low-income group families where the children are not expected to become professionals when they grow up. Addition, to this I find it very difficult to encourage any interactive activity such as playing a" telephone game" because of the huge size of the students coupled with their refusal to participate in speaking activities.
Most of my students are sleeping while I`m conducting a lesson. This is due to the fact that some of my students attend hagwons till the early hours of the morning. Resulting, in total exhaustion of not getting adequate sleep. Furthermore, many Koreans students don't see the English conversational classes as important because it's not part of the University Entrance Exam that overshadows the whole education system.
Moreover, I am usually given the last period during by which time the students are already exhausted and often leave the classrooms resulting in low attendance in my classes. Another issue I face is the lack of resources and the indifferent attitude of the administrators to provide any constructive support to me as a teacher (Roland Vandenberghe, 2006). Even though I know what is going wrong my problems are unheard and even my colleagues fully agree to the plight of affairs, they seem to have lost all hope anyway. This creates a depressing atmosphere in the class and my anxiety and frustration impairs my performance at work and my expectation from myself as a teacher (Roland Vandenberghe, 2006).
These issues direct or indirect caused an ambiguity of my goals as a teacher and I can actually feel the eroding confidence at school now. This is not the worst. Like other teachers I have also faced health problems such as insomnia, heart palpitations, headaches and stomach disorders (CYC-ONLINE, 2004). An unbearable amount of pressure has resulted in some of us to quit their jobs and it has crossed my mind as well at least a handful of times. Others have no option but to direct their attention to more comfortable arenas like spending more time with family or pursuing their underlying interests.
I have tried discussing my problem with my colleagues. Their experience of the same has primarily been of some help to me. Attempts can be made to openly communicate with my students as well as the administrative circle which might change the work scenario and create a healthy teaching environment. . Self-evaluations can be conducted to help me realize my potential and prove as a confidence booster. What is most needed in this situation is a understanding response to our problems from the school administration or from the families of our students. Maintaining a positive attitude and healthy living style can be of great help but is harder to achieve in the days when the going gets tough. Getting enough sleep, meditation and exercises did serve as great stress buster but the disappointment is still there at the core of my heart (Kelly, 2013).
Systemic incompetence and unmanageable students may be justified concerns, but surely there are ways not to succumb to the grave overpowering they bring forth to the teachers' lives. Truly said, "A teacher affects eternity; he can never tell where his influence stops"(Adams, 2012). As mentioned in Daniel Leija's 'I am a teacher', a dedicated teacher is a partner and a shepherd who is impartial and ensures that each student receives best quality education while patiently nurturing and encouraging them to develop their skills and work upon their weakness to their fullest potential. I read these words to myself and it helps me carry on with my duties and helps me fight back to my problems. Like any other teacher those powerful phrases makes me proud at the end of the day (Kelly, 2013). The fight is on and I will find a way out to make the change.
References
Adams, H. (2012, January 21). Teacher Appreciation Quotations. Retrieved from The Quote Garden: http://www.quotegarden.com/teacher-apprec.html
CYC-ONLINE. (2004, May). Understanding and preventing burnout. Retrieved from Cyc-net website: http://www.cyc-net.org/cyc-online/cycol-0504-burnout.html
Kelly, M. (2013). Dealing With End of the Year Stress, Strategies for Educators. Retrieved from About.com Guide: http://712educators.about.com/cs/testingstress/a/stress_2.htm
Roland Vandenberghe, A. M. (2006). Understanding and Preventing Teacher Burnout. Belgium: Cambridge University Press.