Swot Analysis For Legoland Malaysia Essay Sample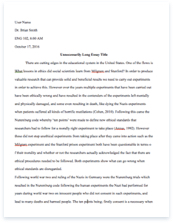 The whole doc is available only for registered users
OPEN DOC
Download Essay
A limited time offer!
Get a custom sample essay written according to your requirements urgent 3h delivery guaranteed
Order Now
Swot Analysis For Legoland Malaysia Essay Sample
SWOT analysis is a structured planning method used by companies to evaluate the strengths, weaknesses, opportunities and threats to their business operation. The SWOT analysis objective is to identify the internal and external factors that are favourable to achieve the objective. The strengths is refer to the characteristics of the business that give it an advantage over others, while weaknesses is the characteristics that place the business at a disadvantage relative to others. Opportunities is the elements that the business could exploit to its advantages. The last one is threats which refer to the elements in the environment that could cause trouble for the business. The identification of business's SWOT is important because the company can inform later steps in planning to achieve the objective.
1. STRENGHTS
LEGOLAND Malaysia associated with strong brand name of Lego, which is one of the leaders in the European toy market. Because of the Lego brand is associated with quality and reliability, this will give a positive image that LEGOLAND can use to attract visitors to the parks. This makes LEGOLAND Malaysia become a popular theme park at short time. Other than that, LEGOLAND Malaysia also have very strong marketing and advertising strategy which helps to promote them to the visitors all the time. LEGOLAND Malaysia associated with big and popular brand such as Groupon, Amazon and Lazzada by which these brand will advertise the LEGOLAND Malaysia in their website by telling visitors about LEGOLAND Malaysia discount and promotion especially during festive season. The availability of annual tickets and value passes is the advantage that LEGOLAND Malaysia use to attract visitors especially to those who are likely to make multiple visits. For example, LEGOLAND Annual Pass allow visitors to visit the park again and again for a full 12 months. This pass gives visitors an extra privileges all year around. Visitors also will get discount on merchandise and dining through the pass.
The other strengths of LEGOLAND Malaysia is it offers visitors unique experiences. LEGOLAND Malaysia is Malaysia's first international theme park designed for families and the activities provided challenge imagination. For example, LEGOLAND Malaysia is built with over 40 interactive rides, shows and attractions. One of the main attraction is the Miniland. There are more than 30 million Lego bricks are used in the building of these monuments including the PETRONAS Twin Towers, Taj Mahal and others.
2. WEAKNESSES
One of the weaknesses faced by LEGOLAND Malaysia is its not able to attract many international tourist to visit the park. LEGOLAND Malaysia are not popular as the other overseas LEGOLAND theme park. Besides that, the prices for accommodation and tickets also expensive. This might cause the visitors to switch their destination to another theme park, especially for those that can't afford it. For example, LEGOLAND Malaysia charge for the tickets up to RM150 depends on the values that visitors will receive for the ticket they purchased.
3. OPPORTUNITIES
One of the opportunities for LEGOLAND Malaysia is it can create interaction with other Lego companies. For example, it can get Lego's brick supplied for their theme park from local companies that involved in Lego bricks business or the Lego toy business. Other than that, the seasonality also an opportunity for LEGOLAND Malaysia. For example, there will be huge amount of visitors during the school holiday.
4. THREATS
LEGOLAND Malaysia also have threats in operating their theme park. Major threat is the competitors. There are other extremely popular amusement parks in Malaysia which is already well known by Malaysian and most international visitors. For example, LEGOLAND competitors such as Genting Highlands, and Sunway Lagoon. The other threat is like the weather. LEGOLAND Malaysia surrounding is very large and roomy and less trees. For example, when it come to the monsoon, it make visitors hard to enjoy some of the activities because of the rain. And when it's come to hot, the weather is really scorching hot for the outdoor activities. Besides that, a bad new that spread by visitors that had a negative experiences during their visits to LEGOLAND Malaysia also can become a threat for LEGOLAND Malaysia. It is because people more trust to word of mouth especially if it come from their relatives or close friends.