SWOT analysis of McDonalds in India Essay Sample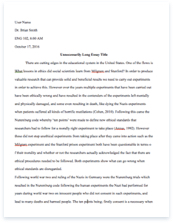 The whole doc is available only for registered users
OPEN DOC
Download Essay
A limited time offer!
Get a custom sample essay written according to your requirements urgent 3h delivery guaranteed
Order Now
SWOT analysis of McDonalds in India Essay Sample
The SWOT analysis actually describes the strengths, weaknesses, opportunities and threats of the organization (Williamson, Cooke, & Jenkins 2003). The strengths and weaknesses are usually based on the internal measures while the opportunities and threats are based on the external factors. The SWOT analysis of McDonalds in India is given below: Strengths * Strong brand name, image and brand awareness. * Introduction of localized and global products in the local Indian market. * Strong financial performance both locally and internationally. * Large market share in both the local and international markets. * The customer intimacy of this brand is high. * The product innovation of the brand is extremely high and products like Maharaja Mac and Allo Tikki are the best examples of this.
* The suppliers of this brand integrated quite well.| Weaknesses * The food image of the brand is tarnished by certain controversies and one of the weaknesses of this brand is that an unhealthy food image is created. * Due to fierce competition in the industry the customers are not that loyal to a particular brand. * Ignoring the breakfast from the menu can be considered as the weakness of McDonalds. * The product line is not diversified when it is compared with the product lines of competitors.| Opportunities * The entry into the breakfast category can be very fruitful for McDonalds in both the short and the long run. * Growth of the fast food industry globally and especially in certain parts of India.
* The low cost menu which can easily attract the price sensitive customers of India. * Freebies and different discounts which can easily enhance the customer base of the organization. * Diversification of menu and acquiring certain small players in the Indian market.| Threats * The market share of the organization is shrinking drastically because new entrants are entering in the fast food market. * People are opting for substandard and low priced burgers and these items can be treated as one of the biggest threats to McDonald's. * Changing lifestyles and tastes can also be considered as the threat.