Swot for Sandwich Blitz,Inc Essay Sample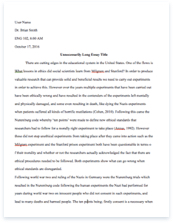 The whole doc is available only for registered users
OPEN DOC
Pages:
Word count: 350
Category: company
Download Essay
Get Full Essay
Get access to this section to get all the help you need with your essay and educational goals.
Get Access
Swot for Sandwich Blitz,Inc Essay Sample
In this analysis of Sandwich Blitz, Inc. I will identify a strength of the company, a weakness of the company and one of the opportunities that they have, and what is a threat to the business. I believe that Dalman and Lei have found a good niche in the market for themselves. Since they use organically grown produce and focus on healthy foods because it is a growing trend. They also seem to be a good decision making team. They know how to analyze their problems and work together on finding solutions.
I think that one of their weaknesses is that there is not a clear plan for each store the site manager to deal with problems that arise. Dalman spends a lot of time going to help each manager. He should sit down with each each manager so that they can formulate a strategy that will help to eliminate some of those issues the managers are having.
Sandwich Blitz, Inc. has an enormous opportunity in front of them that they have identified. Lei has suggested that they expand to other cities and has said that they have the resources to do so. They need to make a strategic. Operational and tactical plan so that they will know their specific goals and how they are going to go about reaching them. This will help them figure out if one or two new stores is best for them and where they want to open them.
I think that Dalmoan has hit on one of their threats. He has noticed that there are two new emerging sandwich companies that offer a service similar to theirs. They need to strategize on how they will make their company continue to stand out from any others in the market and implement their goals so they can continue to grow.
I have identified what I believe are Sandwich Blitz, Inc. strenght, weakness, opportunity and threat. I think that Lei and Dalman are on the right track and just need to make a few tweeks so they can grow and expand.