Synthesis of Organizational Behavior Essay Sample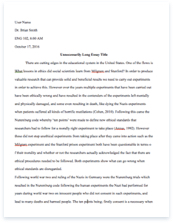 Pages: 8
Word count: 2,147
Rewriting Possibility: 99%

(excellent)

Category: organization
Get Full Essay
Get access to this section to get all help you need with your essay and educational issues.
Get Access
Introduction of TOPIC
Introduction
For any organization that is business oriented to witness long-term success and prosperity, it must strictly consider the concept of organizational behavior. This concept entails application of the knowledge obtained about the way groups, people as well as individuals act in any given organization.  It is very crucial for any organization since it encourages growth of better relationships through achievement of the organizational, social and human objectives.
Application of Organizational behavior determine how the entire workforce will be interacting within the organization, how management issues of human resource are going to be addressed and the kind of picture that the organization will be having in the global market. In its broad sense, organizational behavior encompasses several concepts such as organizational structure, motivation, organizational culture, power and politics among others that must be deeply addressed to maintain strong relationships within the organization.
This essay will explore on how Wal-Mart organization applies the concepts of organizational culture, communication and human resource practices so as to achieve its enormous success.
Organizational culture is basically the organization's personality.  It comprises of the assumptions, beliefs, attitudes, norms, values, experiences and tangible signs of the organization.  Organizational culture therefore ideally involve the values, beliefs, attitudes as well as norms that different groups, individuals and people posses and share in the organization.
These values, beliefs, attitudes and norms control the way of interaction among these groups, people and individuals and even the way they interact with other stakeholders who are not within the organization. Good inter-personal relationships promote strong interaction among the workforce and this encourage more investment from investors and philanthropists. The stakeholders are also assured of remaining in business since harmony and diplomatic approach to and solving of problems that may arise at times is exercised. (Miner, 2002).
It is the organizational culture of an organization that leads to creation of a conducive work place, where all members of the organization are free to interact and air their views in a democratic and diplomatic way.  New strategies ad strategic planning will all be liable to failure if their implementation is not based on organizational culture.  The outlasting success of Wal-Mart organization is attributed to its strong culture and the way it has continued to apply it on its operations.  It has been able to remain competitive in the global market, with all its workforce and management team highly committed to achieving the organization's goals.
  It is the culture of Wal-Mart to establish and maintain good relationship between the management team and the workforce.  This is evident from the efforts the officials put in correction of errors that they had made during calculation of overtime payments for their employees. Immediately after settlement of those miscalculations, about 87,000 employees were paid their overtime compensations they had worked previously for.  This is a practice that builds and enhances trust between the management and the employees, hence leading to increased efforts and commitment to work.
The strong organizational culture adopted and applied by Wal-Mart has also enabled the employees develop a sense of self drive and be in a position of working under very minimum supervision.  Every one has internalized the culture of working for the success of the organization, ranging from the low ranked employees to those who have high rank and hence neither unauthorized breaks nor slacking off is observed during working hours. This effort put by the workers in their work has seen the organization succeed business-wise. (Miner, 2002).
It is pervasive culture of Wal-Mart to pay attention toward its customers and attending to them at its fullest potential, providing quality services and products of the best value that run at low prices. This enable a lot of customers to shop at Warl-Mart stores since they are able to obtain a lot of goods at lower cost. Good employee-customer relationship is strongly embraced in Wal-Mart Organization and this is increasing growth of the organization with well established structures.
Good relationship among the individuals employees also exist and is well nurtured , encouraging group participation and encouragement , sharing of ideas and working together as a team toward the achievement of the organization's goals. The Management also has adopted recommendable leadership skills that exercise a lot of integrity and transparency, and this has highly motivated the workers. Democratic leadership whereby each individual is free to air his own views without victimization or intimidation is practiced. This has created conducive working environment, where the employees are able to give back to the organization.
    Communication in its broad view is passage of information from one party to another. In business
organizations such as Wal-Mart. business communication has been treated with a lot of concern. It is
only through communication that an organization can be to market and publicize its goods and services to the customers and sell its ideologies to its business partners other stockholders. With this wake of technological advances, communication within many business organizations has been advanced. E-commerce was introduced in 1970's and has become common in most businesses today.
Most businesses perform most of their transactions on the web which can be attributed to the increased awareness in technological innovation. Spread of internet services has greatly contributed to the development of e-commerce which is known to improve efficiency in businesses.  To ensure success in any business organization, an appropriate business plan must be drawn.
Wal-Mart has been capable of applying this concept of organizational behavior through adopting e-commerce whereby the large numbers of customers that it serves are now able to access and buy their goods over electronic media.  The Wal-Mart organization strictly recognizes the role of the customer in its business operation and therefore the innovations made are customers oriented.  In its business plan, the Wal-Mart organization has stipulated delivery of customer's maximum utility, increase in market share, response to customers changing demands and provision of best valued products as some of its major objectives.
Being customer-oriented has contributed to success of the Wal-Mart's e-business since through the web; the customers can post their comments on the quality and value of their products.  This gives the organization a clear stand on how to strategize and improve further on its services. It is the organization's goal to provide quality products to its customers and to do everything within its reach to ensure that the customers' satisfaction is being met. Therefore, any negative comments from the customers are treated with a lot of concern and the issues addressed with immediate effect in order to retain them.
Wal-Mart has been able to practice open communication after launching a program that was against internal communication of unions in Canada.  These unions relied on false assertions made by some critics that Wal-Mart would provide jobs of poor quality to discourage the workers and that it is an American organization that rarely supports Canada.
This practice of open communication has been able to increase the organization's credibility and trust by the employees since they doesn't expect orders of immediate closure of any Wal-Mart branch without a notice.  This therefore enables the employees to plan for their long-term developments without consideration of some factors like sudden loss of job.
Flow of information within Wal-Mart entire organization is well accomplished and the information reaches the workers at the lower ranks in time.  This has facilitated fast execution of most urgent and crucial issues that may arise from the top managers and creation of awareness among the entire workforce in time. Keeping the entire workforce updated with all that is going on in the organization encourage full participation as well as promoting self esteem and a sense of belong among the workforce. They develop a feeling that they belong to a certain stable organization where all their needs are being met and therefore put extra efforts towards success of the organization (Cropanzano & Kacmar, 1995).
The role played by the human resource function has been redefined in many organizations that have witnessed fast growth and expansion to serve in various parts of the world such as Wal-Mart. This has majorly been promoted by globalization that has led to stiff competition in the market place. Wal-Mart has therefore been able to remain in the market through redefining some of its ways of dealing with human resource practices.
 It has broadened its focus from only addressing to administration of personnel to management of human capital (Briscoe & Schuler, 2004). This has really led to creation of a greater opportunity for the growth and success of the organization since people are the best known sources through which sustainable as well as competitive advantage can be achieved in the market place. Wal-Mart has enhanced its ability of attracting as well as retaining a workforce that is highly talented and inspired through policy implementation.
Wal-Mart has also been able to implement the technological solution of Human resource such as recruiting of its employees online or simply e-recruiting.  This has increased the ease with which processing of the applications is done.  Staffing therefore is facilitated and this has increased performance of the organization. It has also implemented its management for workforce (Sparrow, Brewster & Harris, 2004).
Human resource practices such as auditing of the overall aspects of the Wal-Mart's Human Resource unit of organization has been a major consideration in Wal-Mart's organization and has been achieved through evaluation of several dimensions such as morale. Morale among the employees is a very fundamental attribute that should be sustained at all costs if the organization has to succeed. (Briscoe & Schuler, 2004).  Wal-Mart organization has been able to boost and maintain the morale of its employees through providing them with long-term incentives.
Promotion and reinforcement have been the key practices in encouraging and motivating the employees.  This has enabled the employees to work hard towards the success of the organization.  It has also been able to audit its efforts on customer satisfaction.  Most customers are still willing to remain in Wal-Mart due to its timely provision of services and attendance to its customers.
It is the power of purchasing that keeps a business organization in business and enables it to compete actively in the market place.  It has also been able to promote team work among the workforce and frequent in-service training sessions for the management.  This is designed to equip the management team with effective practices of management as well as desired behaviors (Sims, 2002).
Rules are defined for every individual and all trained to work in harmony, concentrating on maintenance of proper co-relation of all the organization's activities and customer focus.
Conclusion
Organizational behavior is very fundamental for every organization.  The success of Wal-Mart organization is attributed to the way it has been able to apply the concepts of organizational behavior in its operations.  Its management team and the employees all work as a team and motivation is evident among these groups.
The customers are at the central focus of the organization's goals and they obtain maximum attention and valued products. This has enabled the organization to retain its many potential customers hence remain competitive in the global market. Although some negative issues have been observed in the organization such as unfair recruitment which is based on racial stratification and gender imbalance, the organization is ultimately addressing these issues with major concern.
References.
Briscoe R., Schuler S. (2004).International Human Resource Management: Policies & Practices for the Global Enterprise.Routledge.
Miner B. (2002). Organizational Behavior: Foundations, Theories, and Analyses. Oxford University Press.
Cropanzano S. & Kacmar K. (1995).Organizational Politics, Justice, and Support: Managing the Social Climate of the Workplace. Quorum Books.
Sims R. (2002).Managing Organizational Behavior. Quorum Books.
Sparrow P., Brewster C. &Harris H. (2004).Globalizing Human Resource Management. Routledge.