T V News is Becoming More Tabloid in it's Presentation Essay Sample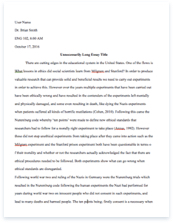 The whole doc is available only for registered users
OPEN DOC
Get Full Essay
Get access to this section to get all help you need with your essay and educational issues.
Get Access
T V News is Becoming More Tabloid in it's Presentation Essay Sample
T V News is becoming more tabloid in its presentation. With the new 'news at Ten' slot changing to 11pm, Television news is turning into a tabloid in its act of style. Conservative and Labour are two style groups which determine the way in which TV News' is attractive to us, the viewers. Conservative is opposed to change and Labour work to create an image that is seen to us in the modern world. BBC1 remains conservative while ITN and channel four are changing from conservative to labour. The new channel five news slots are labour as their style is informal; they give us the image of a person dressed in a rabbit's suit to entertain viewers alongside the presenter. This is seen as acceptable and amusing to viewers which is why the rabbit was created.
Extracts taken from the book by Ellis Cashmore, '…and there was television', from the section distraction + distortion + deception = reality explains how attraction was created after Television news realised it's potential because of the number of viewers watching because of the coverage of war.
'Television news up 'till the 1960s had been seen as a necessary evil: costly to produce, especially at local level where audience size was limited, unattractive to advertisers, it was produced principally to satisfy legal requirements for public service and informational broadcasting. Vietnam changed the nature and impact of news. With its coverage of the war, television realised its potential, both as a spectacle and as an audience magnet. Recognising this, networks, in the 1970s began to concentrate their attentions on producing attractive news. As competition from cable intensified, the established stations were forced to find new elements in their schedules. Newsgathering and presentation took on new importance.'
This created 'tabloidisation' of television news, "expert" comments were added with analysis. Crime, corruption, scandal, tragedy and other stories were included in the news, this was thought of as a "moral disorder".
'News is intended to be the most truthful depiction of reality available on television; but in shadowing the styles of drama it loses its "transparency." In becoming more interesting and attractive to viewers, it has grown less "realistic." In this, television news has even more closely approximated the tabloid style of such newspapers as the Sun and USA today, which offer an undemanding, cursory view of the world and one that keeps the reader's eye moving across the pages. Television news aims to keep the eye fixed while it moves the pages.'
Television news in the sixties has been seen as evil, yet now Television news is a main priority in our lives, with constant wars and public stories that people are interested in. After the Vietnam coverage on news was highly successful, the seventies meant more concentration on the attractiveness of television news.
Even though strict Public Service rules are set to ensure that TV news is impartial in their stories and the presenters are not allowed to express a point of view, they may leave certain things out or important voices of potential messages may be left out. Public Service Broadcasting (PSB) ensures to serve the public to benefit them, therefore there are no commercials, political or sectional interest. It serves the public but requires a license fee to fund itself, it covers strict rules for information, education and entertainment values which are broadcasted to the public.
Television news has been categorised into 'tabloids'. From channel five tabloids as the Sun to the BBC as The Times.
The original slot of News at Ten on LWT with the well-known presenter Trevor McDonald has changed to an eight O'clock bulletin, their style is also changing from conservative to labour.
News at ten has been transmitting since 1967. It 'was the first ITV extended news programme (a half hour format) with the intention of being able to cover the daily events in greater depth than before; it replaced the previous 12-minute format that had been broadcast at 8:55p.m.' British Television, 1994, Oxford University press, Tise Vahimagi.
News is our source of worldwide information. T V News being one, we can now hear and watch about News from all over the world on all-terrestrial channels, and even twenty four-hour satellite news channels.
According to recent Channel four research fewer than 16% of 16-24 year olds watch any T V News. This research comes from the 1997 Meejah study guide for T V News. Tabloid plays an important part in this.
Newsround was first transmitted in 1972 on BBC1, it was called, John Craven's Newsround. 'A lightweight but not patronising regular news programmed for children, generally aimed at 7 to 12 year olds, presented by journalist/editor John Craven. Newsround drew on BBC Television News for its material and carried real news stories with very little if any restriction in subject-matter for its young audience.' British Television, Oxford University Press, 1994, Tise Vahimagi.
Newsround, which is aimed for young children, has casual young presenters, dressed informal in jeans and a shirt, while BBC1 and ITV have presenters, which are conservative rather than labour. The idea of Newsround was to produce short news programme aimed at children, therefore the presenters and producers have to understand the need of the viewers. On many occasions some short stories are read out by children, of which are in the 'press pack' club, a club for children, who can regularly enter competitions to win their say in a story. Formal T V News programmes does not deal with this. You only see adults speaking to adults. This is a question of ideology. The idea was and is that adults who watch the news would want to see adults presenting and producing the news and not children. However when concerning Newsround, it is not presented by children because it would not work in that way, which is why some children have a chance to interview and ask some questions along the way of the stories, this is the idea of the producer.
T V News is the only reliable source of all political debates in the widest sense when the press becomes biased towards entertainment, scandal, lotteries and sport stories. It is seen as the REAL WORLD. Examples of these are what we know of the Far East, Africa, South America, Ireland and what is likely to be determined by T V News, thought TV presenters can be biased by cutting out word's and cutting our of important sections in speeches.
'In a recent ITV viewer survey, Sky News gained 'considerable praise; from viewers, both for its 'less establishment view of the news' and because its format made programming 'up-to-date' and 'happening now'. Sky News was one of an elite band of channels to be categorised in the 'most respected', 'highest quality' bracket, placing it well above BBC1, BBC2, ITV, Channel 4 and Channel 5.' This extract from a research booklet from sky News, The future of News, gives us examples of competition, which leads us to tabloids in the News. We see here the names of other Channels, which produce News which Sky News, are competing against. Constant competition, by updating the News, changing their style and inventing more advanced products is a good example of how Television News is becoming tabloid.
Digital Television is a good example of this. With the new Digital Television giving you more choice, more television companies such as cable, Sky and even Terrestrial Television are offering this product to up-date their products, gain more viewers, which brings us to the point of Television News becoming more tabloid. Television News is trying to change its original image constantly to suit the needs of the coming twenty-first century.
'SkyDigital will provide an enhanced programming service to cater for viewers who increasingly demand a more immediate, more specific and localised news service.' Sky News now has a new identity.' Sky British Broadcasting Group PLC, Annual Report, 1998.
'In today's highly competitive news environment, television news is not just about the story-it's about how you present it to the viewer. News presentation, like the news, can never stand still. The new look on-screen graphics and re-designed studio, reflect the news Sky News logo in colour and style. Sky News also recognises that pop culture, style, fashion and entertainment are as much a part of news as anything else.'
CNN International transmits from countries all over the world. A 24-hour News channel, 'According to the latest EMS results (May 1998), CNN International reaches more viewers than all its news competitors combined and nearly 40 per cent more than its nearest competitor, Euronews, and nearly seven times as many as BBC World. ' CNN International 10 Key Facts sheet. CNN has been transmitting to Europe since 1985.
T V News is scheduled in a way so that people can watch when they're free. From the morning to the evening on BBC1, regular bulletins are scheduled. On weekdays at five O'clock for ten minutes for children. This is when children are likely to be back from school and are therefore able to watch. There is a midday bulletin at one O'clock and one thirty for people who are at lunch or do not work. An evening bulletin at six O'clock, followed by regional news for your local area, and news at nine then BBC News 24 from one fifty 'til six O'clock for late viewers, who can also view this if they do not have satellite, sky or cable.
Television News have News Values, though there are no written rules about what makes news but certain types of stories have a chance of making headlines than others.
* Things which might have happened that day (Recency)
* Things happening on a large scale (Threshold)
* Things close to home or relevant to our culture (Proximity)
* Things which are bad (negativity)
* Stories involving famous people (Personality)
* Events which are expected (Predictability)
* Events which are not expected (Unpredictability)
* Stories that are about to start or are still running (Currency/Continuity)
* Things which touch mass/popular pursuits (Mass Appeal)
* Stories involving confrontation, often between two sides (Conflict/dramatisation)
* Things which are scandalous (Scandal)
* Stories which have good pictures (Visual Imperatives)
Meejah study guide to TV News, 1997.
The Independent Television Commission (ITC) is the body, which control what goes out on all independent television in this country. 'One of it's strict rules is 'Due impartiality', this means that any controversial issue being presented should not be biased, but represent both sided of any argument and that 'opinion should be clearly distinguished from fact.'
"In dealing with major matters of controversy, (programme makers) must ensure that justice is done to a full range of significant views and perspectives during the period in which the controversy is active."
"Whenever a reconstruction is used in a documentary, current affairs or news programme it should be labelled so that the viewer is not misled."
"Impartiality applies equally to the editing of interviews as to their conduct. Editing to shorten recorded interviews must not distort or misrepresent the known views of the interviewee."
When someone refuses to take part in an interview, the rules are still clear, "Reference to the absence of such a spokesman should be made in as detached and factual a manner as possible."
T V News makers are expected to be neutral in their reporting of events. They are not supposed to take sides or show any bias against one individual group. While they can claim not to have any bias views, they may be built into any programme or news item.
T V News is becoming more tabloid in it's presenting. With the original ITN News at ten bulletin being changed to eleven O'clock to meet demands of more viewers, and change of style, T V News is becoming more competitive in it's market for more viewers.