"Taming of the shrew" by William Shakespeare Essay Sample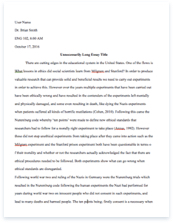 The whole doc is available only for registered users
OPEN DOC
Download Essay
Get Full Essay
Get access to this section to get all the help you need with your essay and educational goals.
Get Access
"Taming of the shrew" by William Shakespeare Essay Sample
The play 'Taming of the shrew' was written by William Shakespeare between 1590 and 1594. The person in the play who actually needed to be tamed was the character 'Katherine'. She had a negative and pessimistic approach to everything in life. She had a younger more beautiful sister named Bianca who captured the hearts of many men. She was incredible jealous of her younger sister's beauty and charm. One of Bianca's suitors, Luciento bribes Petruchio to marry Katherine for a huge sum of money. Petruchio agrees and begins to slowly tame her to his will.
 In their first meeting, Petruccio proves to Katherine that he has equal if not superior intellect. She feels challenged and dominated by him compared to all other men who had previously approached her. Despite all her insults and refusals Petruccio is bent on marrying her.
When Petruccio is late to his own wedding, Katherine realizes that she might actually end up as an old maid. After embarrassing her with ridiculous clothes, he abruptly forces her to leave the wedding. He tells everyone that she now belongs to him and he will treat her as he pleases.
He continues taming Katherine by keeping her away from sleep or food because he felt it was unworthy of her. He forced Katherine to say that the sun was the moon and old man was actually a beautiful young maiden.
The final act of taming occurred when Katherine gave a long speech about the loyalty of wives to husbands. She won the little obedience challenge set by the three new husbands because she was the only one who obeyed Petruccio as soon as he summoned her.
Petruccio used kind words and love to make Katherine believe that she was worth the attention and love. He thought that his loving behavior would encourage her to reduce her shrewdness against the world. His mad behavior made her realize how she must look to others when she exhibited extreme behavior.