Team Leadership Memo Mgt Essay Sample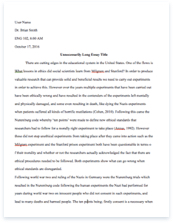 The whole doc is available only for registered users
OPEN DOC
Download Essay
A limited time offer!
Get a custom sample essay written according to your requirements urgent 3h delivery guaranteed
Order Now
Team Leadership Memo Mgt Essay Sample
In accordance with the company's initiative toward entering a new marketplace, I have been asked to create this memo. Recently, I have been paired into a team with the assignment to meet the goals and expectations of the company. I, Albert Johnson, will team with Anthony Buglisi, Yoshika Middlebrooks, Timothy Ray and Latesha Wilkinson in order to attain the goals assigned to our group. We share a lot of similarities, while at the same time, maintain a status of being diverse individuals. By looking at the type of people we are, I think the best approach for us would be along the lines of a democratic atmosphere around our ideas around leadership. The similarities of our group can allow for an easier time for agreement on various subjects. However, the differences in approach between us will help illuminate what the main issues are; that need addressing. Whereas Timothy and I are very creative on our toes for solutions, we sometimes are willing to take risks that could be detrimental to the company without our knowing.
This is where Anthony and Yoshika's worth comes especially in this group. Any idea that pops up can be disputed and dissected for its pros and cons by Anthony and Yoshika. Latesha's value to the group is that she's highly persuasive. Whatever idea the group decides to agree on, Latesha is convincing enough to sell the ideas to fellow employees for support and execution, our managers for approval and to our customers for patronage. However, Latesha won't just promote any type of idea that we, as a group, come up with. It needs to make sense and be the best possible product for the group. Now this is not to state that Timothy can't convince people to buy into any idea, or that Latesha won't be of any help in any type of conversation on whether an idea works. I'm only pointing out the biggest strengths of each team member. A group with democratic leadership allows for communication between all members of the group.
Yoshika and Anthony exhibit the capabilities of being true leaders because they listen to the concerns of the group and they do make their decisions based on what's best for the group. Timothy and I are able to demonstrate great versatility to a number of situations where we can understand why one idea works, and the other one doesn't. This leads to the two of us being open to any suggestions and decisions on what is best for the company. Of the same token is Latesha, whose passion for success is a positive tool. Latesha will work to the best of her abilities to see the success of the group and the companies reach its maximum potential. The diversity in the group can lead to some concerns. Can we come to conclusions properly and in a timely manner? Do we have the ability to listen and understand all possibilities presented within the group? I believe we can. Through our differences within the group, we all share one common trait. We all realize that it will be a team effort to successfully meet our goals in this new market for the company.
Without each other, we will let the company down. In our past teaming assignments, we've all put our egos aside to produce outcomes. We've met our expectations in the past with exceptional results and our familiarities with each other will only aide us in this new venture. What we have is a team of five professionals, who take their work seriously and strive to reach the best possible outcome of every situation presented to them. Yes, there are similarities within the group that makes communication easier. Yes, there are differences that allow for growth professionally and personally while working toward the best possible result. The main thing that matters is that we have proven to be successful together in the past. We strive to improve our performance and efficiency at our roles within the company every day. We will be a team that uses a democratic approach towards our leadership roles in this new market segment. We have the capability to listen to each other, decide what the best solutions are and execute our work in a timely and proper manner.