Teenage Pregnancy Essay Sample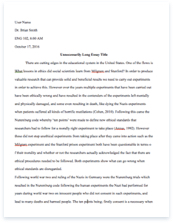 The whole doc is available only for registered users
OPEN DOC
Download Essay
A limited time offer!
Get a custom sample essay written according to your requirements urgent 3h delivery guaranteed
Order Now
Teenage Pregnancy Essay Sample
Most people who are put into foster homes do not come from parents of strong guidance, because indeed they lost their children. An online report, "Fostering Hope: Preventing Teen Pregnancy among Foster Youth" examined how teenage pregnancy relates to foster care sates Love. The reports shows that foster youth that have lost their parents and end up in a foster home are less prone to having teenage pregnancies. Therefore, the correlation breaks because even though youth do not have their biological parents they still have some type of parental guidance. Consequently, most foster homes do have strong parental guidance, control over sex education, and negative mass media because there are so many restrictions as to what foster homes can and cannot perform by law.
With this information, one would conclude that when someone is put into a foster home they turn out not to be pregnant at a one age. This is true according to a study performed to examine how common teenage pregnancy is among young women in and aging out of foster care and to determine whether the risk of becoming pregnant can be reduced by extending foster care beyond age 18. Amy Dworsky states that the study used data from the first two waves of the Midwest Evaluation of the Adult Functioning of Former Foster Youth, a longitudinal study of foster youth making the transition to adulthood in three Midwestern states, as well as the National Longitudinal Study of Adolescent Health.
Dworsky examined the relationship between care status and the risk of teenage pregnancy. Foster youth are more likely to experience teenage pregnancy than their peers in the general population, but staying in care seems to mitigate their risk of becoming pregnant even after the effects of other factors are taken into account. The findings of the study was to provide additional evidence of the need for a more concerted effort by child welfare agencies to help youth in foster homes avoid becoming pregnant. It would suggest that allowing young people to remain in foster care beyond age 18 may be one way to reduce teenage pregnancy among this population.
Even the federal government has found teenage pregnancy to be a social issue in which lack of parental guidance, sex education, and positive media has been recognized. According to the Department of Health and Human Services (HHS), teenage pregnancy has been rising steadily from 1987 to 1991; the birthrate for teens aged 15-19 declined for 10 straight years, from a high of 62.1 per 1,000 teens aged 15-19 in 1991 to a record low of 45.9 in 2001, according to preliminary figures.
The birthrate for young teenagers aged 15-17 fell 8 percent from 2000 to 2001, reaching 25.3 births per 1,000 teenagers. All 50 states had a decline in their teen birthrates between 1991 and 2000, with 10 states recording declines of more than 20 percent during this period. Recent declines in both birth and abortion rates indicate that teen pregnancy rates are continuing to fall. Overall teen pregnancy rates have dropped 19 percent since 1991. About 900,000 pregnancies occur each year among American teenagers aged 15-19. Most of these pregnancies are unintended. Almost 190,000 teens aged 17 and younger have children are not in school, have no parents around, and are overtaken by the imagery of mass media.
After seeing those statistics, if makes one wonder if there are any more studies which will create a solution. President George Bush and the HHS sent researchers to Detroit, Michigan for a study to be conducted. They have found that the increase in teenage pregnancy has arisen out of social issues as well. The article "Teen Pregnancy" focuses on the potentials causes: society, individual families, and media. The article states how society has embraced teenage pregnancy in the United States. Society relates to our schools and media which have caused teen pregnancy to increase. Finally, the report presented solutions to the decrease teenage pregnancy: create pregnancy-prevention programs, public attention on interventions, and highlight the challenges of becoming a teenage parent. All of the solutions will be effective, encouraging, and empowering.