Tennessee Williams Argumentative Essay Sample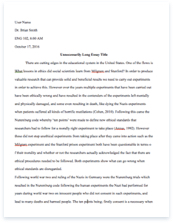 The whole doc is available only for registered users
OPEN DOC
Download Essay
A limited time offer!
Get a custom sample essay written according to your requirements urgent 3h delivery guaranteed
Order Now
Tennessee Williams Argumentative Essay Sample
Tennessee Williams wrote in a letter that "It ('Streetcar') is a tragedy with the classic aim of producing a catharsis of pity and terror and in order to do that, Blanche must finally have the understanding and compassion of the audience. This without creating a black-dyed villain in Stanley. It is a thing (misunderstanding) not a person (Stanley) that destroys her in the end." In your opinion, to what extent has Williams succeeded in his aims.
Although there are many different viewpoints on a conventional tragic heroine, Aristotle made his views clear that a hero must fall from fortune and power, due to a tragic flaw, allowing an audience to feel catharsis at the end of the play. It can be argued that Stanley causes Blanche's downfall, however, it is clear that Blanche had brought this upon herself by creating a conflict between them and ensures her own downfall by other means such as her promiscuity and flux into fantasies.
Williams makes it clear that a misunderstanding destroys Blanche in the end. This misjudgement can be seen in her aggressive teasing of Stanley and her uncomfortable belonging in multi-cultural New Orleans. From the beginning of the play, Williams makes it clear that 'the Kowalski and the DuBois have different notions' with Blanche withholding the Southern Belle attitude of 'Belle Reve'. However, it is clear that Blanche cannot cope with the stark contrast in backgrounds, aggressively teasing Stanley and calling him a 'dirty Polack' describing something 'ape-like about him'. Williams has Blanche use animalistic imagery on stage to enhance the audience's negative perception of her use of derogative terms as her weapon against Stanley. The audience can thus sympathise for Stanley, who has not done anything to offend Blanche as he attempts to build a rapport saying 'Well, take it easy' after her travels to New Orleans; Williams does this to allow the audience to question Blanche's misjudgement of 'deliberate cruelty' towards him.
As the audience are first introduced to Blanche on stage, we immediately recognise her as an outcast to New Orleans society as she wanders in 'shocked disbelief' towards Stella's new home. The visual image Williams creates of her 'carrying a valise' whilst wearing a 'fluffy bodice' is a stark contrast to the urban surroundings and the 'easy intermingling of races'. Williams does this to encourage the audience to question her choice to seek help in New Orleans. It may be argued that Blanche would have fallen from grace if she hadn't visited Elysian Fields, yet it seems clear that her blatant misjudgement of New Orleans society and those within it has caused her downfall – this is evident as she cries 'this place is a trap' proving to the audience her realisation that Elysian Fields is the cause of her downfall. Therefore Williams makes it clear that a misunderstanding has caused Blanche's tragic demise, with the initial decision of going to Elysian Fields proving the first of her many tragic mistakes.
Williams succeeds in not creating Stanley as a black-dyed villain by focusing on his honesty to his moral values and his sexual categorisation of women, only defending his territory and Stella from Blanche's intrusion. From the beginning of the play, Williams makes it clear that Stanley is an animalistic man, holding 'a red-stained package' which 'he heaves' at Stella. This is epitomised when Williams notes in stage directions that 'he sizes women up at a glance, with sexual classifications' and explains that 'the centre of his life has been pleasure with women' showing the audience his sexual personality. Williams does this to ensure the audience realise Stanley knows nothing better than a sexual relationship, and his 'low animal moans' throughout the play demonstrate his dependence on sexual pleasure. Aristotle made it clear that a tragic hero should fall from power due to their own mistakes and Williams' portrayal of Stanley as a product of American society, 'born and raised in the greatest country on earth' supports that it is Blanche's fault.
By presenting him as a symbol of 'the spirit of the life' that goes on in New Orleans, the audience struggle to see him as a villain. Williams also shows a caring side to Stanley as he sobs 'my baby doll's left me' after the poker night to show the audience that he's only protecting his territory; the audience are explicitly made aware that he feels Blanche is invading his space when he explains 'weren't we happy before she got here'. By Williams doing this, we can only empathise for Stanley as we realise he only wants to live happily with Stella and their baby, without Blanche. Therefore Williams evidently doesn't display Stanley as a villain by showing his honest sexual nature as a product of the changing society; he also makes it clear that Stella, who shares Blanche's privileged background, loves him for this personality, whereas Blanche cannot see past her clouded opinions.
Williams creates a catharsis of terror by showing how Blanche's hamartia is her sexual promiscuity, with the conflict between Stanley seeming inevitable throughout the play. We immediately learn that Blanche believes 'the only way to live with such a man is to – go to bed with him' showing that her only way to resolve an issue is to act sexually. This is exposed by the reoccurrence of the 'blue piano' to symbolise her and Stanley's sexual natures; it emphasises her sexual needs as she explains 'I want to kiss you' to an apparent stranger as the 'Young Man laughs uncomfortably' whilst the 'blue piano' plays. Williams uses the blue piano as the audience easily understands the motif and it clearly represents the nature of jazz music and New Orleans society, highlighting Blanche and Stanley's sexual personalities. Williams creates a tragic inevitability between Stanley and Blanche as his first impressions are that 'if you weren't my wife's sister I'd get ideas about you' signalling to the audience something is going to happen.
Williams highlights this by the characters themselves, with Stanley taunting Blanche in saying 'we've had this date with each other from the beginning'. The audience recognise he must resolve Blanche's hate for 'Stanley Kowalski – survivor of the stone age' in a sexual manner, the only way he understands. During scene ten we also see Blanche's language and body language reflect Stanley's as she uses monosyllabic words such as 'Oh!' and shouts 'Yes, Swine! Swine!' whilst slamming 'the mirror down with such violence' to display her sexual needs. This is a stark contrast to her long speeches and poetic language as she explains 'I'm looking for the Pleiades, the Seven Sisters' whilst flirting with Mitch; Williams makes it clear she uses words as her weapon to confuse him into loving her, yet we now see her language being modified to provoke Stanley.
The audience begin to feel a catharsis of terror as the audience see Blanche's language becomes offensive as she loses her ability to speak all together, exasperating Stanley and encouraging his foreplay. Williams wants the audience to feel that Blanche's amassing of tension is due to her sexual promiscuity, and her ability to deal with men only in a sexual arena – this is displayed by her blatant change in language as she adapts to Stanley's violent nature. The audience can reflect on what only seemed a small problem at the beginning of the play, creating a fear that their own human error may have major consequences, as displayed by Blanche. Williams thus creates a catharsis of terror after the audience have foreseen the conflict between Blanche and Stanley from the beginning of the play, feeling emptiness for Blanche as their conflict is resolved by rape.
Williams clearly makes the audience feel compassion for Blanche by displaying her struggle and escape from reality throughout the play, evoking a catharsis of pity in doing so. Her struggle for realism is exposed throughout the play by her apparent hate for light as she 'cries out as if the lantern was herself' whilst the Doctor takes her away. Williams uses this motif to symbolise her escape from reality as she explains 'I won't be looked at in this merciless glare' to hide her deteriorating image, with her obvious intolerability of light on stage allowing the audience to focus on her constant escape from reality. By using this motif, the audience feel compassion for Blanche who experiences life as an illusion, believing 'candles burn out in little boys' and girls' eyes' after her innocent marriage. Williams constructs Allan and has him commit suicide to symbolise her sexual youth with the light; Blanche shies away from light and reality after the 'the searchlight' had been turned off after her tragic loss of Allan.
This fits in with Aristotle's model of tragedy and the effort to evoke a catharsis of pity; Williams wants the audience to feel emptiness due to a great error on the part of the tragic hero, with the error being Blanche's escape from reality after her husband's death. Williams also has the audience feel compassion for Blanche by having life carry on in Elysian Fields, constructing a repetition of the poker night, as Matron, the 'peculiarly sinister figure' takes her away. This is emphasised by Steve's repetition of 'this game is seven-card stud' as the last line of the play to show nothing will change. Williams has Blanche explain 'I have always depended on the kindness of strangers' as her poignant last line to epitomise her fantasies, yet the audience are clearly aware the Doctor approaches with 'threatening whispers'. Blanche has brought this downfall upon herself; however it is evident that Williams also wants the audience to feel compassionate towards her after Stella sobs 'Blanche! Blanche!' allowing the audience to empathise with Blanche's dismal future. Therefore Williams undoubtedly allows the audience to feel compassion towards her by displaying her abhorrence for light and realism as a whole, allowing life to carry on as normal in scene eleven.
In conclusion, it is clear that Williams has succeeded in his aims to display Blanche as a conventional tragic protagonist, yet without creating Stanley as the villain. He may have chosen to do this to display the changing society in America, supporting the fast racial movement in New Orleans during the 1920s, whilst still creating a popular tragedy whereby Blanche, the tragic hero falls from grace to her eventual insanity.