Teresa's Marriage and The Three Sisters Essay Sample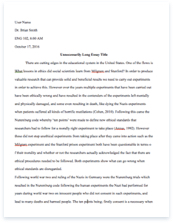 The whole doc is available only for registered users
OPEN DOC
Pages:
Word count: 868
Category: stories
Download Essay
Get Full Essay
Get access to this section to get all the help you need with your essay and educational goals.
Get Access
Teresa's Marriage and The Three Sisters Essay Sample
The task specified was to read the short stories, Teresa's marriage and the three sisters and to consider which of the marriages in both the stories is going to be successful. Taking into account all likely matters to concentrate on, my thoughts become more positive towards Teresa's marriage. I will outline the reasons for my opinion that relates to the success of Teresa's marriage.
The foremost aspect relates to the characters and their attitudes towards their reasons for marrying. More likely, I am going to compare the characters and their attitudes which will distinguish their married life. Teresa's Atty's character is fairly peaceful bearing in mind the circumstances she is facing and the way she is managing them. Teresa has a round; pretty face and black pretty hair and is a month and a half pregnant. She belongs to a poor family but she is a self respecting woman. She hasn't protested under the circumstances she is going through. The character, Marry stanstrope, in the other story, the three sisters, is very confused. She is relatively hard to please and more materialistic. She belongs to a poor family and is offered a proposal by a person who lives in her neighbour. She is not being responsive to the proposal and doesn't know whether she intends to marry Mr Watts or not. She thinks she dislikes Mr Watts just because she is aware of the fact that he is living a plain life. She thinks she can change the way her marriage life is going to be by become more insisting and challenging.
Teresa is in a very miserable state because of the child she is carrying and aware of the consequences as well she knows she can't face the society surrounding her alone. She doesn't feel affection for the person she is married to. She thinks these things are irrelevant but for now she needs support and convenience. Being considerate, she decides to marry.
Marry has two sisters and a mother who are influencing her to marry Mr Watts. Mary cares for her family and is aware of Mr Watts's fortune. She thinks his fortune can make great settlements on her and her family after he dies but doesn't expect him to die sooner as he is in a healthy state. But there are other things for her to consider if she refuses to accept the proposal, it can be offered to her sister Sophy and she may convincingly accept it, it not her other sister, Georgina might. Mary can't bear to have either of them married before her. She is very status-conscious and wants to earn more respect in the society. More likely in Teresa's situation, she has dealt with the situation patiently as she thinks she has nothing to forgoe. In Mary's situation, she is giving importance towards both acceptance and refusal of the proposal. She is not trying to agree on either of the decisions.
Teresa always thought there was nothing that could be destroyed by this marriage. She never felt the occasion was something special for her. She has not made an excuse of what has happened with her in the past and not to carry on with the life. Mary is never getting convinced with what she is doing. She is always thinking of Mr Watts's fortune but not about him. She never imagines the situation she would be facing after her marriage. She thinks she can give up her happy days for hey family's sake and be in a miserable state for not long, expecting her husband to die soon and having the intention to keep his fortune and live happily ever after.
Teresa's two sisters who are much older than her have very little influence on her. Agnes was married 11 years ago in church by Father Hogan. Her marriage turned out to be a misery, but instead of being supportive and sharing experiences with her sister, she is being more sarcastic. Loretta, Teresa's other sister married a man nine years ago who went to England, who never returned in her life. She is too sympathetic for herself; she can't give any hope to Mary. Loretta's marriage had not been consummated.
Teresa doesn't expect anything from her relationship with her husband, for what she has gone through has destroyed the desires she wished for. But she expects her husband to nurture their child with affection. Mary is making demands from the star as if she wants to over rule Mr Watts restrictions set on her after their marriage. Both of them want to be dominant in the family. Mary wants to take control over Mr Wats fortune but later doesn't want to lose until he lasts.
In the end Teresa felt she could make some kind of marriage with her husband. It means that she is convinced with what she is doing in some way. This convenience would give her enough relief for the rest of her life. Mary is still feeling guilty by accepting the proposal. She is not happy with what she has done, she doesn't think she made a sensible decision and hopes to expect a good married life.