Tesco PLC Case Essay Sample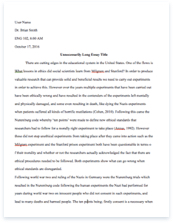 Pages: 4
Word count: 953
Rewriting Possibility: 99%

(excellent)

Category: Tesco
Get Full Essay
Get access to this section to get all help you need with your essay and educational issues.
Get Access
Introduction of TOPIC
The total product concept need to be offered to retain customers, Tesco will have to offer the four 4p's (price, place, promotional, and products) effectively before they can attract the customers, and to retain them they will have to achieve the 3p's effectively (people, physical evidence and processes), due to them not achieving this they have not retained customers
The components of pre-transactional customer service include, a parking space, the different parking spaces such as family, disabled and normal parking spaces, trolley stands are the pre-transactional customer service components that would lead to a customer in being lured into purchasing products, this is because they are convenient and have all the elements that would lead to a customer having a good visit, in store signs 'happy to help' staff help customers to find things. People are the key components of pre transactional customer service
The transactional components that would lead to a customer to purchase is self-checkouts as they would reduce waiting time and also opening of checkouts would also lead to customer not having to wait for a lengthy period to purchase the products. Another components is that customer are able to pay for the products through many different ways such as cash, credit/debit card, this is very convenient, the reason why this is convenient is because if you don't have enough cash your able to pay by card an example of this Tesco PLC they provide all that has been stated above, e.g. different ways of payment, self-checkouts, people also help with packing, they also give free bags. People are they key components of transactional customer
The post transactional customer service components include, people holding umbrella and trolley boys which help the customer, the trolley boy helps return the trolley to the trolley stand so the customer doesn't have to, the umbrella boy protect the customer from the rain so the customer or their shopping doesn't get wet. Tesco PLC also has a 24 hour customer service department which help custome
r in issue or help solve queries and issues via email or telephone such as the return policy. People
are the key components to post transactional customer service
The methods that Tesco PLC seem to focus on most to retain include clubcard memberships, discounts, promotional offers and the use of the internet in relationship management e.g. personalised recommendations, emails.
Club memberships:
Tesco PLC uses the clubcard in order to retain customers, the way that they use the clubcard to retain customers is through the following, they use the information that they have collected i.e. the buying habits of their customers are used to retain the customers. They get the information through the following, Tesco PLC clubcard members scan their clubcard when the buy products from Tesco in order to get clubcard points, the information about the products that have been bought get sent to the database telling the organisation about the regular shopping trends of that customer, Tesco PLC are then able to use that information to target the customer personally, e.g. with personnel promotional offers, offers that they won't regularly see on television
Discounts, promotional offers:
Tesco PLC uses discounts and promotional offers in order to attract customers, they do regular offers such as 'buy one get one free', two for the price of three' etc. In order to attract customers so in the future they become loyal Tesco PLC does regular promotions and discounts. They place these promotions on television advertisements, they also send personnel emails so that the customer felts that they are treated individually e.g. the feel special. They also promote the offers in store and other communicational websites e.g. social media sites, YouTube
Use of the internet in relationships management e.g. personalised recommendations, emails:
Tesco PLC only use emails to retain customers, e.g. they would use email to send regular updates and recommendations about to customers about the new offers, products and campaigns that they have for offer for their clubcard members . Tesco PLC also inform their customer about the latest places in which they are able to spend their clubcard points, clubcard will also send emails telling their customers that they are able to use clubcard points to buy Alton towers resort tickets, theme park tickers
The 3 main things that customer look for when buying from Tesco PLC is if the products are value for money, the quality of products, if the supermarket is providing fresh food that lasts and doesn't spoil too quickly. This is according to the qualities of supermarket that consumer value survey
According to the which? Survey the 3 main things that customer look for when buying from Tesco PLC or any other supermarket is their customer service, pricing and store environment. And as we all know by now Tesco PLC in 2013 was rated the worst supermarket by which? Tesco have started to invest into those three vital categories mainly due to their loss in customers confidence an also market share. We know that the three categories that have been stated are the most important this is because Aldi/ Lidl are doing the same and better in some of those categories compared to Tesco and they had been rated second and third best supermarket in 2013 by which?