The 3 Tales Essay Sample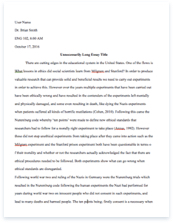 The whole doc is available only for registered users
OPEN DOC
Pages:
Word count: 593
Category: tale
Download Essay
A limited time offer!
Get a custom sample essay written according to your requirements urgent 3h delivery guaranteed
Order Now
The 3 Tales Essay Sample
Stories handed down from generation to generation are those that are real experiences of the people throughout the ages. Themes of love and infidelity have always been a favorite plot which is why Petronius' The Widow of Ephesus has become a classic. However, tales can be altered to conform to its audience's values. The Widow of Ephesus has similarly undergone changes.  Although the main plot remains the same, elements have been adapted to the era of the audiences-  fidelity, the cause of temptation to sin and the shame that unfaithfulness bares.
            Fidelity has been upheld throughout the centuries as an ideal characteristic that married people, especially women, are expected to possess. Yet, it has always been a difficult trait to achieve.  Petronius highlights this situation by describing the widow as one other women would travel to behold just to see that such a virtuous person can actually exist (83).  In three other modified versions of Petronius', the focus given on faithfulness until death may hint at how people perceived this virtue at that time.
Il Novellino's "Here It Is Told of a Gentleman Whom The Emperor Had Hanged," implied that having another husband can actually maintain a woman's honor. The title itself does not mention anything about a woman's infidelity. In Rappoport's "The Perfidious Widow" and Purselt's "A Widow Digs Up Her Deceased Husband And Hangs Him On The Gallows," the titles and the women's explicit declarations of love are anti-climactic. These simply describe individuals who easily yield to temptation.
            Infidelity always starts with temptation but there is usually something who pushes one to commit the error. For Petronius' widow, it was her handmaiden who convinced her to be unfaithful (85).  This gives the story more impact because it shows how friends can greatly influence wrong judgments. In Il Novellino's version, it was an irresponsible knight who persuaded the widow to make her mistake. Rappaport's widow, on the other hand, showed the woman's tendency to fall for any man who would show kindness. It was an emotional flaw that tempted the woman. In Purselt's version, no real cause was presented for the woman to fall in love with another man. She was simply unfaithful and to blame for her plight.
            Every story of infidelity puts a blame on either one of the parties yet it is usually the woman who bears the shame. Petronius' widow sinned because of the people surrounding her. Yet she was still the one blamed. Even if she fully explained her actions, the mere fact that she succumbed made her bad. This is evidenced by Lichas' suggestion that the woman should be crucified (85). Il Novellino and Purselt both condemned their widows to shame when their lovers left them. Although Rappaport's widow was not ashamed, the title itself and the woman's scandalous suggestion makes readers judge her of weak character.
            Infidelity has always been judged badly. Women are always to blame for their plight. It does not matter who tempted whom. Society has always put the woman in shame. Petronius' story and its versions simply attest to the world's mockery of a virtue that has created scandals throughout the centuries.
Arbiter, Gaius Petronius. "The Widow of Ephesus." Trans. Edgar V. Robers. Literature: An
            Introduction to Reading and Writing. Eds. Edgar V. Roberts and Henry E. Jacobs. 7th ed.
            Upper Saddle River, NJ: Pearson-Prentice-Hall, 2004. 82-5.
Widows in (short-lived) mourning. Ed. D.L. Ashliman. 1998-2000. 4 September 2006. <http://www.pitt.edu/~dash/widow.html>