The Aahh Spa Essay Sample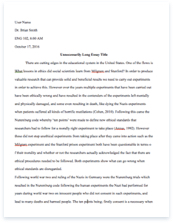 The whole doc is available only for registered users
OPEN DOC
Pages:
Word count: 2297
Category: stress
Get Full Essay
Get access to this section to get all help you need with your essay and educational issues.
Get Access
The Aahh Spa Essay Sample
The Aahh Spa is aiming to be the place to go for releasing stress and enjoying yourself. Through the services and products, we will quickly gain ground in today's market. We will provide clients with a relaxing and stress free environment that will help rejuvenate the body and the mind.
Products and Services
The Aahh Spa offers a variety of mind and body services and products. We will provide for all people in all walks of life with the great services they deserve from a company. We are devoted to pleasing the customers and having them come back tomorrow.
Location
The Aahh Spa will be located in North Canton. North Canton has become the town that never sleeps. Voted on of the top 100 places to live, shopping, movies and dinner can all be quickly located in a ten minute drive. This location has become the place to live with colleges in the neighborhood and a variety of businesses.
Competitive Edge
The Aahh Spa is unique, with the services we will offer and all of the focus will be on the customers. The employees will be properly trained on how to treat customers and what will keep the customer coming back tomorrow. All customers will leave totally satisfied and come back knowing they will get exactly what they want. Employees will be provided with bonuses to ensure they will do what is required. This will ensure our customers will always be totally satisfied.
Financials
The Aahh Spa is a business that will provide services that are not offered in another spa. We have estimated that by the middle or end of the second year, we will see a considerable amount in profit. The Aahh Spa will provide a healthy environment that people will love to come to and reenergize themselves.
Objectives
The objectives for the Aahh Spa are as follows:
1.) Have profit by the end of the second year.
2.) Have clientele return rate of 90% to 95% by the middle of the second year.
3.) Become an established and respected business in the community. 4.) To expand even further into the best health spa in or around town.
Mission
The Aahh Spa will provide a relaxing, calming and healthy environment in which clients will not only see but feel. Helping them to refuel for days to come or just to relax in the moment leaving stress behind. The Aahh Spa will prove to be the place to go, whether it's to escape from stress and relax or just to help you to feel better about yourself. Clients will feel energized throughout their bodies and in their lives.
Keys to Success
1.) Skilled employees that know how to give the "Aahh" sensation to the customer and be able to establish trust with the customers.
2.) Easily located location.
3.) Effective advertising.
Company Summary
The Aahh Spa is a different kind of business. We will offer therapeutic massages, general massages, facials, saunas and many kinds of oils and lotions for everyday use. The ultimate goal of the Aahh Spa is to become a well known health spa that will provide every need to help people succeed in staying healthy or getting healthy.
Company Ownership
The Aahh Spa will be family owned and operated. Owned by myself, Melissa Bailey, and my husband, John Bailey.
Start-up Summary
The following is a summary for the estimated amount needed to cover operational expenses for the next two months. Start-up Funding
Start-up expenses to fund $98,000 Start-up Assests to fund $65,000 Total Funding required $164,000 Cash Balance on
Starting Date $60,000 Liabilities and Capital $0 Current Borrowing $0 Start-up
Requirements
Start-up Expenses $65,000 Legal $25,000 Stationary ect. $25,000 Brochures/Advertising $10,000 Construction/Design $30,000 Insurance $30,000 Rent $30,000 Research and Development $10,000 Other
Total Start-up Expenses $225,000 Company Location Target site for this company is Sunset Strip in North Canton, Ohio. This location is near your shopping needs, whether it's for dinner or for a dress needed for that special occasion. This location is near the main high way I-77 so it will be convenient for the clients. The Aahh Spa will need at least 5,000 square feet of space. Estimated at 10.75/sq. ft.. Products and Services
The Aahh Spa will provide clients with relaxation and healing services plus the will have the option to purchase lotions and oils to use in their spare time. Product and Service Description
Body Works: Relaxation Massage ($35 for half hour), Relaxation Massage ($60 for full hour), Relaxation Massage ($80 for hour and a half), Couples ($120.00 for full hour), Neuromuscular ($70), Hot Stone Therapy ($75 for full hour), Hot Stone Therapy ($100 for hour and a half), Deep Tissue Massage ($70), Reflexology ($30 for half hour), and Reflexology ($50 for full hour). Competitive Comparison
There are many spas in the North Canton region but none that is near this location. The closest is about 45 minutes away, giving us an advantage for the surrounding shoppers and for the people that live in this area. Some require a membership but we will not require this. This will give us a big advantage and people won't feel like they are throwing their money away. Sales Literature
We plan on using service brochures and the use of the internet to advertise, reaching millions of potential customers. Future Products and Services
The Aahh Spa will expand into a full massage and relaxation company. We will offer organic lotions and cremes for people to take home and we will offer full services from hot tubs to saunas to the best massages for our clients. Eventually adding in a health food luncheon after one receives their massage. Market Analysis Summary
There is one spa that would be considered a competitor but it is 45 minutes from our location. But there are none in the immediate area. Target Market
The target market will be everyone. From college students, professionals that need to relax, people that have sore muscles to people who just want to continue to stay healthy. Regardless of income, we will offer something for everyone. Market Growth
With North Canton being one of the top 100 places to live in Ohio, people have started to move from lower income neighborhoods to the more luxurious places. This area has also been a place for thriving businesses and has become the place to go for your shopping needs and wants. This area also offers a beautiful location for college students to attend. The future for this area is thriving and will continue to grow with continual potential customers. Competition and Buying Patterns
Customers chose their spa by location, services and prices. With our great location, the best services and competitive prices, The Aahh Spa expects that competition will not be a very big concern. Strategy and Implementation Summary
1. The Aahh Spa will emphasize quality, originality, and dependable service. The Aahh Spa will be different from its competitors by offering a certified staff that will be able to connect with their clients and be able to meet their full needs. 2. The Aahh Spa will distinguish itself as a completely trustworthy and soothing setting for the clients to come to and relax and enjoy themselves while they are being pampered. 3. The Aahh Spa will strengthen the trust of the community by treating clients they way they are meant to be treated. We will provide the community with respect and loyalty to ensure that we receive the same treatment.
Marketing Strategy
Our marketing strategy is one of the keys to our success:
1. Emphasize our name and services through advertising.
2. Focus on the convenience of our location.
3. Build relationships with the community through great, friendly service and a unique atmosphere.
Promotion Strategy
Our promotion strategy will deal with advertising two weeks before opening and after opening. Including long-term. A. Advertising
We will use the local newspaper, health magazines, local radio and local television. We will also mail out brochures to the surrounding areas within a five mile radius. B. Internet
We will offer a website for people to view and advertise on many pages that offer space. C. Alliances
We will also place our brochures in the offices of our medical clients. Long -term(after one year)
A. Advertising
We will continue to place ads in the health magazines year round. Local newspapers, local radio, and mail outs will only be done once a year during the most stressful times of the year. Local television advertising will be evaluated to see their effectiveness before advertising in this manner. B. Internet
We will continue to have our web page for references and word of mouth advertising. We will also offer clients the option to grade our services on this site so potential clients are able to sense how others were treated and what they thought of our facility. C. Alliances
This will be implemented once we have grown beyond the break-even point. We will also advertise with neighboring businesses and restaurants. Marketing Programs
I, Melissa Bailey, will be responsible for marketing The Aahh Spa through the advertising channels. Our advertising budget for the first year will be $10,000. Advertising will begin two weeks prior to opening. Positioning Statement
We will position ourselves as being one of the top spas in our area. Considering there is no spa in our immediate area and our employees will be specially trained in this area of expertise. We will be able to provide services to local residents and ones that come to visit this growing city. Pricing Strategy
Our prices will be set at the same rate as the competition. No staff will be trained like ours so ours will be given incentives, allowing us to hire the best and keeping them happy. Our location will also offer an advantage for the price we ask. Sales Strategy
1. Our sales strategy is to sell The Aahh Spa to consumers as a unique, desirable location that will better their lives. 2. We will sell The Aahh Spa through the staff's skills, kindness, and warmth, creating a trusting impression on all clients, thus establishing loyalty and ensuring their return. We will guarantee that each visit to The Aahh Spa is relaxing and memorable so that customers can always depend of this kind of service when they walk through our doors.
Sales Forecast
The elements of the Sales forecast are shown in the chart below. These figures are based only on the revenue from minimum average estimates from massages.
Sales Programs
1. Our brochure will explain the nature of our services and how this benefits our clients. 2. Our web page will be completely informative of our services, benefits, and prices. It will also show promotions that will be taking place that month.
Management Summary
The Aahh Spa will be based on the respect for each of your fellow workers, respect for each of the clients and individual responsibility. Success is dependent on the warmth and relaxation of not only the environment but also by the employees. The management team will consist of the two owners, manager and general manager, and an assistant manager, whom will be hired later. We will only hire those that are licensed and qualified to do their jobs. The staff will demonstrate that they have what it takes to work in a warm, nurturing environment and that they are people friendly. Organizational Structure
Our initial team will consist of 13 employees. Employees will include manager, general manager, assistant manager. There will be two receptionists and eight massage therapists. Expansion is available. Management Team
Melissa Bailey, co-owner, manager and massage therapist. Is the founder of The Aahh Spa and is a licensed massage therapist. She has worked in competing spas for five years and is looking to start something fresh and inviting. She also has her certificate in reflexology. John Bailey, co-owner, general manager. For the past ten years, John has been the general manger for a massage clinic in Ohio. Other employees said he's a pleasure to work for and can't see themselves working for anyone else. Clients say he knows how to get the job done right without disrupting the environment. Management Team Gaps
We believe that our team is very capable of running and maintaining a very successful business. Our assistant manager will be named when hired at a later date prior to our opening. Personnel Plan
The personnel plan below reflects our projected need at opening and carriers
through the second year. Personnel Plan
Year 1 Year 2 Melissa Bailey, owner, manager $70,000 $70,000 General Manager $65,000 $65,000 Receptionist $20,000 $20,000 Receptionist $20,000 $35,000 Total People 13 15 Total Payroll $175,000 $190,000
Financial Plan
The premier element in our financial plan is initiating, maintaining, and improving the factors that create, stabilize, and increase our cash flow: 1. Create visibility to create customer flow.
2. Maintain a dependable, happy employee force to minimize turnover. 3. Create a brisk turnaround on retail, always maintaining stock levels. Key Financial Indicators
Our most important financial indicators is when each therapist can average about five customers per day. Break-even Analysis
For our break-even analysis, we estimated monthly operation costs which include payroll, rent, utilities and other running costs. Our average revenue per client is estimated at $60. We believe our break-even figures can be steadily maintained. Monthly Revenue Break-even $75,000 Assumptions:
Average Percent Variable Cost 62% Estimated Monthly Fixed Cost $30,000 Projected Balance Sheet
Our projected balance sheet shows we will not have any difficulty meeting our debt obligations as long as our revenue projections are met. Balance Sheet
Assets Year 1 Year 2 Cash $85,000 $400,000 Inventory $55,000 $106,000 Total Current Assets $140,000 $506,000 Current Liabilities
Accounts Payable $64,000 $108,000 Current Borrowing $0 $0 Other Current Liabilities $0 $0 Subtotal Current Liabilities $64,000 $108,000