The Age of Innocence by Edith Wharton Essay Sample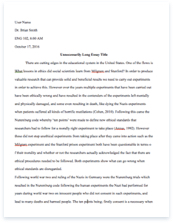 The whole doc is available only for registered users
OPEN DOC
Download Essay
A limited time offer!
Get a custom sample essay written according to your requirements urgent 3h delivery guaranteed
Order Now
The Age of Innocence by Edith Wharton Essay Sample
The Age of Innocence by Edith Wharton was published in Europe during a time of profound and permanent changes (1920's), but ironically its set in 1870's aristocratic New York rigid society that is in many ways the antithesis of modern Europe. The Age of Innocence, then, stands as a study and critic of Old New York that saw itself as the pinnacle of civilization, but Wharton undercuts this picture by comparing its stiff societal customs to those of the most primitive tribes. The passage (pg 34-35) relates to the critic of Wharton, explicitly in the theme of love; described in third person omniscient the fragment focuses on Archer's thoughts about to what extent is his fianc�, May, is an "artificial product" of Old New York Society. Through the use of violent diction, tribal images, the allusion to other literary novels, and the images of May; Archer attempts to move away his frank love for May, mentally, from the society of "mystifications", but however, when the cards are down, he realizes that she is just another finished product of it.
Newland's violent diction towards Old New York society expresses his rejection towards it. Newland, verbally attacks Old New York's rituals with the intentions of backing away his "sincere" love for May from the phoniness and artificiality of it. Words such as "artificial", "fictitious purity", "is not" "simpleton", "ass", and "smashing" echo through the entire passage, which draw and enhance Newland's critiques against the, "elaborate system of mystification".
Newland uses "ass" and "simpleton" to describe Larry Lefferts and Gertrude in a clear and bold indication that he and May are not like them, characters of the system of Old New York. The violent diction that Newland uses is strong and concrete, nothing like the "hieroglyphics" or "arbitrary signs" that Old New Yorkers use. Like this Archer bashes out of the mysterious ways of the system and critics it "frankly" and "sincerely", like his love for May. Moreover, Archer continues his critique of Old New York society by describing it with tribal diction.
The tribal images with which Newland describes the rituals of Old New York society show his disgust for it. These tribal descriptions are used as a way to place his love for May in a higher ground than that of the tribal Old New York. Firstly, Newland describes Old New York society as a "hieroglyphic world" or a "system of mystifications". Both descriptions lower the refined status of New York society. No longer is it bright and elegant, but inscrutable and foggy like hieroglyphics and mysterious systems. Newland does this deliberate to create a clear contrast between hazy Old Society and his "frank" love for May to prove to himself that May does not belong to the system. Secondly, Archer also portrays Old New York society's ritual for announcing the engagement of the daughters as "quite as, in the books of Primitive Man [where] the savage bride [is] dragged with shrieks from her parent's tent".
This image juxtaposes the engaging of "courteous" people and of "primitive man" as the same, without any contrast. Newland's demerits Old New York society by comparing it to "primitive man" with customs that make the "savage bride shriek" and by doing this his purpose is to, again, place his "straightforward" love for May above the mentioned images. Finally, Newland describes Old New York society as "a conspiracy of mother and aunts, and grandmother, and long-dead ancestress." This image is to a great extent comical since it comes to mind the aristocratic women all dressed up sitting in a circle around a bonfire, like an ancient nomad tribe figuring out what to do next. Newland's intentions are yet again to ridicule the Old New York system to separate him and May from the system.
Additional to the use of diction and images for Archer to back away his "frank" love for May there is also the use of the Allusion to other literary novels. Newland Archer uses the literary works, "The Idyll's of the King", "Ulysses" and "The Lotus Eaters" to measure how far away May is from Old New York society. Newland says that May had gone as far as ridiculing "The Idyll's of the King", a cycle of twelve narrative poems by English poet Alfred, Lord Tennyson; whose predominant scene is a character dying for love in a river bed.
This, off course means that she defies the status quo of Old New York society since, "The Idyll's of the King" was a popular collection of poems among aristocrats. Nevertheless, Archer notices that May doesn't goes as far as admiring "Ulysses" and "The Lotus Eaters", characters with controversial vices, but yet deep meanings to them that go beyond what Old New York society thinks about. The fact that May cannot understand the virtues of both "Ulysses" and "The Lotus Eaters", reveals that she may be affiliated to Old New York society, even if Archer tries desperately to color her in a different color than that of the aristocratic system.
Even though Newland tries to differentiate May from Old New York society, his final image about her is that in the depths of her "innocently-gazing soul", she is just another "artificial product" of Old Ney York. The passage main purpose might be Archer's efforts to distance his love from Old New York, however his finally image about May is that under her purity and innocence she also belongs to the tribe of Old New Yorkers.
Archer tries to be, "delighted in [May's] radiant good looks, in her health, her horsemanship, her grace" and "straightforward, loyal, and brave", as ways that separate her from Old New York society, but she ultimately is – under her "frankness" and straightforwardness – an "artificial product…cunningly manufactured by the conspiracy of mother and aunts." May ultimately is a homogenous, marketable, product of frankness and innocence, manufactured by the proud conspiracy of aunts and mothers. Therefore the final images of May show how Archers attempts to separate his love for May from the intangible and fake truth of Old New York society; the essence of May was created by the systems of "hieroglyphics".
Throughout the passage Newland Archer attempts to breakaway his love for May from the tribal rituals of Old New York society, but he ultimately realizes that she was always part of it. The passage from Edith Wharton The Age of Innocence uses aggressive diction, tribal imagery, the allusion of other works, and an Image of May to show Newland attempts to mentally separate May from Old New York society, but however in the conclusion of the passage he finds out that May belongs to the system.